Hop aboard the M/V Gambler and cruise out to Resurrection Bay for a relaxing and personalized outing with locally-owned Alpenglow Charters. Couples and families will relish their time together exploring Seward's enchanting coastline, guided by an engaging and knowledgeable crew. Options fit into the busiest of schedules: from a 4 hour lunch cruise to a remote overnight, or a 2-day land and sea journey.
Small group, big adventure
When you visit Seward, getting out on the water to experience Resurrection Bay is a must. Every view is picturesque: snow-capped mountains, rugged coastline, rocky outcroppings and quiet coves. Explore the area with Alpenglow Charters to really enjoy the peaceful nature of the Bay, as it's just you and a few other guests on board. (The Lunch Cruise max is six guests, while the overnight options accommodate just four). Not only will you have lots of time to chat with Alpenglow owners Mackenzie and Ian, but you'll be able to customize your experience more to your needs and preferences. Want to spend lots of time in the kayak? No problem. Prefer to hang on deck and enjoy the breeze while searching for otters and seabirds? Also not a problem! The flexible, laid-back nature of these outings makes them perfect for two couples or families with kids.
Options for any schedule and comfort-level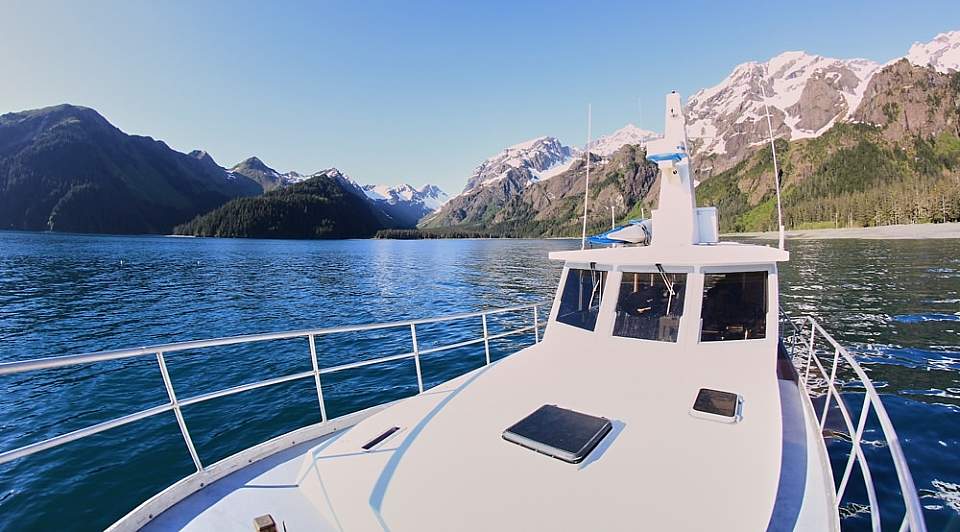 Whether you're in town for half a day or a few days, Alpenglow Charters gives you a way to capture the magic of a personalized tour of Resurrection Bay. The shorter nature of these excursions also makes them more affordable, as you're not committed to booking a week-long adventure.

Lunch Cruise
Here's an option for sumptuous home-cooked recipes with locally-sourced ingredients – and you can't beat the view! Leaving Seward at 10am., the M/V Gambler will ply the waters of Resurrection Bay in search of a protected area for lunch. The destination depends on weather and sea conditions. Regardless of your charted path, you'll be introduced to the magnificent character of the Bay and its many wonders. Sit back and relax above or below deck while your crew prepares a delicious Alaskan meal that may feature home-grown veggies or freshly caught fish. Get the inside scoop on what it's like to live in Alaska, swap adventure stories and learn more about Seward and Resurrection Bay before returning to dock at 2pm.
Resurrection Bay Overnight
The luxury of time gives you plenty of options for exploring Resurrection Bay, finding peaceful hideaways, protected areas perfect for kayaking, and miles of beaches stretching in either direction under the dramatic glacier backdrops.
The M/V Gambler leaves the Seward harbor around 4 pm, and soon you're in a different world of stunning mountains and a habitat markedly changed from the landscape around Seward. Your guides will find an anchorage where you can pull out the kayaks for a pre-dinner explore of the coastline, a walk along the beach or hike to a glacier. (Options depend on the weather and your preferred activity level.)
You'll enjoy the personalized interaction with Mackenzie and Ian, who both have years of experience welcoming visitors to Alaska's most beautiful places. Dinner will be determined in advance based on your dietary needs and preferences, but will always strive to include the freshest locally-sources ingredients.
The long hours of light on a summer evening may have you staying up well past your bedtime as you take in relaxing breezes and the sounds of the waves lapping against the hull. No searching out a breakfast spot in the morning – a home-cooked meal is just seconds away! Finally, enjoy more time exploring Resurrection Bay before returning to Seward by 10am.
Resurrection Bay Multi-Day
If one night doesn't feel like enough, opt for this two-night itinerary. Similar to the overnight, the trip departs at 4pm, where you'll find your way to your first anchorage. The second day is a leisurely cruise to the second anchorage, exploring Resurrection Bay along the way. This extended itinerary gives you additional opportunities to drop the kayaks into the water or visit a beach for a coastal stroll. On the morning of the third day, you'll head back to Seward, arriving around 11am. All meals and snacks are included.
Land and Sea Voyage
A two-day adventure gives you the best of both worlds when you combine the Resurrection Bay Overnight with a night at Shearwater Cove, this time in a comfortable Alaskan Yurt surrounded by beautiful spruce and alder. The Land and Sea Voyage is a lovely combination highlighting both woods and water. Start off on the M/V Gambler and an exploration of some of Mackenzie and Ian's favorite Resurrection Bay hideaways. The next morning, the M/V Steller Jay will collect your party for the journey to Shearwater Cove, where you'll settle into your private yurt and tour the facilities. On this portion of the trip, you get to be chef in a fully-stocked kitchen. Bring the ingredients of your choice for three wonderful meals in remote (but comfy!) Alaska.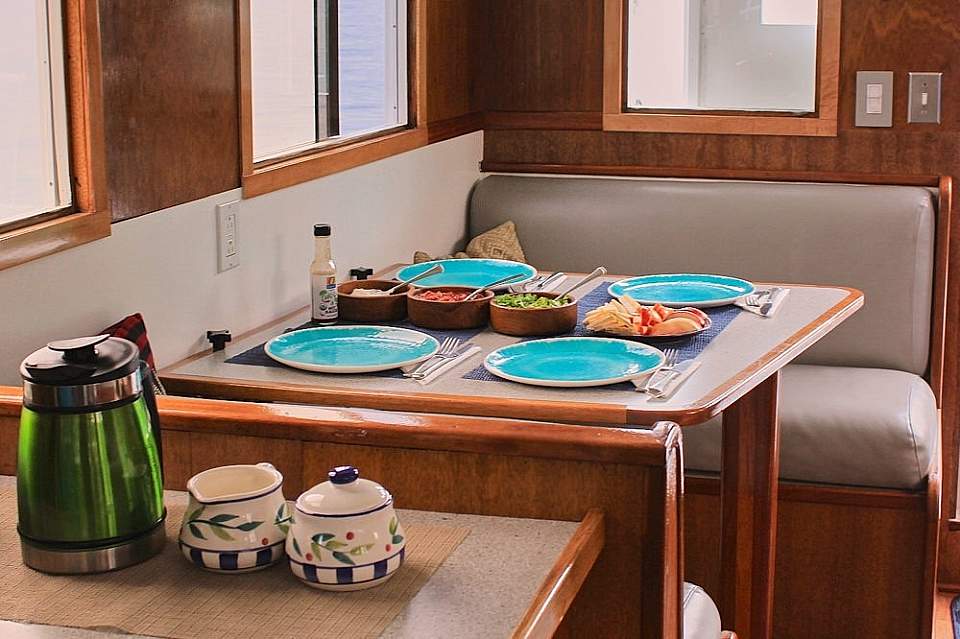 The M/V Gambler
Completely refurbished in 2016 and 2017, The M/V Gamber is a 40-foot long custom-built vessel that's comfortable for small group excursions into Resurrection Bay. The galley and dining area are common areas, where you'll gather for delicious meals and conversation. When you are ready to retire, the state room and the forward berth each accommodate two guests for a comfortable sleep. The state room features a double size bed, with dresser and two portholes. The forward berth has two separate beds, 4 roll-out drawers, two portholes and an escape hatch to let in the night breeze. And of course there's a bathroom, as well as a shower room with hot water on demand.
About Alpenglow Charters
When it comes to exploring the outdoors in Alaska, your best guides are enthusiastic, informed and friendly – and you find all of those characteristics in Mackenzie Barnwell and Ian Colegrove. Between them they serve four roles: captain/chef (Mackenzie) and chief engineer/guide (Ian). They both have years of experience boating and guiding visitors to Alaska. Mackenzie has sailing, commercial fishing, and charter operations on her resume. In 2016, she earned her USCG Captain's License and completed a Flagship Maritime OUPV (Operator of Un-inspected Passenger Vessels) Course. Ian is a certified Wilderness First Responder who has spent several seasons guiding visitors on week-long sea kayaking adventures. He's also a talented mechanic who's worked on small vessels on up to massive barges. Both Ian and Mackenzie will give you an idea of what it's like to live and work in Alaska, along with ideas for future Alaskan adventures!