Few adventures allow experiencing remote Alaska in the depth of winter like this tour. Join Alaska Wildlife Guide on a once in a lifetime adventure as you snowmobile through forests, over frozen lakes, view various wildlife, listen to fascinating stories and meet the world-famous Bison, Cowie.
A few myths exist about snowmobiling: its too dangerous, too cold, it will be hard on my body etc. But high-end touring snowmobiles as well as winter gear ensure a comfortable and warm ride. Safety is of highest priority and proper instruction is always the start of every tour ensuring you are confident before heading down the trail. Every tour is a private group with personalized service – groups are never combined. Tours are offered at multiple times throughout the day.
High-End Snowmobiles and High-End Service
Exploring Alaska's Winter Wonderland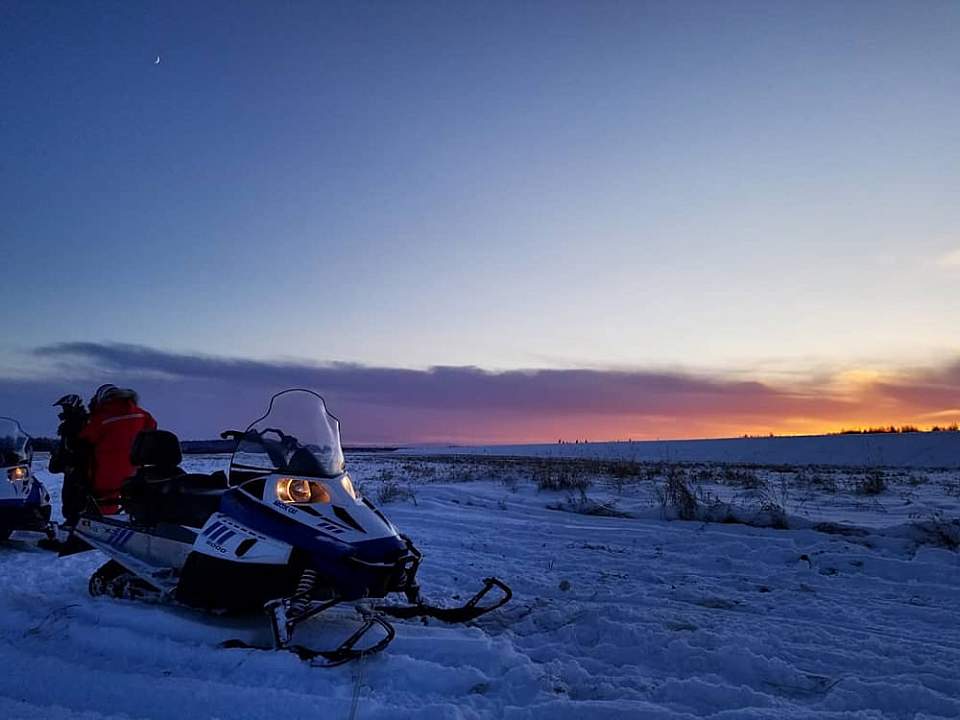 Your experience starts the moment your guide welcomes you at the office in the famous town of North Pole (right outside of Fairbanks). You'll start with a brief orientation and instructions, get geared up as well as practice before starting your snowmobile adventure. Leaving the office, your guide will lead you to the Chena Lake Recreation area, where Alaska's vast and breathtaking nature reveals itself right before you. You will cross frozen lakes and rivers, view scenic mountains, explore endless, remote trails and usually spot wildlife, such as moose (we have seen up to 16 on one tour), fox or snowshoe hare. Dog mushers often travel the trails as well. After enjoying the drive through Alaska's frozen backcountry by snowmobile, warm up in the cozy waiting area with hot chocolate, tea or coffee and snacks while your guides share their fascinating stories and lessons life in Alaska has taught them. And of course, you will have the opportunity to meet and take a picture with the world famous Bison, Cowie.
Why Alaska Wildlife Guide
Attention to details as well as highest quality of service has been at the heart of Alaska Wildlife Guide since the start of the company in 2012, when the owners Rainer and Jutta moved from Germany to Alaska to make their dream become a reality. Within a short amount of time, the company reached the top rank of most recommended tour operator in the Interior of Alaska and has been the recipient of the TripAdvisor Certificate of Excellence every year. Their love for Alaska as well as their passion to provide each guest with a once in a lifetime experience has extended over to their staff and is evident in every detail of the business.