Experience kayaking in Alaska the way it should be—away from the crowds—with these unique Ketchikan paddling tours that make you feel like a true explorer.
A Small Group Exploration
Your small group (usually just 4 people) will board the company's comfortable boat and set off from the Ketchikan cruise-ship dock, leaving the big ships and the crowds behind. Alaska's stunning scenery appears before you, and you'll take it all in as your expert guides head to the best place to kayak that day—there's no set route, so you'll get the best possible water conditions, weather, and wildlife viewing.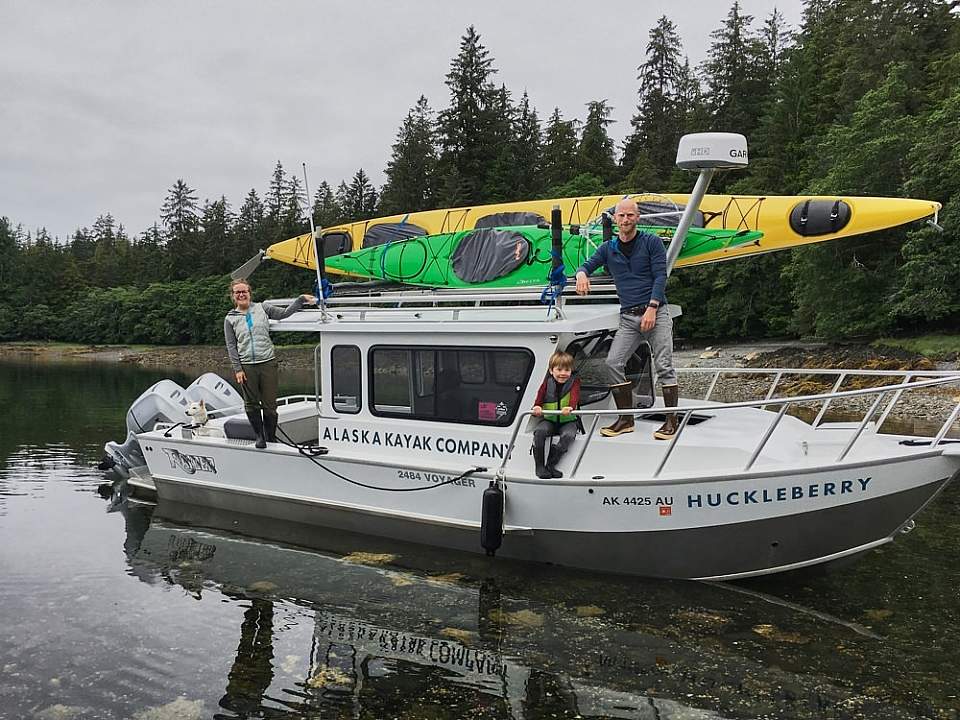 Then, after some paddling techniques and other quick training to get everyone comfortable, you'll hop in your tandem Delta kayaks and take to the sea. If it's low tide, some of the mysteries of the local sea will be displayed before you. At high tide, you may be able to look for larger marine wildlife. Look for sea stars, jellyfish, seals, and bald eagles—you may even see humpback whales, black bear, or killer whales. Soak it all in as your guide shares the area history and life in present-day Alaska. Once back aboard the boat it is time for a snack of wild caught Alaskan smoked salmon as you motor back into town.
Tour Choices
Paddles & Propellers Kayak Tour
This 3-hour tour is on the water from start to finish with no van rides or gift shops stops included. Take a boat ride to a beautiful and remote paddle location along the shores of the gorgeous Tongass National Forest and enjoy over an hour of kayinging with the owner/operators. This is the best way to explore and learn about Southeast Alaska's Pacific Ocean and the marine life that thrives here.

Paddles & Propellers Kayak & Hike Tour
This 5-hour tour involves a bit more paddling, plus you'll beach-land the kayaks and do some coastal exploration on foot—it's how the locals explore their backyard. Learn about the ecology of the stunning temperate rainforest and learn the history of Alaska Natives and settlers to the area, and how the rainforest shaped their day to day lives.
About Alaska Kayak Company
Owners Tim and Mary have both been in the local kayak tourism and on the water for many years. Mary is an experienced small boat captain and avid self-supported multi-day kayaker. Tim has been on the water for years in vessels ranging from seiners to kayaks. When the opportunity arose for them to start their own business, they thought, "What do we want to do on a daily basis? And what would people enjoy?" That's the tour you can take today.