Flying to the Katmai coast to see brown bears in their natural habitat is an unforgettable Alaskan experience, especially when you have the luxury of watching them over several days. Alaska Bear Adventures offers a multi-day experience that pairs bear viewing with the convenience of a "home base" aboard the Alaska Dawn, a 65-foot expedition trawler. Spend your days learning the ins and outs of bear behavior, and then return to the boat for dinner and relaxation before settling into a comfortable berth.
Excursion highlights
The trip starts with a quintessential Alaska prop plane ride, sit back and relax while your pilot points out beautiful scenery during the one-hour flight. You'll either land on the beach, or right on the water, and then skiff over to the Alaska Dawn.
Once aboard, you'll notice the clean, gorgeous, yet functional features of this immaculate vessel. The staterooms are cozy, but each has high quality bedding and mattresses, and its own bathroom and shower (a rarity for a boat this size).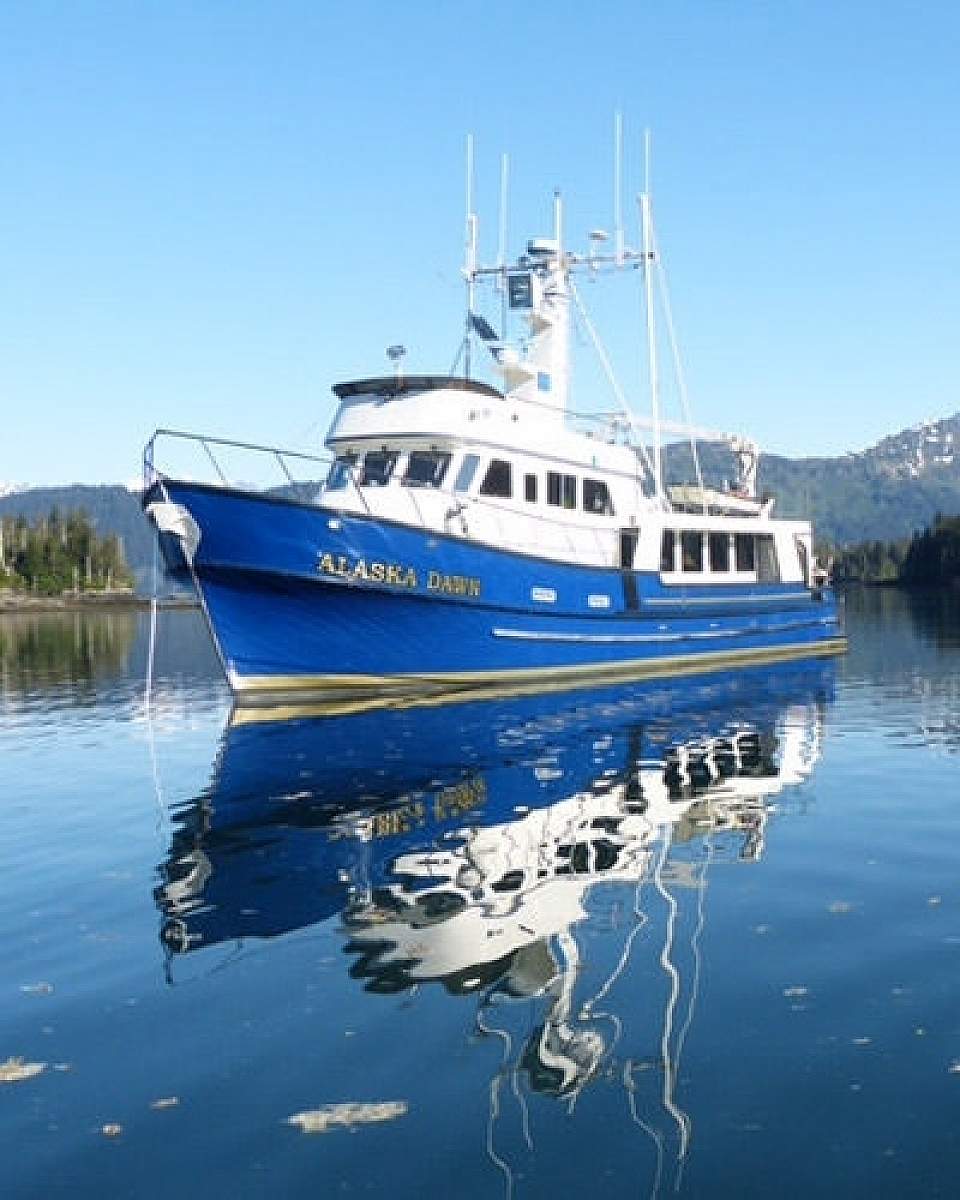 The galley will be fully stocked to provide simple yet satisfying meals throughout your visit. Captain Paul serves as boat captain and cook, and will be preparing meat-and-potatoes fare with salads, vegetables and fresh fish caught off the deck as possible. You might enjoy steak one night and rockfish or Alaska crab the next.
Each day you'll skiff to the beach and walk into Katmai National Park for bear viewing with one of Alaska Bear Adventures' veteran bear viewing guides. Your group is small so your daily itinerary is flexible. You might decide to pack a lunch and stay out for several hours, or break up your day into a few sessions of bear viewing interspersed with lunch on the boat. Be prepared for lots of walking, some kneeling, and possible sore arms as you get used to holding your camera up for shot after incredible shot!
During this time of year, the bears are eating sedge grass and digging for clams along the beach. They are fascinating to watch, as they interact playfully, huff at each other, or nurse their cubs. ABA guides can recognize many individual bears and will be able to give you insights into their behavior and personalities. At first it will seem surreal to be so close to these massive creatures, who generally ignore humans thanks to years of maintaining safe bear viewing practices. As you watch more over the course of your tour, you'll begin to understand the bears more fully – identifying males from females, and picking out body posturing and vocalizations that indicate the social hierarchy between bears.
Unique opportunity
Boat-based bear viewing along the Katmai coast is an exclusive opportunity, with spots open to fewer than 24 guests the entire season. With such limited availability, we advise calling ahead to discuss openings as soon as you know you're headed to Alaska.
Boat-based viewing: the benefits
Small groups, personalized adventure
The Alaska Dawn sleeps up to six guests, along with the Captain, crew member and bear guide. The small group size ensures that you will have a relaxed pace and personalized attention, with minimal disruption to the bears. This is different from other bear-viewing opportunities, due to its flexible nature and your ability to see bears in different settings on your schedule, without other day viewers around.
Access to remote Alaska
This part of Alaska is undeveloped and virtually undisturbed. There's no cell service, no traffic. Just you and the real, rugged Alaska. The multi-day aspect of this trip lets you unwind and focus on being in a very special place, with some of the highest densities of bears on earth.
Convenience, comfort and cost
The Katmai coast is just an hour's flight from Homer, but the convenience of a boat-based trip cuts out that daily travel time (and flight cost). A private cabin waiting just off-shore gives you a quiet spot to get out of the elements and relax for the night – and you can get back to viewing first thing in the morning.
Mobility means you see even more
The Alaska Dawn can move up and down the Katmai coast, allowing you to keep up with the bears if they travel in search of food. It also gives a more complete picture of the varied habitats on the coast and the opportunity to spot other marine life, like Steller sea lions and whales. See salt marshes, sand and gravel beaches, mud flats, and rocky shorelines, all with the beautiful backdrop of the snow-topped Aleutian mountain range.
Maximizes safety – for you and the bears
When you're staying overnight in bear country, you've got to sleep somewhere. And although camping is possible in this part of Alaska, it's not ideal (it requires electric fencing and other measures to keep curious bears from venturing too close). Staying on the boat ensures a restful night for you, your guide – and for the bears!
About Alaska Bear Adventures
Alaska Bear Adventures is a family-owned business based in Homer that has been safely guiding amazing bear viewing trips for 15+ years. Michael and his son Duncan have been working with these animals for years and it's obvious they love what they do!. Day trips are their most popular option, but many visitors are entranced with the bears and want more than just a few hours. Alaska Bear Adventures designed this multi-day option in response to those requests.
Weather and Safety
Weather in Alaska can put a damper on getting out to see the bears. Sometimes flight schedules have to be adjusted if Alaska Bear Adventures determines that the conditions are poor. Once on the boat, it's possible to have a day of heavy rain that precludes your landing on the beach to watch the bears. It's not frequent, but you should be aware of the weather factor (which can affect your travel anywhere you go in Alaska). This is why a multi-day bear viewing trip is a good option, so that you have the best chance at seeing plenty of bears, even if mother nature throws a rainy day your way. The best advice is to be flexible and have fun, like the locals do!