Spend a few days or more exploring the waters of Resurrection Bay and Prince William Sound aboard the M/V Caroline, a beautiful custom-built yacht set for adventure! It's the perfect setting for a family or small group vacation, guided by the energetic team at 60 Degrees Adventure Charters. Fill your days lounging on the flybridge, fishing, kayaking, strolling beaches, and cruising to your next fantastic destination–all on a relaxed timetable.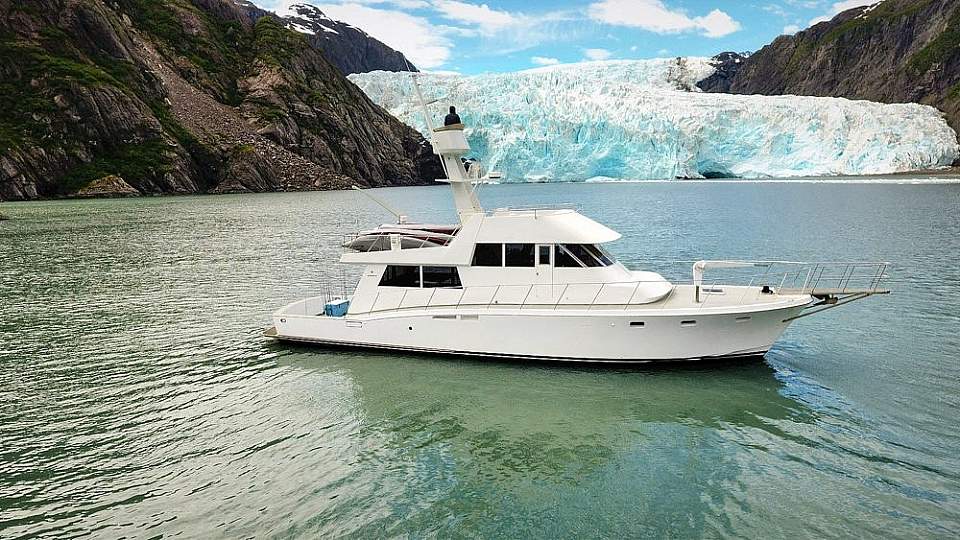 Custom, Multi-Day Adventures
Seward is known for its prime location on Resurrection Bay, within Kenai Fjords National Park—a gem that boasts forested mountains, dramatic glaciers, miles of beaches, and bountiful wildlife. Larger tour companies offer a few hours on Resurrection Bay, where you can see the highlights. Or you can settle into a private stateroom and stay awhile. There's nothing like overnighting on the water: You can enjoy the long days of light and relaxing evenings without having to hurry back to a hotel. Each morning, new sights and adventures are ready for you, just outside your stateroom door.
The M/V Caroline offers transportation, lodging, meals, and outdoor excursions wrapped up in an all-inclusive experience. 60 Degree Adventure Charter's extended tours focus on your interests and reveal some of the most beautiful views anywhere in the world. Owners Laura and Kenneth may be your captains, or you may have another expertly trained captain at the helm who shares the same values and has the same focus on service, safety, and passenger happiness. Either way, you'll be regaled with tales from Alaska, enjoy delicious home-cooked meals, and get expert suggestions on wildlife viewing, fishing, kayaking, hiking, beachcombing, and more.
Go for more than a few days and you can also fit the captivating Prince William Sound into your itinerary, stopping in at other picturesque towns such as Cordova or Valdez. This whole area—from Resurrection Bay to Prince William Sound—is overwhelmingly beautiful. Being out on the water gives you a different perspective, witnessing the mountains spilling down into the ocean to create a stunning landscape.
Charting Your Course
60 Degrees Adventure Charters will help you craft a custom itinerary that's just right for your group. Maybe you want to focus on seeing whales, becoming an expert kayaker, or balancing time on the water with evening campfires on the beach and hikes to a glacier. Some of these decisions can be made ahead of time through conversations with Captain Laura, who will advise you on the best times to visit and how many days you'll need to see what you want. Once the basic itinerary is set, the weather and other factors play into the daily schedule. That's why a multi-day excursion allows you the most chance to truly experience Alaska's wonders from the water—much of it unchanged from when early English, Russian, and American explorers and naturalists saw it generations ago.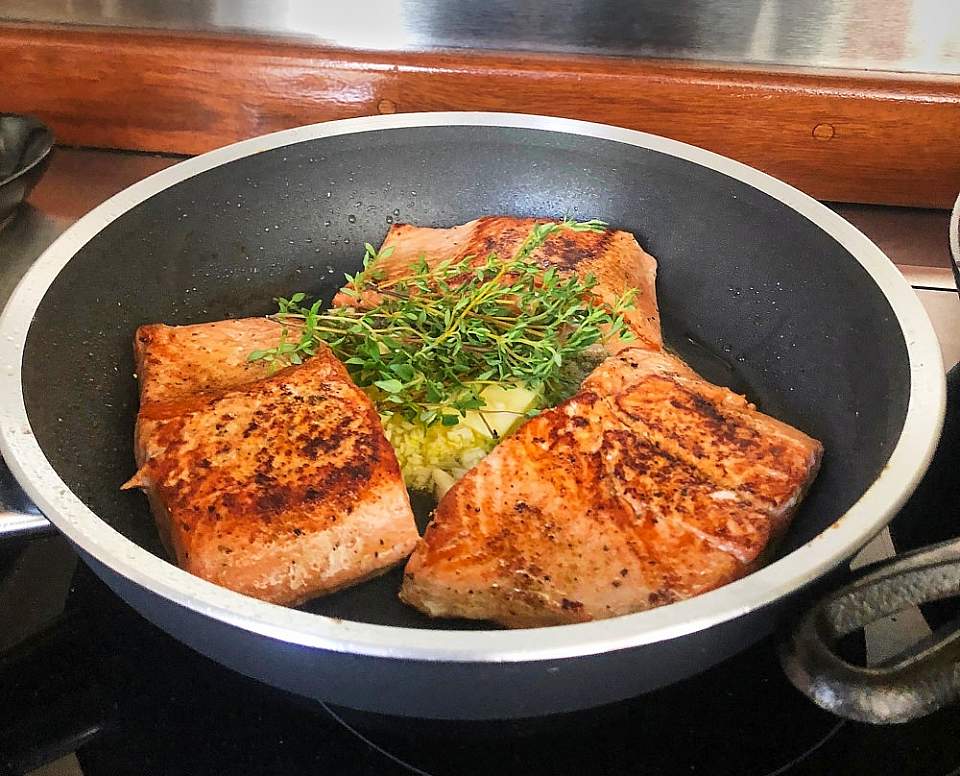 Connecting in the Kitchen
The 60 Degrees crew finds a lot of joy in cooking and putting together bright, fresh recipes that plate well and taste delicious. They showcase local ingredients whenever possible, including beef and pork raised in Alaska and just-caught fish (maybe even your own!). Veggies that grow well in Alaska are complemented with other items from the market. You might even get to sample freshly made goat cheese. No matter what's happening in the kitchen, you're always welcome to gather around for a chat, share tips and favorite recipes, and let the kids pitch in on dessert.
Friends and Family
The M/V Caroline welcomes up to six guests, creating a close-knit and friendly atmosphere. One of the highlights of this kind of small-group excursion is the bonding that occurs both with visitors and the crew. The relaxed nature of the experience—especially on multi-day tours—allows time for learning more about Alaska, your captains, and even yourself as you unwind away from the busy pace of life. So bring the family (it's a great adventure with young kids in tow!), plan the perfect trip with close friends, or finally catch up with your college buddies.
Sleek Comfort on the M/V Caroline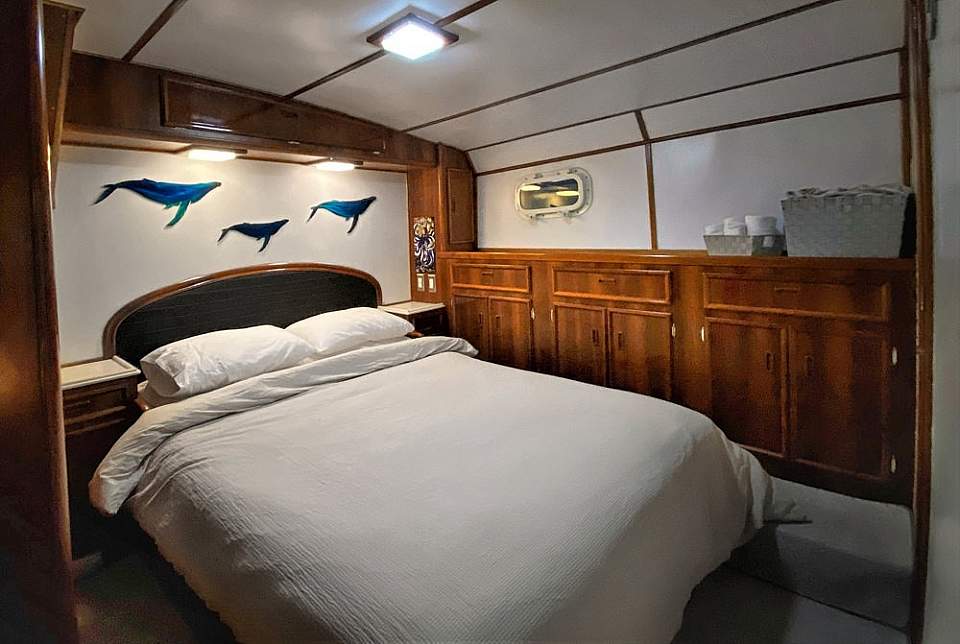 When you see the 63-foot Bertram Sportfisher yacht for the first time, its sleek design promises a stylish ride that's still tough enough for Alaskan conditions. Spacious decks invite both fishing and lounging. The all-wood interior creates a beautiful and cozy atmosphere for hanging out inside, too, with mahogany walks and teak trim. Plus, it's fast!
Private staterooms each sleep two. They're comfortable, with lots of storage for your belongings. The master room has a queen bed and en suite bathroom with shower. (The bed can be separated with an added divider for buddy trips). The two other staterooms are outfitted with 2 bunks each; private bathrooms are just across the hall.
Short on Time? Take a Day Cruise
Now you don't have to take a multi-day adventure to experience the fun of the M/V Caroline; instead, book a private, 8-hour Resurrection Bay Sightseeing Tour for up to 6 guests. You'll leave at 9 a.m. for a custom-designed tour based on your interests and the conditions that day. You may cruise around Resurrection Bay checking out wildlife, waterfalls, and glaciers—a view you can take in from the indoor or outdoor seating areas. One highlight will surely be the seafood lunch, freshly prepared on board. You'll also have the option to go kayaking—just let your captain know what sights and activities are important to you! (Cost is $2,400 for this special, private, 8-hour sightseeing tour for up to 6 guests.)
About 60 Degrees Adventure Charters
60 degrees references the latitude of Seward, Alaska, where Captains Laura and Kenneth tied the knot and decided to build their visitor-focused excursions. Having grown up on boats, they both love the water and relish the experience of showing off Alaska's beautiful coves and rugged shoreline with others.

Captain Laura has a Naval background and earned a degree in Information Technology from the U.S. Naval Academy. She often helms the yacht, steering the best course for your next destination. Other times you'll find her in the kitchen, where she welcomes company with a warm smile as she whips up delightful meals for hungry adventurers.
Captain Kenneth arrived in Alaska at 13 and started working charter boats just two years later. His long experience on the water may have something to do with his quick sense of humor, and you'll soon be laughing at his many quips and jokes.
As the company has grown, Laura and Kenneth have hired a third captain who shares their values and dedication to exceptional, personalized service. You can rest assured that no matter who your captain is, you'll have a wonderful experience.
Beyond the conversation, jokes, camaraderie, and good food, your captains consider your safety their highest priority. Laura holds a Coast Guard OUPV Captain's License and is also a PADI divemaster, a marine safety instructor with the Alaska Marine Safety Education Association (AMSEA), and a Red Cross first aid/CPR instructor. Kenneth holds a Coast Guard OUPV Captain's License and is also a PADI divemaster and a marine safety instructor with the Alaska Marine Safety Education Association (AMSEA).