Photo Credit: Box Lake Ridge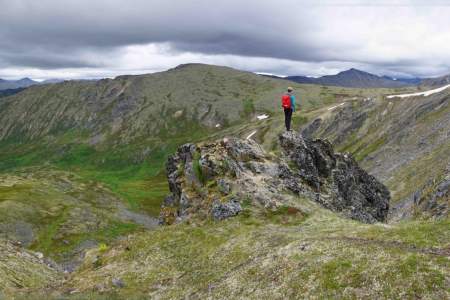 Want to feel dwarfed by Alaska's moun­tains? Take a 2‑hour dri­ve north on the Parks High­way and then up Hatch­er Pass Road, where you'll find this 2‑mile-long ATV trail — a wide but occa­sion­al­ly steep path that leads to the crest of Box Lake Ridge. From the big, round­ed top of this ridge, you can't help but feel over­whelmed by the enor­mous Tal­keet­na Moun­tains that sur­round you.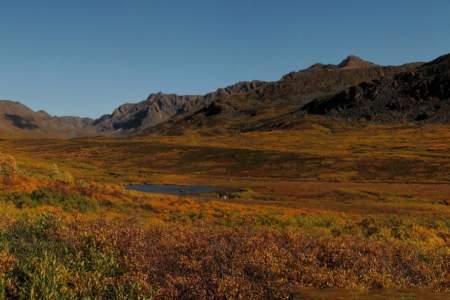 This 4.5‑mile trail, some 2 hours north of Anchor­age on the west side of Hatch­er Pass, climbs 1,000 feet up a very typ­i­cal Tal­keet­na val­ley — long, broad, and lined with tow­er­ing peaks on both sides. It also pass­es by relics and ruins of old min­ing days, when these val­leys echoed with the sounds of picks and drills.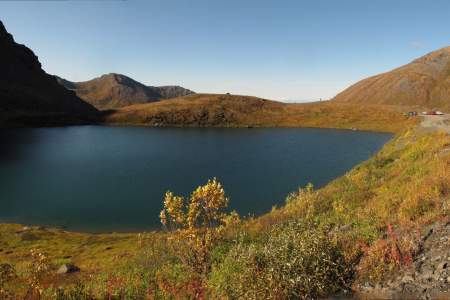 Distance: 2 miles Elevation Gain: 800 feet
Sum­mit Lake, locat­ed some 60 miles north of Anchor­age at the crest of Hatch­er Pass, offers a short, mem­o­rable lake­side ram­ble. Here you can explore the sur­round­ing gul­lies and slopes or just sit and watch hang glid­ers drift out over the long Wil­low Creek Val­ley, which extends for miles from the west side of the pass.