Photo Credit: Skagway Mountain View RV Park
Overnight camping is allowed on many municipal trails in Skagway, although a free permit must be obtained at Skagway's police station (at First and State streets) for camping at AB Mountain, Dyea Flats and along the Dewey Lake Trail System. The munic­i­pal­i­ty of Skag­way main­tains this free prim­i­tive camp­ground of about 20 sites on the Dyea flats, a moraine that's one of the broad­est flat spots in South­east Alas­ka. It's walk­ing dis­tance to the remains of the his­toric Dyea townsite.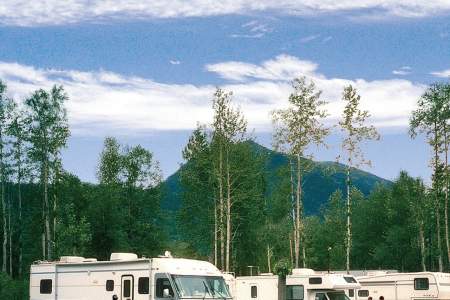 Skag­way Moun­tain View RV Park is with­in walk­ing dis­tance to a vari­ety of enter­tain­ment, his­tor­i­cal sites and eater­ies. ​"Moun­tain View" is the per­fect name for this wood­ed set­ting at the base of White Pass, so you may want to just kick back and enjoy the view while you surf the park's wi-fi, catch up on laun­dry and enjoy the clean shower/​restroom facilities.