Photo Credit: The Sitka Hotel & Restaurant
Season: Year Round $599 winter | $749 summer 3 night minimum
Light­hous­es have long inspired fas­ci­na­tion, but get­ting to sleep in one is a spe­cial treat. This vaca­tion rental ups the ante by also offer­ing a won­der­ful­ly unique way to see wildlife and explore a tran­quil island, a five-minute water taxi ride from Sit­ka. With two bed­rooms, the light­house sleeps about 6. The main lev­el has a full kitchen, liv­ing room, din­ing room, and full bath­room — and out­side decks that wrap around the entire property.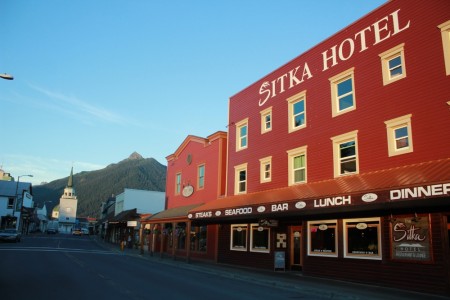 Season: Year Round $175+
This pri­vate­ly-owned down­town estab­lish­ment dates back to 1939, but was com­plete­ly ren­o­vat­ed recent­ly for an his­toric feel with mod­ern ameni­ties. You can't beat the loca­tion, in the heart of Sitka's his­toric dis­trict, where sev­er­al land­marks from the Nation­al Reg­istry are just min­utes from your door. Adding to the con­ve­nience is an on-site, inde­pen­dent­ly run restaurant.