Kenai / Soldotna Visitor Information Centers
Visitor Information Centers Locat­ed on the banks of the Kenai Riv­er and open 7 days a week in the sum­mer. Stop by and pick up a Sol­dot­na Vis­i­tors Guide as well as view pho­tos from all over the Kenai Penin­su­la. Don't miss the exhib­it on the world record king salmon — 97 pound, 4 ounces!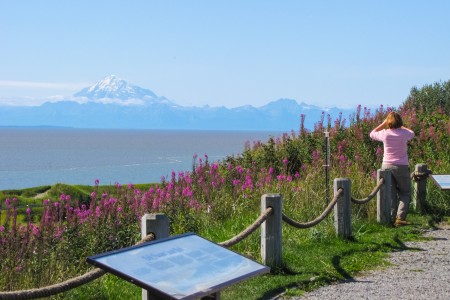 The City of Kenai's vis­i­tor cen­ter goes well beyond a per­son at a counter hand­ing out maps. You'll find an impres­sive per­ma­nent col­lec­tion of Native Alaskan and local his­to­ry arti­facts, art exhibits, as well as the largest col­lec­tion of mount­ed bald eagles in North Amer­i­ca. The gift shop fea­tures sou­venirs, maps, books, music, and local­ly pro­duced items. And, indeed, friend­ly staffers dis­trib­ute infor­ma­tion on local lodg­ing, tours and… ...more This is a pop­u­lar attrac­tion with wildlife exhibits, free wildlife films, and rangers avail­able to answer about recre­ation and camp­ing in the refuge. Take a short walk down the nature trail to a view­ing plat­form. Use the spot­ting scope to look for wildlife on Head­quar­ters Lake.