Photo Credit: Destination Alaska: 8x8 Argo Adventure
Hop aboard an Argo ATV and explore the heart of Homer's untamed wilderness. These simple-to-drive backcountry vehicles, specifically designed for Alaska's rugged terrain, guarantee an unforgettable adventure. Let the thrill of discovery guide you as you uncover hidden gems and breathtaking vistas.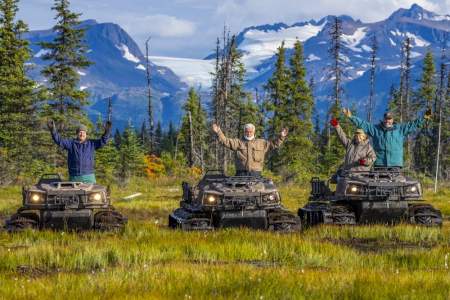 Season: May 20 to Sep 15 $495 per person 7.5 hrs
There are reg­u­lar ATVs, and then there are ATVs built for explor­ing Alas­ka: 8 x 8 Argos. These sim­ple to dri­ve, amphibi­ous vehi­cles make explor­ing the Alaskan back­coun­try even more fun — and you can find the unique oppor­tu­ni­ty to dri­ve one with Des­ti­na­tion Alas­ka, out of Homer.