Photo Credit: Alaska Mountain Guides Sea Kayaking
Multi-day guided kayak trips in Glacier Bay National Park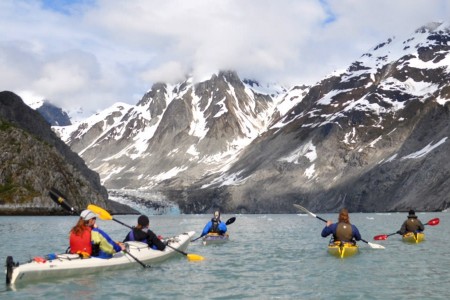 $119+ 4 hrs - 8 days
Guid­ed sea kayak­ing in Alaska's South­east opens up the mag­i­cal world of water-based tour­ing. Glide through a marine envi­ron­ment with gor­geous views in every direc­tion, and many oppor­tu­ni­ties to spot wildlife – from eagles and salmon to bears, whales and sea lions. Options include day tours for busy sched­ules and mul­ti-day immer­sions, all under the expert guid­ance of nat­u­ral­ists who help you under­stand the com­plex work­ings of a unique and amazing ...more
Sailing & Private Yacht Charters
Cruise Glacier Bay on a small ship cruise or private charter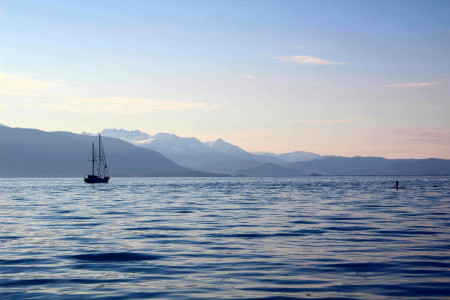 Season: Year Round
3 to 10 Day + | $2600+ / Person
Cruise Ship Type: Small Ship Cruises
Ship Name: S/V Arcturus
This South­east Alas­ka-based tour oper­a­tor will leave you with a new def­i­n­i­tion of what it means to have a once-in-a-life­time Alas­ka cruise: You sail on an inti­mate ves­sel — often get­ting to steer your­self, under the super­vi­sion of an expe­ri­enced licensed cap­tain — while explor­ing away from the crowds, and get­ting a won­der­ful­ly up-close view of the wildlife and scenery. Sail­ings from Juneau and Sitka.
Parks & Trails
Explore trails in Bartlett Cove, the only developed hiking are in the park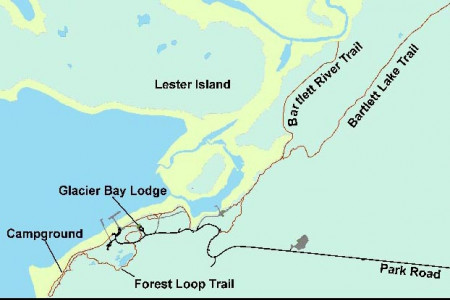 Difficulty: Easy Distance: 2 miles Elevation Gain: 100 feet
This trail pass­es along an inter­tidal lagoon and through a for­est of spruce and hem­lock before end­ing at the Bartlett estu­ary. You may see coy­otes, moose, bear, and riv­er otter along the beach. Ducks, geese and oth­er water birds con­cen­trate in the inter­tidal area dur­ing migra­tions and molt­ing. Salmon run up the riv­er lat­er in the sum­mer that draws in hun­gry har­bor seals. To reach the trail­head, park at the Glac­i­er Bay Lodge/​Visitor Cen­ter and… ...more Difficulty: Easy
The Beach Trail departs from Glac­i­er Bay Lodge in Gus­tavus and fol­lows the shore for one mile, tra­vers­ing beach mead­ows and for­est habi­tats, home to por­cu­pines, bears and moose.