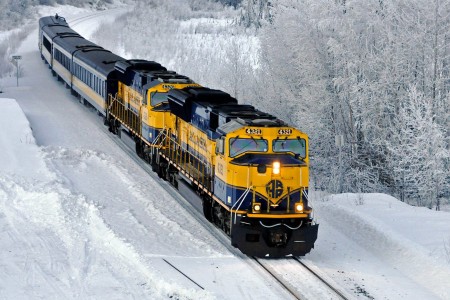 Season: Sep 19 to May 09 $63+
Win­ter in Alas­ka is a mag­i­cal time, with few­er vis­i­tors and a serene, snow-cov­ered land­scape. If you're here from mid-Sep­tem­ber to mid-May, you can take it in from the com­fort of the Auro­ra Win­ter Train, which runs between Anchor­age and Fair­banks. It's an easy and mem­o­rable way to trav­el north and expe­ri­ence the auro­ra bore­alis, or even do a week­end get­away to Talkeetna.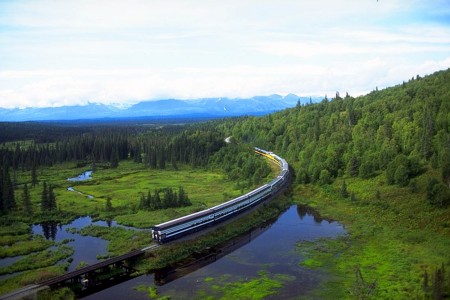 Season: May 14 to Sep 20 $66 to $395
This train trav­els through the forest­ed areas north of Anchor­age into the bore­al for­est, and even­tu­al­ly into the tun­dra regions fur­ther north. On a clear day the train will slow down to allow you to see beau­ti­ful vis­tas of Denali. You may also spot wildlife along the way. Day Trip from Anchor­age: Tal­keet­na Day Trip from Fair­banks: Denali Mul­ti-Day Trip from Anchor­age: Tal­keet­na, Denali Nation­al Park, and / or Fair­banks Mul­ti-Day Trip ...more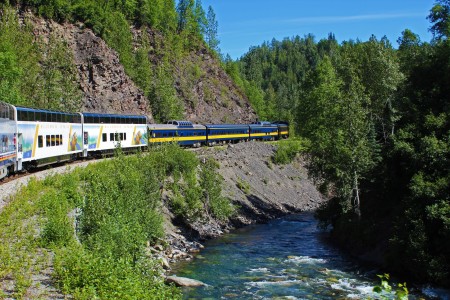 Season: May 13 to Sep 16 $99 - $329 7+ hrs
Rid­ing the train in Alas­ka is a relax­ing and fun way to take in amaz­ing sights around every bend, and many trav­el­ers choose a dome car for the best view­ing expe­ri­ence. When you're head­ed north of Anchor­age, hop on a Wilder­ness Express pri­vate dome car for deluxe view­ing at great value.