Denali State Park Parks & Trails
Denali State Park serves up tons of great hiking trails. At the heart of the park lies the renowned Kesugi Ridge backpacking trail, with four distinct trails—Lower Troublesome, Upper Troublesome, Ermine Hill, and Little Coal Creek—leading you there. For those seeking a newer route, try the Curry Ridge Trail, a moderate hike that takes you some 1,100 feet above sea level and treats you to views of Mt. Denali on a clear day. Difficulty: Moderate Distance: 7 miles Elevation Gain: 1100 feet
The Cur­ry Ridge Trail is a new­ly con­struct­ed trail (2016) that departs from the Kesu­gi K'en Camp­ground and climbs mod­er­ate­ly (1100 ft in about 3.5 miles) up Cur­ry Ridge. On a clear day, hik­ers are reward­ed with stun­ning views of Mt. Denali in the distance.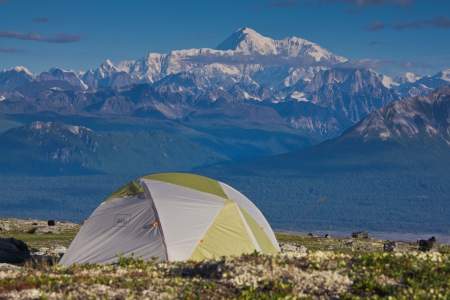 Difficulty: Difficult
Dur­ing peri­ods of clear weath­er, this route through Denali State Park offers sim­i­lar ter­rain and scenery to Denali Nation­al Park — includ­ing unpar­al­leled views of Denali — with­out the cum­ber­some per­mit­ting process. This trail sys­tem offers many options for start­ing and end­ing points, as there are four trail­heads along its length.