Photo Credit: Sailing Lake Clark
Lake Clark Sailing & Private Yacht Charters
Discover the wonders of Lake Clark National Park and Preserve with sailing and private yacht charters, available from June to September. Set sail on a captivating journey and anchor in new spots each night. Keep an eye out for wildlife, explore an abundance of hiking trails, and enjoy the freedom of kayaking and paddleboarding in the serene waters. Then unwind with bonfires on the beach, making cherished memories amid the pristine wilderness of Lake Clark.
Sailing & Private Yacht Charters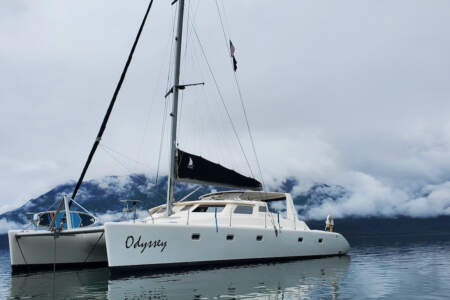 Season: June - September $2,666+ per cabin (double occupancy) 3+ nights
You'll spend either 4 or 7 days sail­ing around Lake Clark, expe­ri­enc­ing all the nat­ur­al majesty this nation­al park has to offer, with its many crag­gy moun­tains set close to the water. Anchor each night in a new loca­tion. Look for wildlife, hike, explore with kayaks and pad­dle­boards, and enjoy bon­fires on the beach.