The Best Wildlife Viewing Spots in Tenakee Springs
It's all about the fish at Tenakee Inlet. The protected waters attract bait fish and 750,000 salmon annually. Whale, orca, bears and eagles are all attracted to the all-you-can-eat buffet. And that means the wildlife viewing is optimal at Tenakee Springs.
If wildlife viewing is at the top of your list, we recommend that you book a local charter. Your guide can take you where the action is, whether it's whale watching or bear viewing.
Marine Life
Humpback whales are seen frequently swimming past Tenakee, and you can spot them from shore. If you catch them bubble net feeding, it's quite a sight. Several whales will swim in a tight circle, blowing bubbles under a school of fish to force them upward. In unison, the whales will swim up with mouths wide open to catch as many fish as they can. The best time to see whales near Tenakee is closer to the end of summer, as they stop here on their way back to their winter home in Hawai'i. Orca, or killer whales, are also spotted frequently here, traveling in pods of varying sizes. Some are resident (fish-eating) orca. Others are transient orca, and prey on other marine mammals such as sea lions.
Bear
Chichagof Island is widely known for its dense population of brown bear. While they are rarely seen right around Tenakee Springs (probably due to the level of activity in town), do take care when hiking around. A charter can take you to see bear fishing in nearby salmon streams, or out on the coastal flats eating sedge grass or splashing in the water. (The type of activity and where the bear can be found is related to the time of summer and whether the salmon are running.)
Birds
Hike along Tenakee Springs Trail and watch for eagles and waterfowl.
Best Wildlife Viewing Spots in Tenakee Springs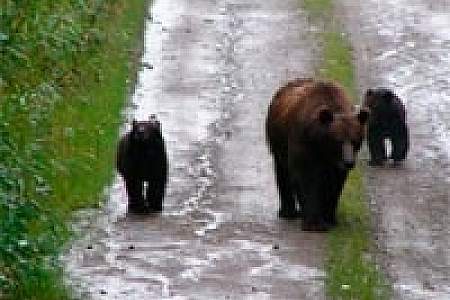 Difficulty: Easy
Hike through forest­ed paths along the shore­line east or west of Tena­kee Springs. Head­ing west brings you to many beau­ti­ful lit­tle bays. Going east leads you over a pic­turesque sus­pen­sion bridge, then to Can­nery Point and Cof­fee Cove. Even­tu­al­ly you'll find one of the old log­ging roads, which could lead you all the way to Hoonah!