Surprise-you don't even have to leave Anchorage to land a famous Alaska salmon or trout. Expand your do-it-yourself options with a quick daytrip out of town in either direction. Your chances aren't as good as when hiring a guide and boat, but it's cheap and convenient.
Fish run in the wild creeks and well-stocked lakes, and it takes little gear to get up and running. So if there's no time for a fly-in fishing trip, do like the locals and make the urban landscape your fishing hole. Below we've listed our favorite local spots for gearing up and fishing.
If you're shopping for fishing gear, head to Mountain View Sports Center (907-563-8600). They carry the high-quality fly rods and reels, a complete selection of fly-tying materials, and a full line of spinning and casting gear. Their experienced, knowledgeable staff will get you geared up and ready to fish. Pick up that essential Alaska fishing license, and your king salmon tags too.
Fishing Spots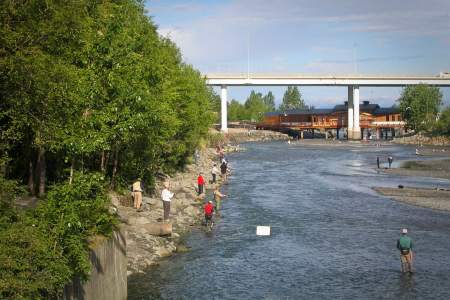 Alaska's most pro­duc­tive king salmon sport­fish­ery is locat­ed right in down­town Anchor­age! Fish for salmon at Ship Creek even if you have only two hours. Dur­ing the sum­mer­time der­bies, spe­cial­ly tagged fish bring in $100-$10,000. Buy your tick­ets ($7 – 35) from the Der­by Cab­in next to Com­fort Inn at Ship Creek and warm up your mus­cles-in 2002, a 41-pounder took grand prize! Want to fish Ship Creek? 6th Avenue Out­fit­ters (907−276−0233) sells… ...more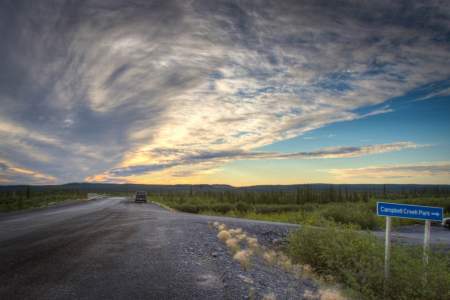 This fish-filled creek rush­es out from Far North Bicen­ten­ni­al Park and through the cen­ter of town. Cast for rain­bow trout, Dol­ly Var­den, or sil­ver salmon-all with­in walk­ing dis­tance of your car. Throw on a pair of hip-waders and head up the creek or angle from the shore­line trail. Direc­tions: Park at one of the lots on Camp­bell Airstrip Rd. to access the creek from Far North Bicen­ten­ni­al Park, or head west on 76th off of Old Seward to King… ...more