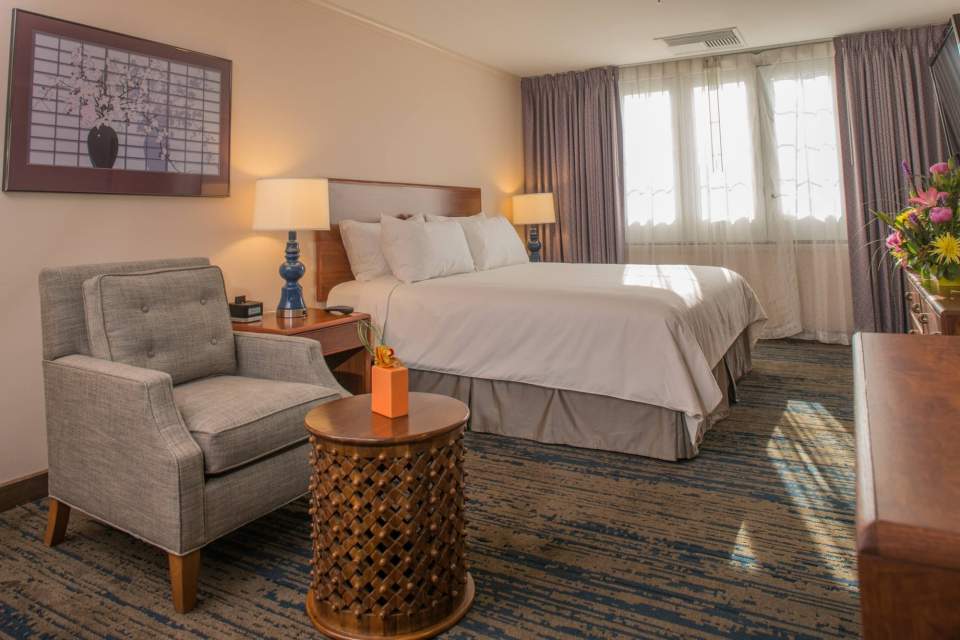 Currently closed. The Voyager Inn in the heart of downtown Anchorage offers guests a sense of history with an updated look. Built in the 1960s, the Voyager was recently purchased and remodeled by the Hickel Group and is managed by the world-renowned Hotel Captain Cook located across Fifth Avenue. Renovated rooms and suites include luxurious bedding and linens, stylish seating, plush carpeting, designer bathrooms and kitchenettes with new granite countertops.
Voyager guests will enjoy a complimentary full breakfast, in-room WiFi and access to the Hotel Captain Cook's Athletic Clubs, featuring separate men's and women's workout areas and shared facilities that include a swimming pool, Jacuzzi, aerobics room and group cycle.

The Voyager Inn is currently closesd until further notice
The Voyager's spacious accommodations and friendly staff make it the perfect place for your next Anchorage excursion. Rooms on the third and fourth floors offer views of Cook Inlet through beautiful French doors and large windows, providing a light and airy atmosphere in which to relax and rejuvenate.
The Voyager Inn provides guests with unlimited access to the best the city has to offer. This boutique hotel is just steps away from many prime attractions, including the Alaska Center for the Performing Arts, Anchorage 5th Avenue Mall, the breathtaking Tony Knowles Coastal Trail and dozens of the city's top restaurants. The Voyager Inn also stands in the center of the Anchorage business district.
Book your stay at the fabulous Voyager Inn.