Ketchikan is known as the "salmon capital of the world," and this uniquely personal tour is your chance to angle for these iconic Alaskan fish—as well as huge halibut.
A Day on the Water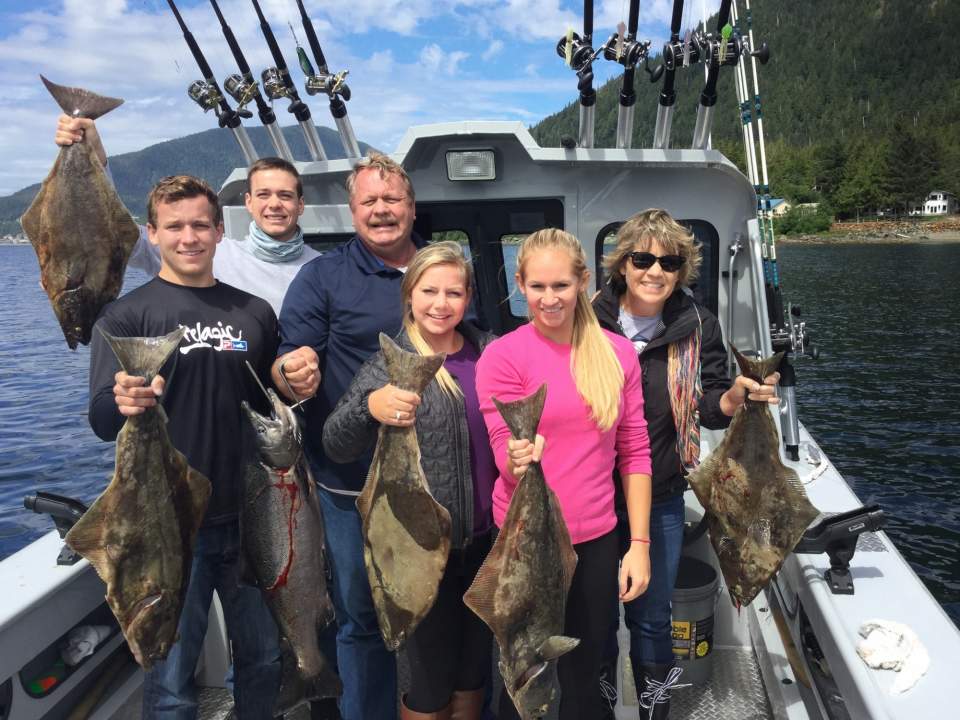 You'll board an intimate fishing boat—complete with top-quality fishing and rain gear, as well as heaters, snacks, and beverages—close to the Ketchikan cruise terminal. And, since this is a private charter, it will be only your group on board!
The company's boats were truly tailor-made for salmon and halibut fishing, and during the peak season, you'll ride just 15–20 minutes in them to get to the salmon grounds. The whole way, you'll be in calm, protected waters, which makes this a great experience for everyone, including families with younger kids or people prone to seasickness. Plus, no fishing experience is necessary. Your captain and guide will walk you through every step of the process from setup through to reeling in your catch!
But what sets The Alaska Catch apart is the level of attentive service and personalization. The owner, Mike, and other boat captain, Jimmy, want to give their guests the best experience possible on that day. If weather conditions are poor in the halibut-fishing area, for example, they'll give you the option to go salmon fishing instead. If the weather is bad in both areas, they may even give you the option to cancel, as well as recommend another area activity. Their goal is to have satisfied guests!
Charter Options
Salmon Fishing: 4- or 6-hour tour
The 4-hour tour is great for July through early September, when the fish are closer to shore; in early June and late September, the 6-hour tour gives you more time to reach the areas where they congregate.
Halibut Fishing: 6-hour tour
It's about a 45-minute run out to the fishing grounds, where you'll anchor over an area rich with halibut, as well as Pacific cod, rockfish, and lingcod. On a cruise and only in port for six hours? Ask to make this a 5-hour charter.
Salmon and Halibut Combo or Crabbing: 6- or 8-hour tour
Combo trips are an especially great option if you have kids—when they get bored fishing for one thing, fish for another! On the 6-hour tour, you'll usually start with halibut fishing, then switch over to salmon (though you can also do the opposite). Plan in advance and you can swap out either salmon or halibut and add crabbing instead! This is a good option for early season, before salmon fishing opens. Just be aware that crab must be cooked before it's shipped; The Alaska Catch can arrange this for you on the 8-hour trip as long as it's confirmed in advance.
About The Alaska Catch
The owner of The Alaska Catch, Mike, came to Ketchikan as a 20-something in 2006 and started working for a fishing charter operator; he quickly fell in love with Southeast Alaska. He saw how other captains interacted with guests and took care of their boats, and he developed his own style. In 2013, he was inspired to start his own business, and his passion for both fishing and Ketchikan shines through on every fishing trip he does!