If you've ever wanted to stay in the only hotel in town, this is your chance. Tiny Seldovia (population: 300) has just one hotel—and it's a charming, 11-room waterfront property that's open year-round. Spend at least a couple days and you'll easily get settled into a relaxing Seldovia state of mind.
Seldovia's not on the road system, but it's super-easy to reach from Homer via water taxi, ferry, or plane. Once here, you'll step into the intimate, newly remodeled hotel and be warmly greeted; the owners are lifelong Alaskans who grew up in Seward.
Relax in your comfortable room, where you'll enjoy spectacular views of shimmering Seldovia Bay or the surrounding mountains. Get even closer to the scenery on the hotel's deck—the largest on the waterfront—and take in an incredible nature show. Watch the dramatic Alaskan sun making its slow descent over the water as otters play nearby and bald eagles soar overhead.
For breakfast, you can purchase a delicious breakfast basket to enjoy in your room or out on the deck. If you're headed out for the day, order a picnic lunch. But do not miss the hotel's restaurant, the Boardwalk Pub & Grill, which serves lunches and weekend dinners. Take a seat on the patio and dig into fresh local seafood, mouth-watering family recipes, and much more.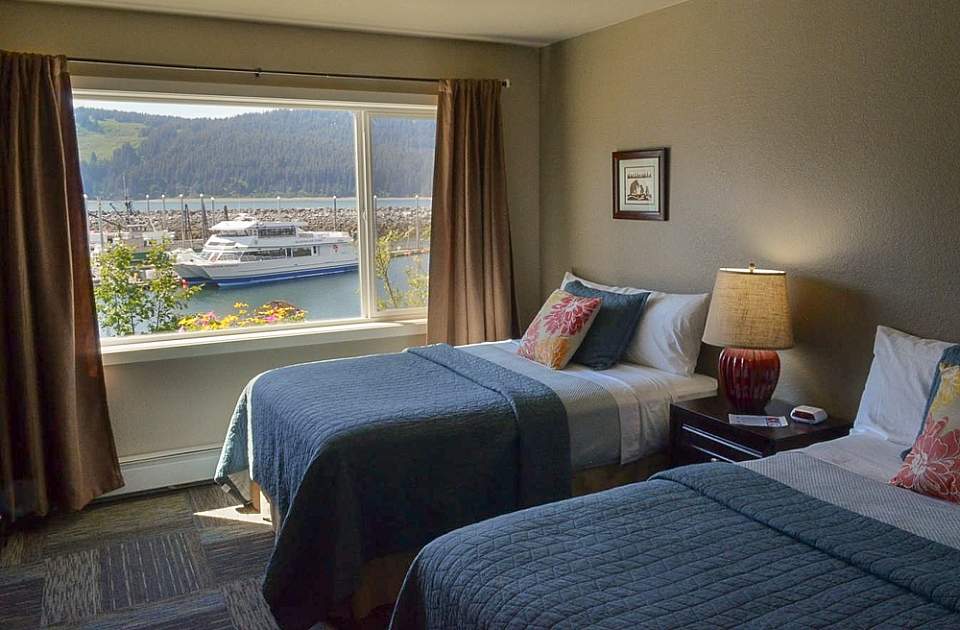 Gateway to Seldovia
The Seldovia Boardwalk Hotel makes a great base for adventures of all kinds; it's easy to find fun activities for all ages. Go tidepooling just outside your door or enjoy amazing hiking. Explore town with a golf cart or bike rental available exclusively at the hotel. Or rent a paddleboard to take out on the calm bay waters. You can also go kayaking, or relax on two popular stretches of coast: Inside Beach and Outside Beach.
Of course, you won't want to forget the fishing. The king salmon arrive in June; you'll know it when you see the locals line up with their fishing rods. You can also take a fishing charter from town—the fishing grounds are even easier to reach from Seldovia than they are from Homer. And on July 4, the hotel is the place to experience an iconic, small-town Alaska holiday, complete with a parade, games, food, and all-day music on the deck.
Seldovia's a great place to be in winter as well. Visitors come for downhill and cross-country skiing, winter fishing for king salmon, or just to relax. Come March, birders flock here for the spectacular birdlife.
It's also the perfect place for a group, like retreats and family vacations. Or book the destination wedding of your dreams in this gorgeous location, complete with reception and catering. If you have a big group, you can rent the whole hotel and the owners will help you find other lodging for the overrun.