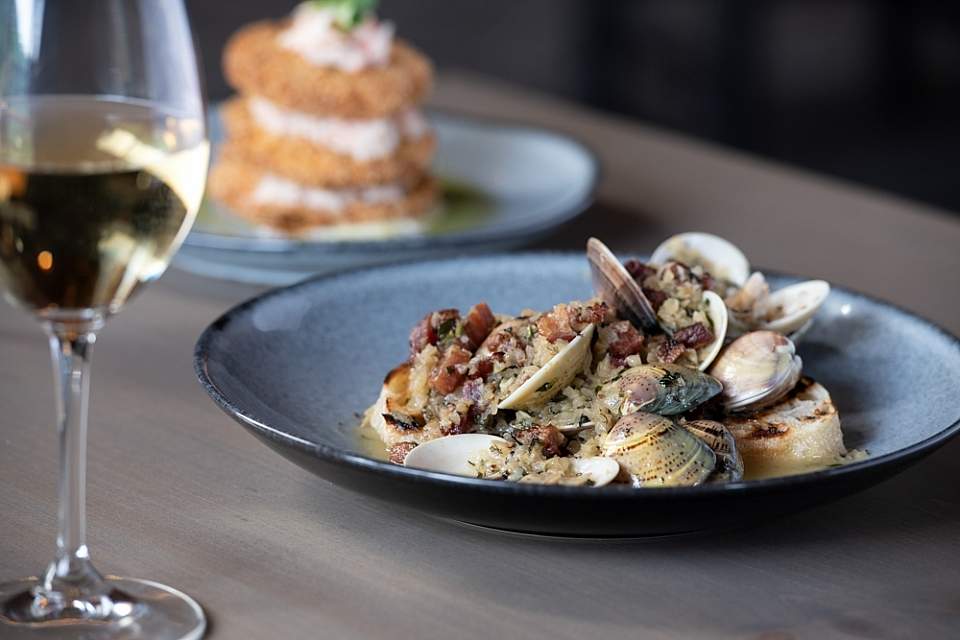 A wood-burning fireplace and spectacular views of the Kenai River and Mount Cecil Rhodes create an inviting atmosphere in the Rod & Reel Restaurant. While this is a fine-dining restaurant, it's not formal—you won't find table linens or pretentious waiters. Come with the kids or just drop in for any meal. This is a popular place with locals, who know it's one of the better options on the Kenai. There's an extensive wine list, Alaskan beers on tap, a full bar, the high-quality food that Princess is known for, and of course those great views.
Sit down to a dinner of Alaskan "Scalloped Dynamite" while looking out over the turquoise glacial waters of the Kenai River. The food—scallops, salmon, halibut, and rich meat dishes—brings the outdoors inside as much as the décor. And dinner entrees are often served with Asian-influenced sauces, which enhance the subtle flavors of the fresh seafood.
Because this is the lodge's only restaurant, there are also breakfast and lunch menus. In the morning there's a full menu and a hot buffet since many folks want to eat and get out on the river or trail. The self-serve buffet includes meats, eggs, potatoes, biscuits and gravy, fresh-cut fruit, oatmeal, cold cereals, juice, and coffee. Or have a casual breakfast with bottomless cups of rich Kaladi Brothers coffee and dishes like the corned beef hash. And try the Eggs Benedict; with house-made Hollandaise sauce, it's a hit with locals, who come here over the area's greasy spoons.
Lunch can be busy, especially if there's a cruise-ship arrival, so call and check on the wait if you're in a hurry. The food is standard pub fare, with burgers, fish and chips, and hot sandwiches. But you'll also find tasty salads, like the roasted beet and baby kale or wedge caesar.