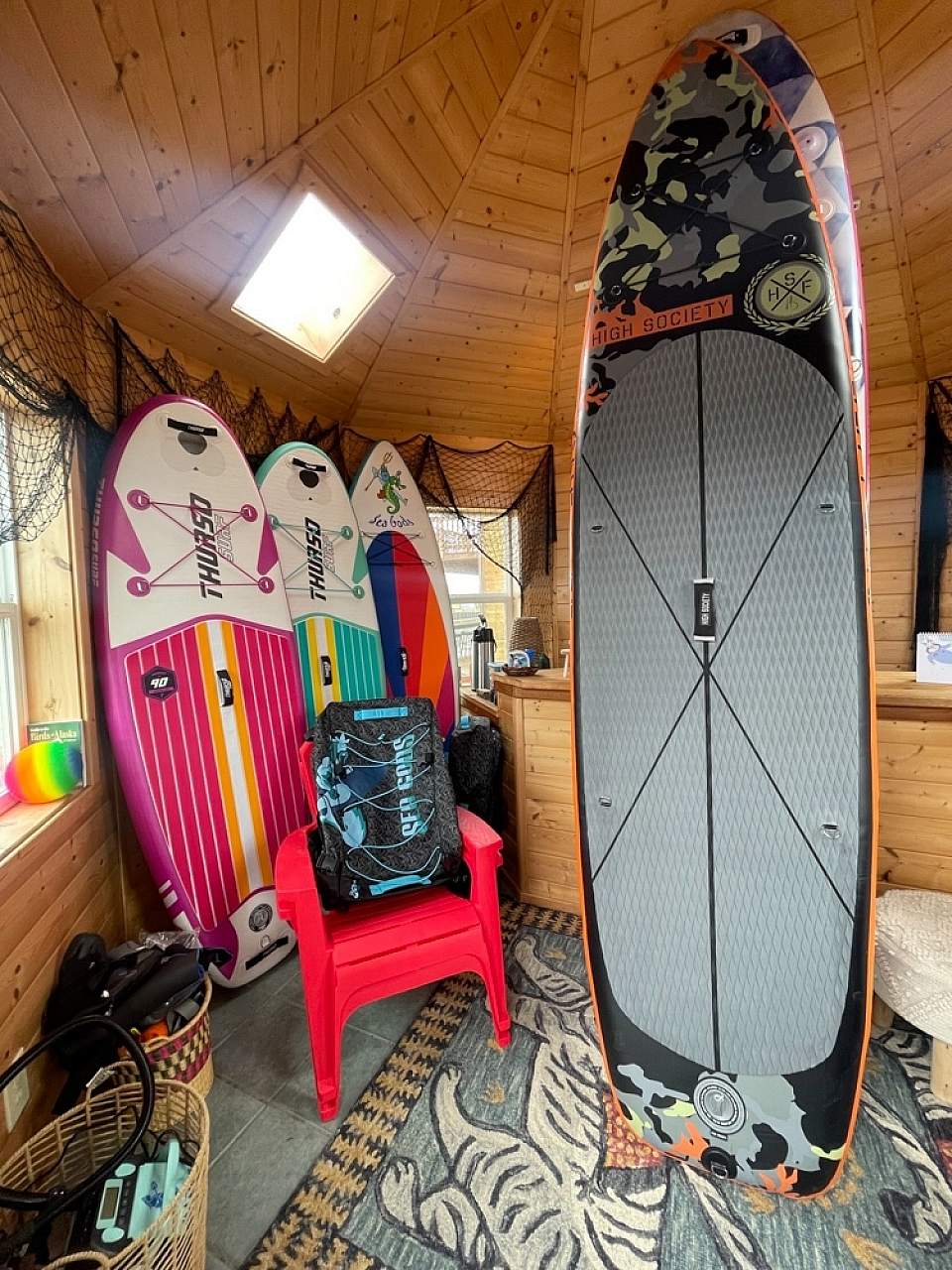 With snow-capped peaks and towering trees all around, you'll set off onto the calm waters of shimmering Kachemak Bay in a thrilling way—paddling a standup paddleboard. These long, wide, sturdy boards are built to handle the waters of Alaska, and no experience is necessary. Go with your own private group; an experienced guide will be right there to offer instruction and fun tales of the area. Or rent a board and explore this stunning area on your own. You can also opt for an all-inclusive weekend wellness retreat, complete with holistic nutrition coach, massage therapist, and a special focus like wildlife photography or poetry—plus plenty of paddlboarding, of course!
Private Adventure Paddleboarding Day Tour
You and your group will spend 2 hours paddling the gorgeous coast of Alaska, taking off from the Homer Small Boat Harbor via a quick 30-40 minute water taxi, you'll head to the gentle cove of Tutka Bay. You'll start off with a delicious, boxed lunch, then get instruction and safety tips. Then, it's time to get on the water, hugging the dramatic shoreline. Take in the impressive mountains and rock formations along the way, look for sea stars in the super-clear coastal water, and watch for sea otters and seals. Kids 7 and up are welcome, and kids' boards are available. Once you finish your paddle, you'll catch the water taxi ride back—a scenic way to end this exhilarating outing!

Board Rentals
Want to DIY your paddleboarding experience? Rent a board and paddle (by the hour or the day) from Puffin Paddle Co and set off onto Kachemak Bay. Boards are packable, so you can also opt to bring it with you on a water taxi, hike a local trail across the bay in Kachemak Bay State Park, and paddle one of the impressive glacial lakes. Puffin Paddle Co will also be more than happy to make suggestions based on your interests!
Weekend Wellness Retreats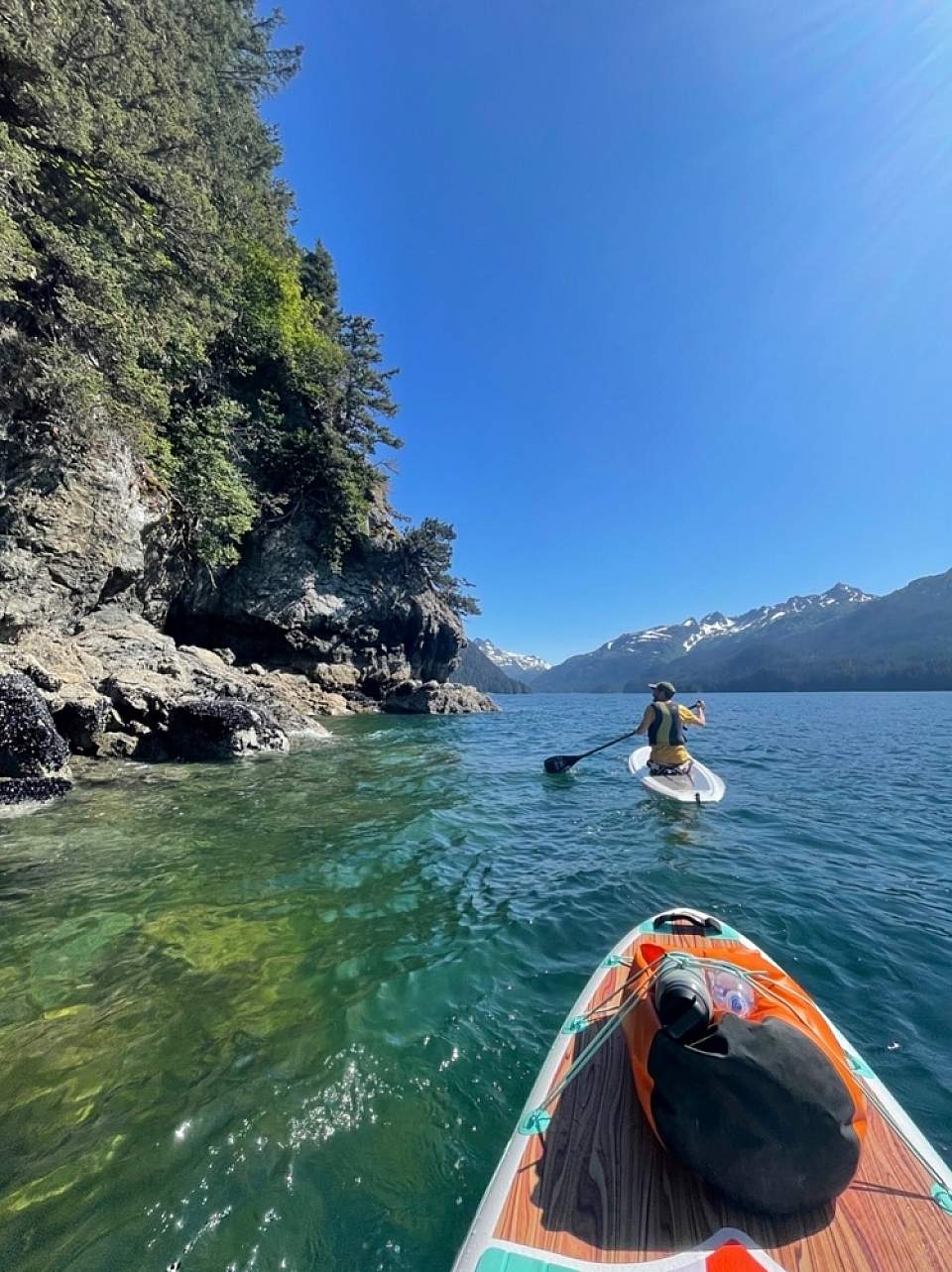 Take a weekend to re-center yourself and learn a new skill (or learn more about an existing interest) on these all-inclusive retreats that combine spectacular paddleboarding and other activities. These 5 summer getaways focus on activities like indigenous beading, wildlife photography, poetry, or music. One weekend is devoted to families. Accommodations are rustically Alaskan: Stay in a yurt with a stove and mattresses, or opt for a glamping tent. There's a maximum of 10 people for these intimate weekend workshops, and all meals are included, along with the advice of a holistic nutrition coach, a massage, and water taxi. Plus, paddleboards will be available to have some "me time" on the water!
About Puffin Paddle Co
Owner Carlie has always loved watersports, and also loved Alaska when she moved here in 2014. A paddleboarding aficionado, she saw a wonderful way to combine her interests by launching this paddleboarding business in Homer. It's a wonderful way to get out on the water, be close to nature, and take in the unique perspective that this sport provides. She loves conveying her enthusiasm to her guests, and to empower people—especially families with kids—to be comfortable on the water and to learn balance on the board. It's also a great way to experience the mental stimulation and physical relaxation that come from being out on the gorgeous Alaskan waters.