Chad Matthews grew up fishing and boating from a young age. Even then, it was always more then just dropping a line in the water. Fishing became a never-ending quest for knowledge; understanding fish migrations, food supply based on time of year, and finding the best locations. So, he turned his passion into a career, moving his family to the Kenai Peninsula where he and his wife run SeaFarer Suites and O'Fish'ial Charters of Alaska.
Over the years Chad spent countless hours with seasoned Alaskan fishermen who shared time-tested advice – and their fishing hotspots – with him. He combines this knowledge with a customer-service focus (no grumpy fishing captains allowed!), business-savvy (offering lodging as well as charters to boost customer convenience), and passion for sharing all the excitement and adventure Alaska fishing has to offer.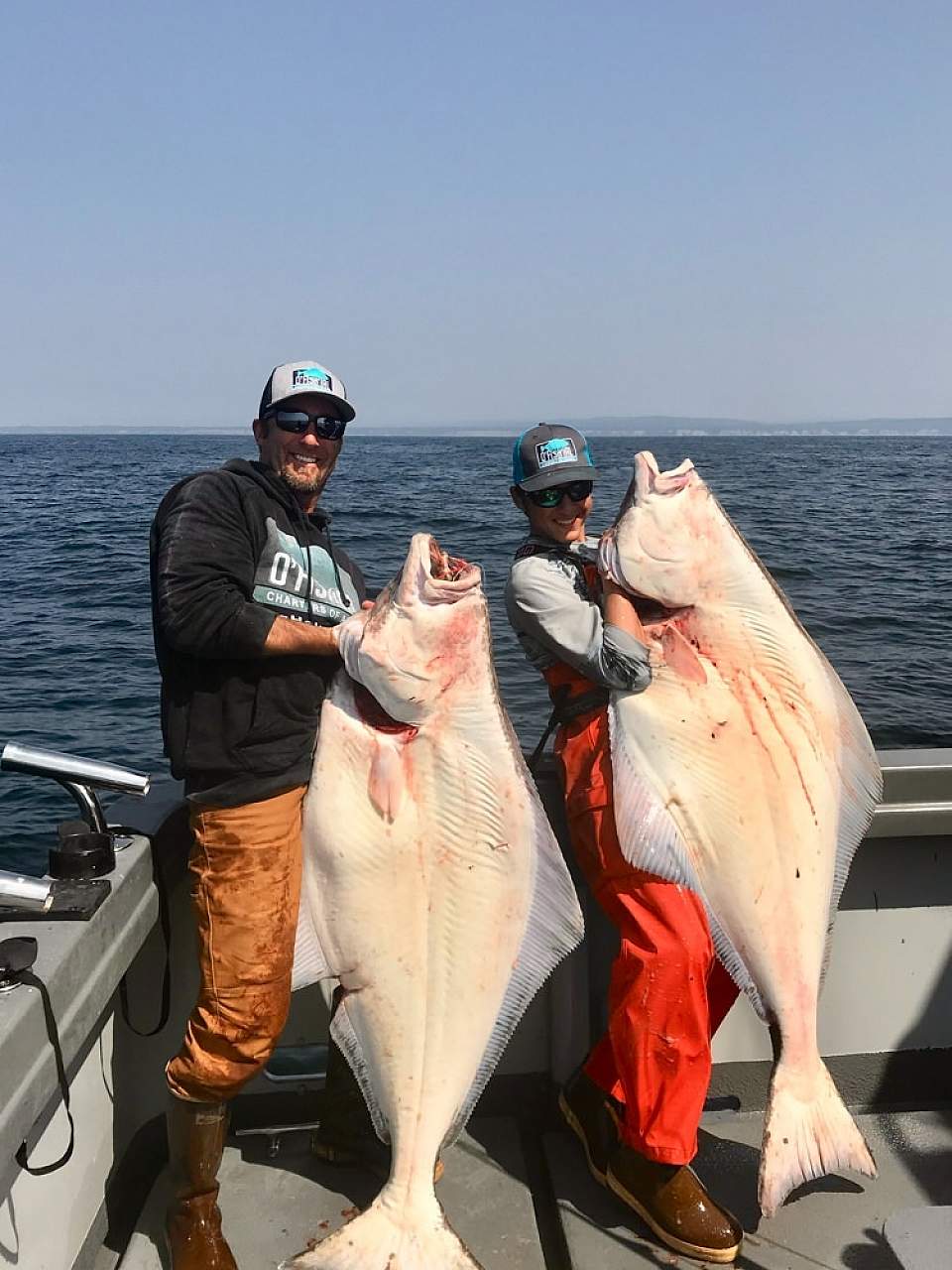 O'Fish'ial Charters specializes in halibut and king salmon charter fishing, as well as Long Range trophy fish hunts. (Bonus! Kachemak Bay offers not only amazing fishing, but also incredible ocean and volcanic views.)
Quality Charter Experience
For many, a charter fishing trip in Alaska is a once-in-a-lifetime deal. Chad knows that as well as anyone, so has made substantial investments in equipment and other perks that contribute to a quality charter:
Comfort. O'Fish'ial Charters has become one of Homers' top rated charter companies. Beyond fishing knowledge the biggest part of the experience is safety and comfort. This is where operating the finest vessels in Homer makes the difference. O'Fish'ial offers two custom new 6 pack vessels the Artemis and the Amphitritie. They are 33' long with an 11' beam. Each powered with twin 350 Suzuki dual prop outboards. With large fishing decks, heated spacious cabins, and a 30 knot cruise speed these vessels are a standout in the Homer charter fleet. Have a group larger than 6 anglers then the Katilak is the vessel to fit your needs. This custom catamaran is a 10 passenger luxury charter boat built right in Homer. There are literally boat building classes in Alaska that use this vessel as a reference for quality build and design. The Katilak is 34' by 13' and offers a full walkaround deck. O'Fish'ial believes in speed when it comes to doing long range charters (more time fishing less time driving). With a cruise speed of 26 knots the Katilak can get larger groups out to the fishing grounds faster than nearly all of the other inspected vessels
Convenient location. O'Fish'Ial Charters is located on the Homer Shores Boardwalk across the street from the harbor.
Gears. Save your shoulders when pulling up the big fish. Vessels are equipped with two speed reels. Just push a button to put you in high gear.
Forget freezer burn. Catching your fish is just the first step. You also need a reliable way to get it home. O'Fish'ial will filet it for you and offers a state-of-the-art process technique and higher quality bags that keep your catch fresh up to two years. (Tip: Chad knows plenty of ways to prepare halibut and salmon – from simple to 'full chef' variations. Be sure to ask for his latest favorite recipe.)
Choosing your Adventure
Your dates of travel will affect the type of fishing excursion you can select. The good news is, there's something going on all year long!