Photo Credit: Haley Johnson
This sweeping, wilderness valley with a collapsed central caldera inside Katmai National Park & Preserve experienced the most powerful volcanic explosion of the 20th Century. The eruption of Novarupta in 1912 blasted 3.5 cubic miles of ash into the sky, dumping a foot or more of grit on Alaska villages and altering the weather across the globe. More than 100 miles downwind, Kodiak endured three days of suffocating darkness and foot of volcanic ash heavy enough to collapse roofs. The aftermath left behind a moonscape valley steaming with uncounted fumaroles—famously nicknamed the Valley of Ten Thousands Smokes by its first visitors. The four-million acre park—one of Alaska's premier wilderness destinations—has six active volcanoes, including the 6,716-foot Mount Katmai, located six miles from Novarupta.

Best Viewing Spots
Brooks Camp
About 270 miles southwest of Anchorage
The best way to experience Novarupta and see the other volcanoes of Katmai National Park is to fly there and then stage from the main park service facilities in Brooks Camp or book excursions through one of many outstanding private lodges. Most people fly commercial to King Salmon, about 290 miles southwest of Anchorage, and then take small aircraft to their final destination. Katmai is probably more famous for its world-class fishing and brown bear viewing that its volcanoes.
For More Information
Getting There
View on Map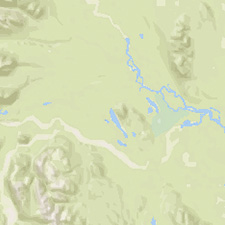 Coordinates
Latitude: 58.27
Longitude: -155.157
Most visitors to the valley of Novarupta take a day tour offered by the park's concessionaire at Brooks Lodge to the Robert F. Griggs Visitor Center overlooks the valley floor. The trip entails a 46-mile bus trip to-and-from Brooks Camp and includes a 3.4-mile guided hike into the valley floor. Visitors prepared for wilderness backpacking, route finding and stream crossings often take extended backcountry trips exploring the valley and climbing its surrounding peaks. Novarupta itself is a 200-foot dome in the middle, located 14 miles from a trailhead on the Valley Road.