Far from the trappings of resort-living, North Face Lodge is an exceptional destination that few get to experience. Wake up every morning to spectacular mountain views, in a peaceful and remote location deep inside Denali National Park. Create connections to the land over a multi-day stay that immerses you in guided naturalist walks and captivating evening programs. Enjoy a cameraderie with staff and guests who share this haven with you.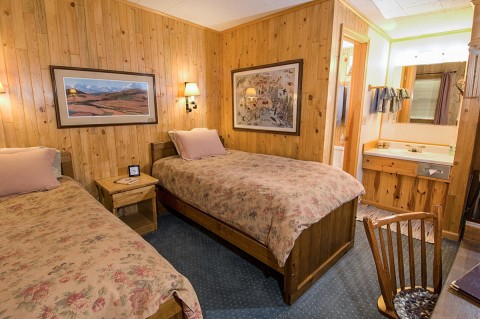 In 2012, North Face Lodge, along with its sister facility Camp Denali, was listed on Fodor's list of Top 100 Hotels in the category of Best All-Inclusive. Fodor's says, "If there's an ultimate way to experience the Denali National Park and Preserve, it's at one of these two lodges" – and we have to agree.
Homesteading History
Designed as a casual country inn, North Face Lodge is situated on five acres of land homesteaded in the 1950s. The Cole family – who also own Camp Denali just a mile away – purchased the property in the 1980s as a way to ensure a small operation, with a focus on stewardship of the land instead of development. Today, the original North Face cabin remains, along with the lodge which was built in the 70s and extensively renovated in the 80s The Coles' son-in-law and daughter, Simon and Jenna Hamm, have now assumed the reins of North Face Lodge and Camp Denali, and are writing the next chapter in the family's legacy of providing an authentic and resonating national park experience.
Back-to-Basics Bliss
About 36 guests enjoy the back country location of North Face Lodge on multi-day stays that feature natural and cultural history education through guided hikes and field trips. Local produce and meat from Fairbanks-based Alaska Grown, and produce from the on-site greenhouse, is incorporated into the handcrafted artisan food served in the dining room.
Home-Grown Comfort
Guest rooms are small and well-appointed, with private baths, central heating, and homegrown details. Down comforters with coverlets and curtains—handcrafted by staff, and complemented by carefully selected work of Alaskan artists—demonstrate an abiding attention to detail that is notable throughout the facility. Connected by a covered porch to the spacious patio, living room and dining room areas of the intimate structure, North Face Lodge will soon feel like a second home to you, as staff are genuinely warm and hospitable. Many embrace this lifestyle, having a high level of interest and education in fields such as geology, botany and natural history.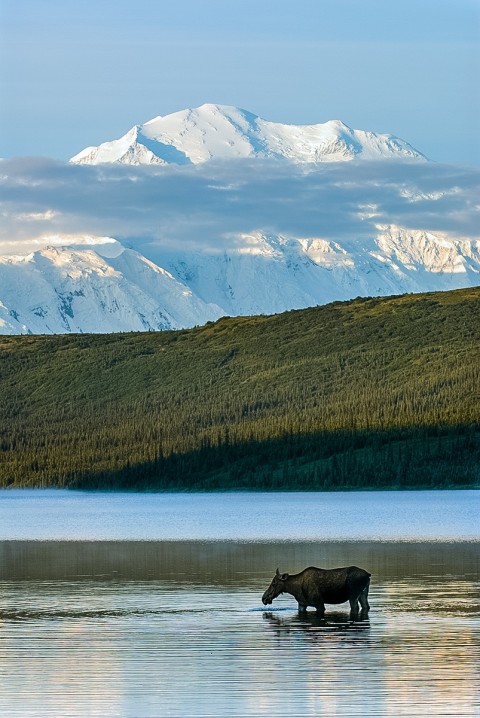 Learning about the Land
Each morning over a delicious breakfast in the dining room, you'll discuss the day's options. Choose your style of adventure – whether it's a moderate and highly informative hike with a naturalist, a bike ride further into the park, or a leisurely wildflower walk and picnic on the spongy tundra. Evening programs offer up more fascinating topics, which can help you see the land through another perspective. These offerings help you appreciate what you're seeing more: when you know the birds you spot come from six continents to Denali for the short but amazing summer, or that only 35% of cubs born here survive the park's challenging conditions, or that artist's depictions of the landscape led to the rise of the conservation movement in America. You'll get these kinds of insights from the Special Emphasis Series. They are led by guest speakers who are experts in various fields of the natural sciences, the Far North's cultural and geopolitical history, and the arts. Topics range from photography and birding to conservation, mountaineering and the northern lights. The series is scheduled in advance, so be sure to look at the offerings as you decide on when to visit. If your stay doesn't coincide with a Special Emphasis Series, there is a nightly program given by one of the naturalist guides on site.
The North Face Lodge Decision
Is the North Face Lodge right for you? The answer is yes if you:

want to experience Denali National Park away from crowds
are interested in coming away with more knowledge and a deeper connection to the land
don't mind simple, sustainable amenities, but prefer a private bath and shower
enjoy camaraderie with staff and other guests built through shared dining, nature walks and evening programs.
The differences:
The cabins of Camp Denali are arranged on an ascending ridgeline, which means great views but more walking. You'll have a three to seven minute walk to the dining hall and other main buildings.
Camp Denali guests have a bit more solitude in their cabins, and also get water from spigots nearby, use meticulously maintained private outhouses, and have access to modern shared shower facilities at the central building. North Face guest rooms are joined by a common veranda, but each has its own private bathroom with flush toilet and shower.
North Face has up to 30 guests and Camp Denali has up to 38.