Underground cabins and a yurt are just some of the unique rooms that make up this Homer property, all perched on a bluff with spectacular views of Kachemak Bay and the mountains beyond.
The Experience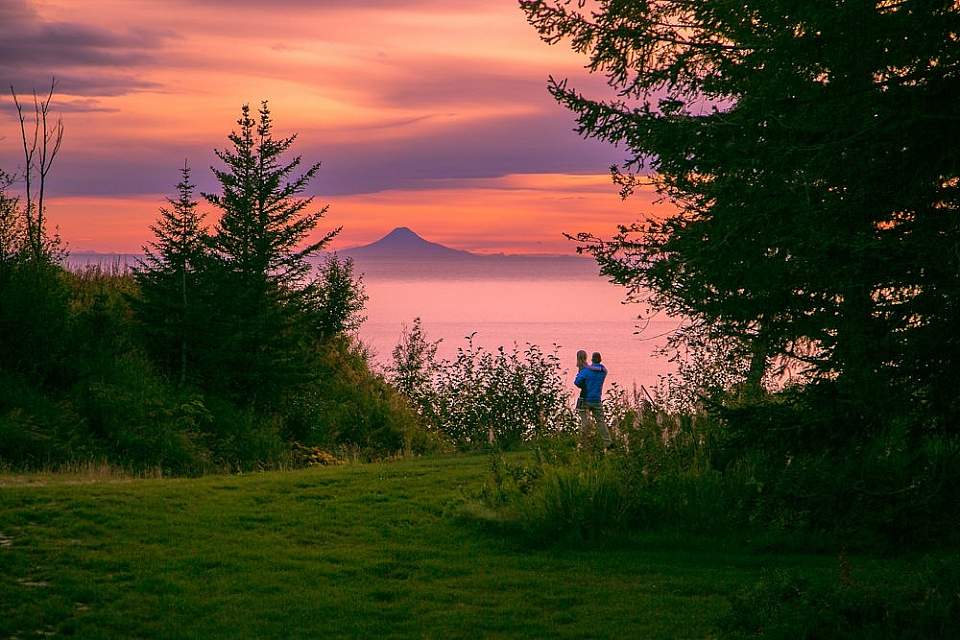 Serenity and privacy are paramount at this intimate collection of five romantically rustic vacation rentals. The location, 550 feet above sea level, looks out over shimmering —the perfect spot to watch fishing boats come and go, and eagles fly up towards the bluff. It's a view you'll want to enjoy from your room, the common-area Jacuzzi, and while roasting marshmallows at the outdoor fire ring.
At the same time, you'll be within an easy drive of the restaurants and shops of downtown Homer, as well as the boardwalk and docks of Homer Spit. There's even plenty to do here in winter: several snowshoe and cross-country ski trails start right at the property.
There's no minimum stay, but most guests stay at least two nights. Given the peaceful, private location, you may never want to leave.
Take Your Pick
These unique, custom-made cabins were all built with local wood, and all come with all kitchenettes, gas grills, and porches. That may well be where you spend most of your time, looking out over Kachemak Bay, with snow-capped peaks climbing in the background.
Four different styles make up the five intimate rentals of Kenai Peninsula Suites:
The Puffin: A two-story, 980-square-foot yurt with a vaulted wood ceiling.
The Eagle's Nest: A spacious, elegant second-floor cabin with a 200-square-foot deck and a spectacular 180-degree view of Kachemak Bay.
The Otter: An adorable Alaskan cabin set off in the trees, with a large deck and a gas fireplace.
Bear & Wolf Den: Two very unique, 480-square-foot underground cabins with curved ceilings, radiant floor heating, and eco-friendly grass roofs.
Moose View Lodge: Located 10 miles out of town to the east on East End Rd.