This extended-stay hotel in midtown Anchorage—located roughly midway between airport and downtown—makes a comfortable and convenient home away from home during your Alaska adventures.
Solid Service, Alaska Ambience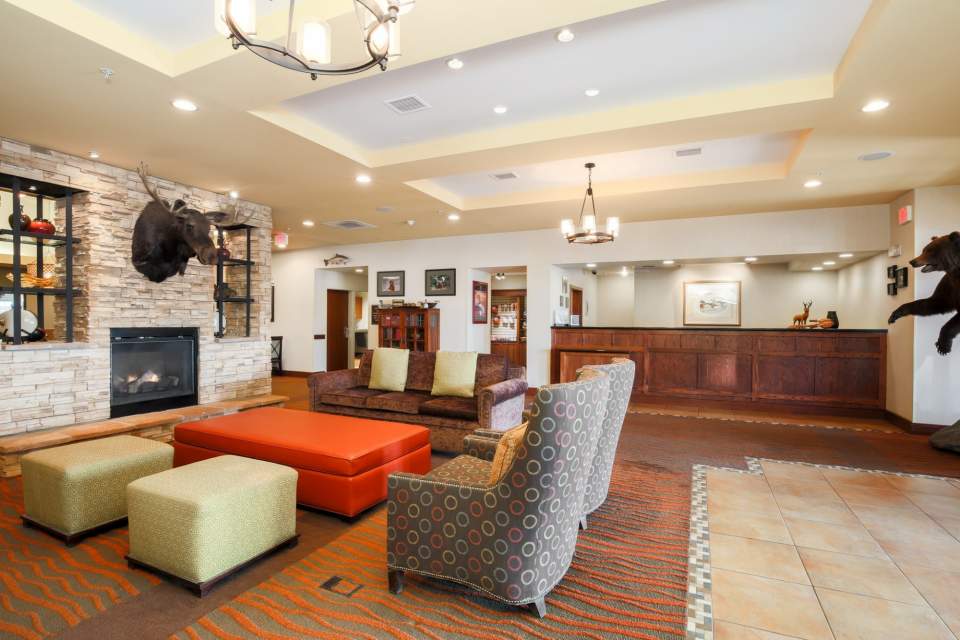 Take the free shuttle to or from the airport to this reliable brand hotel: Once here, it's a short drive to spots like the Alaska Zoo, University of Alaska Anchorage, Merrill Field, Lake Hood, the convention center—or even the local Wal-Mart, for any groceries or gear you might need during your trip.
And while you have all of the easy access of a good city hotel—free wifi, a fitness center and pool— you're always reminded that this is still Alaska. Local photography lines the walls of guest rooms, and the lobby area is appropriately called The Lodge—featuring a fireplace, Alaskan memorabilia, and local décor, down to the moose and two bears memorialized right there. Look outside and you might even see the live 'resident' moose ambling across the parking lot. (Just mind the sign that asks that you please not feed that moose.)
An Apartment—With Free Breakfast And Grocery Service
The hotel's 122 suites feel like well-equipped apartments, making an excellent home base for a short or long vacation. Each suite comes with a separate living room—with a sofa bed, workspace and HDTV—a kitchen, and one or two bedrooms. The fully equipped kitchens have a two-burner cooktop, refrigerator, microwave, and all the utensils you'd need for meals. A few suites even come with two bedrooms (big enough to sleep 7), plus two bathrooms—perfect for a big family.
To completely stock your kitchen, the hotel offers a grocery shopping service: You leave a list of what you want, the staff shops, puts it in the fridge, then bills your room for your total (and with no added fees). You can even send a list before you arrive, and your favorite necessities will be waiting in your fridge when you check in.
While it is nice to have the freedom to make your own meals, you don't have to, either: There are plenty of restaurants within walking distance of the hotel, but your daily rate also includes a full hot breakfast with scrambled eggs, breakfast meats, muffins, hot and cold cereals and pour-your-own fresh waffles. In the evening you can nosh at the hotel's free reception that happens every Monday through Thursday night. You'll get a light dinner with complimentary beer and wine—a pleasant, mellow way to wind down an Alaska evening.