What's that around the bend? You'll never know unless you get on the river, to float and fish in some of Alaska's wild places. Southcentral Alaska has its share of wonders, just minutes off the road system. Hell Bent Fishing Charters, based in Willow, leads the way, with half-day and full-day adventures that fit perfectly into your schedule. Raft along a wilderness track that's bursting with flora, fauna and fish. It takes you right out of the hustle and bustle of your vacation and into authentic, full-fledged Alaska.
Scenic Float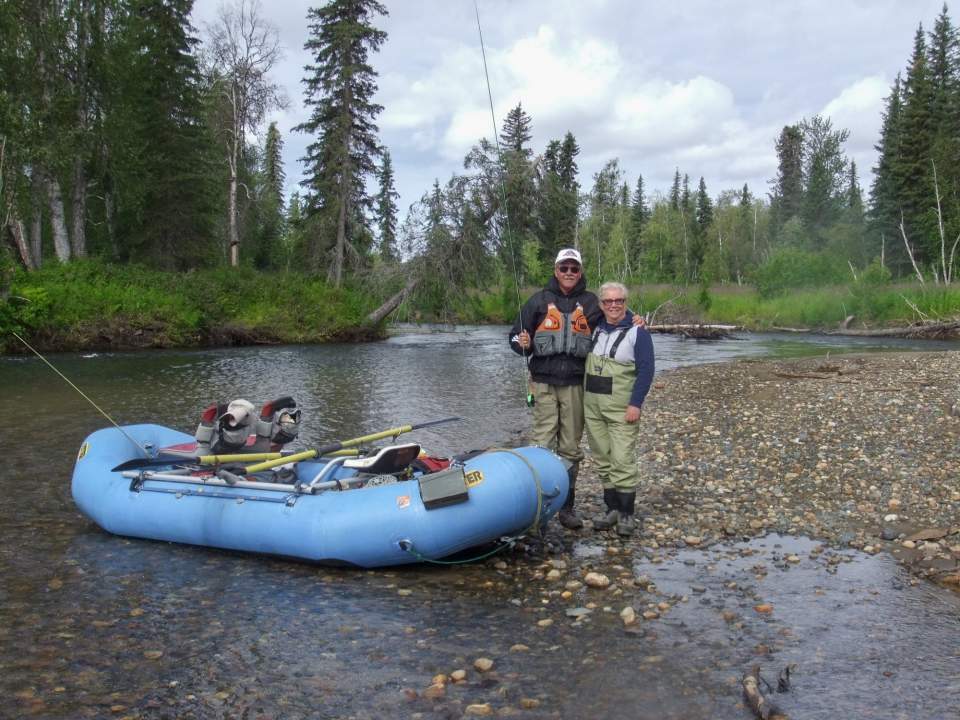 As you float on a raft along Willow Creek, you may see a few groups of people, but usually it's just you and the tree-lined river. Birch, spruce and giant cottonwood touch the sky on either side of you, while colorful fireweed, bluebells and roses decorate the lower realms of foliage at eye level.
The cold, clear water is home to beaver, river otters and ducks, with other wildlife following the salmon as they migrate upstream. Eagles soar above, and you'll see at least one nesting site along the route. Arctic terns dive down for small fish, their orange beaks flashing in the sunlight. Watch for moose munching on willow thickets, and keep an eye out for the occasional black bear.
It's a 2.5-hour float if you don't make any stops. The lower half of the river is complete wilderness, with no homes or development. Your tour ends at Willow Creek State Park, a popular recreational area. Soak up the solitude and beauty of the wilderness one last time before civilization intrudes. Just around the final bend in the river, 50-100 anglers vie for salmon here on a typical day. It's quite a contrast from the quiet of your scenic river float!
Every day is a fantastic day
For Lonn Goldbeck, licensed guide and owner of Hell Bent Fishing Charters, every day is a fantastic day out on the water – even if it's raining. "Where else would you rather be?" he asks. A resident of Alaska since 1995, Lonn started guiding part time to help out a friend. It turned out that meeting new people from all over and showing off Alaska's wilderness suited him perfectly, so Hell Bent Fishing Charters was born. "My wife teases me I have all these new best friends," says Lonn. "Being a tour guide and showing them things they haven't seen allows me to experience it like new all over again. Sometimes we're on the river all day and don't see another person."
Fishing charters
It's hard to come to Alaska – home of some of the best fishing in the world – and not put a line in the water. With Hell Bent Fishing Charters, you can get out for half a day or make a full day of guided fishing. You'll mainly target resident species: Arctic grayling and rainbows. When the silver salmon are running, chances are you can catch your limit.
Matt Klehr is Hell Bent's other main guide, and there's nothing he likes better than to take people out and show them how to catch fish in Alaska. Matt was born with a fishing pole in one hand, and used it aplenty growing up in the lake country of Minnesota. An Alaska resident for more than 20 years, he's the kind of guy who's fishing even when he's not fishing.
Whether you've fished your whole life or if it's your first time on the water, Matt and Lonn will show you a laid back, fun time, hell bent on fishing until you put your pole down.
Craft your adventure
When it comes to showing you his backyard, Lonn has an accommodating, let's-make-it-happen style. That's the great thing about working with a small, local business that can flex with your schedule and your preferences. So if you literally want to stop and smell the Arctic roses for awhile, have a lunch of grilled salmon on the shore, or plan a multi-day trip, it can be done. Just give Lonn a call.