Get a thrilling, bird's-eye view of Alaska's snow-capped peaks, mountain lakes, waterfalls, and more on an unforgettable helicopter flightseeing tour from Ketchikan.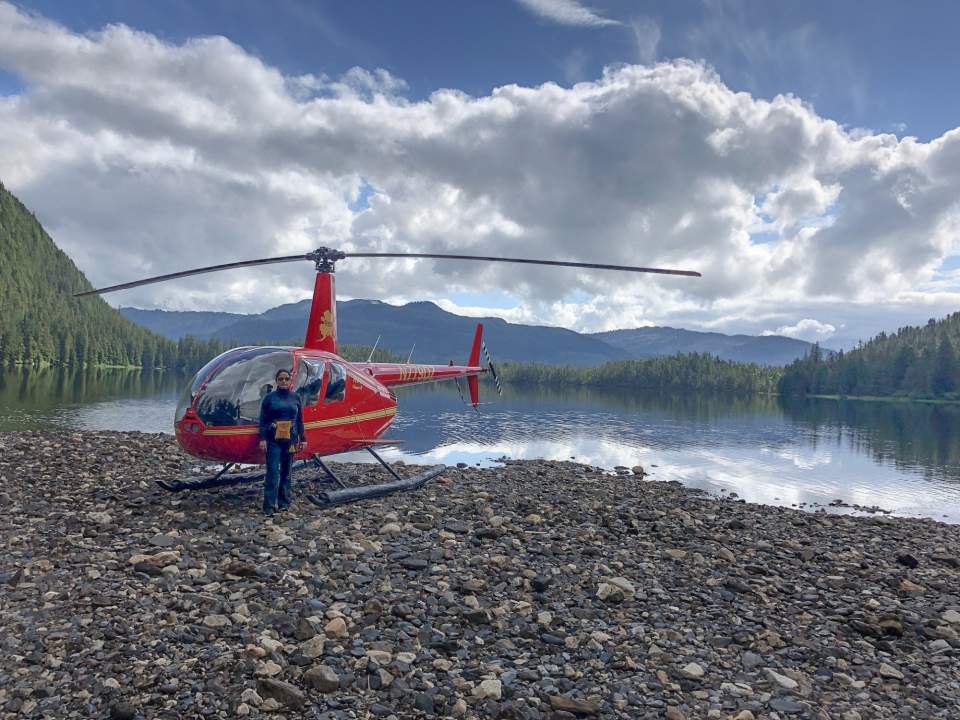 Lift Off
You'll lift off from Ketchikan for a spectacular tour. The steep terrain in this area makes for perfect flightseeing in a helicopter, where you can get closer to scenery than you could in a fixed-wing aircraft—and you can even touch down on a stunning mountain or at the base of a waterfall. As you take it all in, your experienced pilot will be telling you about what you're seeing in a narration that's customized to your interests. Want the highlights or want to know it all? Just ask! Plus, even the longest tour is just 90 minutes, so there's plenty of time to enjoy another excursion that same day.
The Tours
Mahoney Falls Tour: This 20-minute tour goes over the shimmering Ketchikan Lakes and through the mountains right behind Ketchikan. Fly over the top of John Mountain, where you may see mountain goats, and past a stunning waterfall before heading back.
Top of the World: This 40-minute tour crosses over Tongass Narrows and lands on an exclusive helipad built by the company atop a 2,000-foot mountain. You'll have about 15-20 minutes to enjoy the amazing view among the solitude of the Alaskan wilderness, with the Canadian Rockies one direction and Prince of Wales Island the other. Total flight time is 20 minutes.
Combo Tour: This 45-minute tour starts off with dramatic Mahoney Falls, comes down George Inlet along the coast, and lands on a 2,000-foot mountain (where Helicopter Air Alaska built an exclusive helipad). The helicopter will shut down and you'll have about 15 minutes to enjoy the spectacular view, with the Canadian Rockies in one direction and Prince of Wales Island in the other. Total flight time is 30 minutes.
Ketchikan Roundabout: Whet your appetite for helicopter flightseeing with this breathtaking 10-minute tour around the quaint town. Get a bird's-eye view of cruise ships and the gorgeous Tongass Narrows.
Mountain Lake Tour: This 30-minute tour takes you over Ketchikan Lakes, John Mountain, and a temperate rainforest where you can look for mountain goats and black bears. You fly along George Inlet and see mountain lakes along the way. Add a landing at a lake, the mouth of a river, or the base of a waterfall (for an additional $50 per person), and—with the helicopter shut down—experience the serenity of Alaska's wilderness.
Herring Cove: This 20-minute flight takes you out along the coast, rather than up and over the mountains. Your destination is gorgeous Herring Cove; here, when the salmon are running, you may see one of Alaska's most iconic sights—black bears fishing at the mouth of the cove.
Customized & Special Occasion Tours
Is there something you especially want to see? Just ask: Most trips can be customized, or the company can create a trip just for you. They can also help if you're looking to celebrate a special occasion, whether it's bringing along a bottle of champagne for a proposal or a full-blown remote wedding. On a limited basis they also offer a VIP Boat Tour. They'll fly you out to a remote cove where a boat will be waiting, and you'll spend some time on the boat enjoying coffee or tea and refreshments before flying back.