Take a catamaran out onto the scenic waters around Hoonah for the magical experience of visiting with Icy's Strait's population of magnificent whales, and to look for other wildlife as well.
Small-Group Tours
Spend an unforgettable 3.5 hours on the whale watching expedition of a lifetime. Two sturdy catamarans designed specifically for whale watching—one for 6 passengers, another for 13—ensure a smooth and intimate experience with wildlife, along with getting to know your guide and fellow passengers. You'll sail into the waters of Icy Strait, the summer feeding ground for humpback whales. You may even see a whale within 5 minutes; the Hoonah area is truly unique, as the whales are super-close to shore. And the low number of boats in the area means you'll practically have the whales to yourself.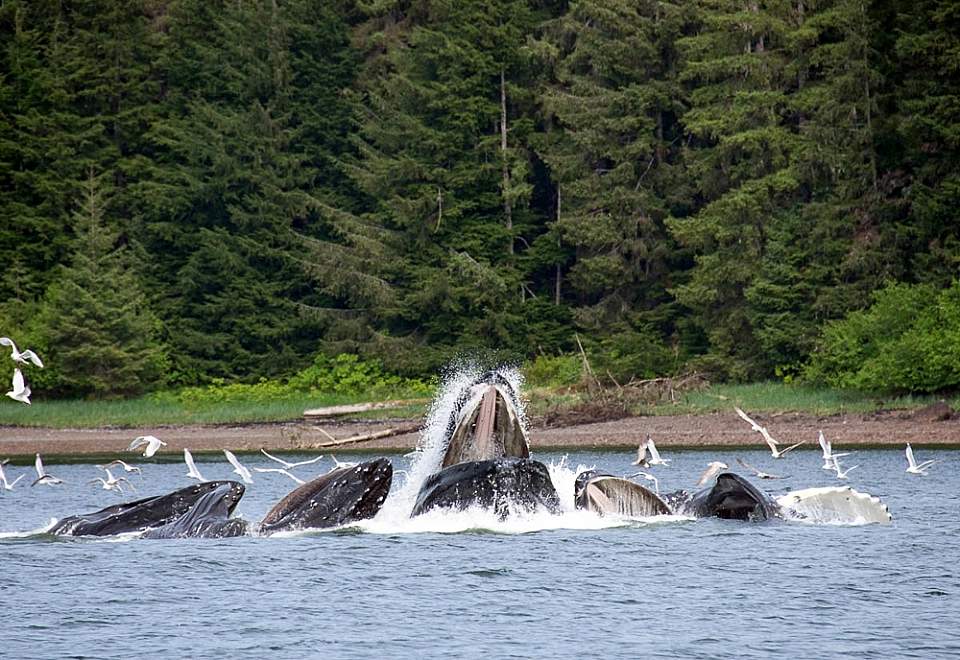 You may see whales swimming alone and spouting, or perhaps traveling in small pods; sometimes they put on a show by breaching or slapping their flippers. You may even experience the very cool sight of whales bubble net feeding. That's where a group of whales create a net of bubbles to corral fish and keep them from escaping so several whales can feed at once.
Every outing is different, but all are magical. You'll learn that you can really hear whales on the water, and your guide may put a hydrophone in the water to amplify their calls. You may also see orcas—a special treat—and you'll look for other wildlife, like eagles, sea lions, seals, sea otters. You may even see coastal brown bears, eating plants along the shore.
In fact, you'll be fairly close to shore the entire time, taking in the lush green landscape. And the protected waters make for a calm ride you wouldn't get on the open ocean. Along the way, your experienced guide—either the father or son of this family-run business, and both experts—will fill you in on the true majesty of these creatures and the area.
The boats are spacious, with full walk-around decks so you can look out from anywhere, as well as comfortable guest seats for every passenger, restrooms, heaters, and large windows. As you sail, enjoy the complimentary snacks, hot cocoa and water.
If you have more time, ask about custom charters, where you can spend all day on the water looking for any specific whale behavior (like bubble net feeding) or creatures (like orcas) that you'd like to see. And if you're spending a few days in Hoonah, ask about one of Glacier Wind's two vacation rentals.
About Glacier Wind Charters
Captain Shawn came to Hoonah when he was a kid; his wife, Teresa, also moved to a small Alaskan town—Glennallen—as a child. After meeting in college and marrying, they both taught school in Fairbanks and spent summers in Hoonah. Over 25 years ago they started Glacier Wind Charters first as a fishing charter and now exclusively a whale watching tour business. They retired from teaching in 2008 and moved to Hoonah permanently. Their son is also a captain for Glacier Wind—a true family business!