Take a road trip across Alaska without the size or cost of a full-size RV. These converted campervans, rented out of Anchorage between May and September, come with unlimited mileage, sleep four and offer most of the comforts of a big RV in a compact model—with a pop-up tent on top.
Instant Home
Driving a campervan doesn't require any special accommodations. These regular-sized Dodge caravans drive like a regular car—a little heavier, but not wider or longer—with normal maneuverability and ability to fit in a regular parking spot (you can camp in a dry campground, too). Bonus: they get about 23 MPG on the highway—pretty good compared to an RV. And, all rentals come with unlimited mileage.
Inside, the van has five seatbelts: three in the back, two in the front. The middle seats of a traditional minivan have been removed—and here is where you find much of the RV-style living. The middle row has a bench, with storage underneath for luggage, and it converts into a table with the back seat and the bench seat. It makes an easy set-up for a dinner table or playing cards at night, and the table flattens out to set up a double bed.
Another bed sits on top: the roof top tent sleeps two but keeps a low profile and collapses compactly, thanks to hydraulic arms that open and close. You use a telescoping ladder to get up to the rooftop bed (which is long enough to sleep someone who's 6'5"), and there are entrances on both sides that can become windows with screens.
Kitchen on Wheels
Open the rear lift gate, meanwhile, and you'll find the kitchenette, shielded nicely from the elements by the gate, and separated from the rest of van interior by a curtain. One drawer pulls out and rotates into a two-burner propane stove, though you can remove the stove and put it on a picnic table too.
The kitchenette also has a drawer-style fridge and freezer (similar to what you might find on a boat), that's just big enough to hold basics like milk, eggs, cheese; it runs on a separate battery system from the car, which re-charges while the van is running. There's also a sink with an electric pump, a storage area for the cookware and dishes, and a countertop for prep work.
Each rental comes with a filled nine-gallon water tank that's easy to refill while you're on the road, as well as handy items (pots and pans, cutlery, place settings, dish towel, soap, two bottles of propane, and a fire extinguisher) and linens and pillows for both beds. Your little cabin also has USB ports, LED lights, and a 3-pronged outlet, Bluetooth adaptors, as well as curtains to block out light and give you privacy. You can add on items like a coffee press, camp chairs, picnic tables, coolers, bike racks, and car seats.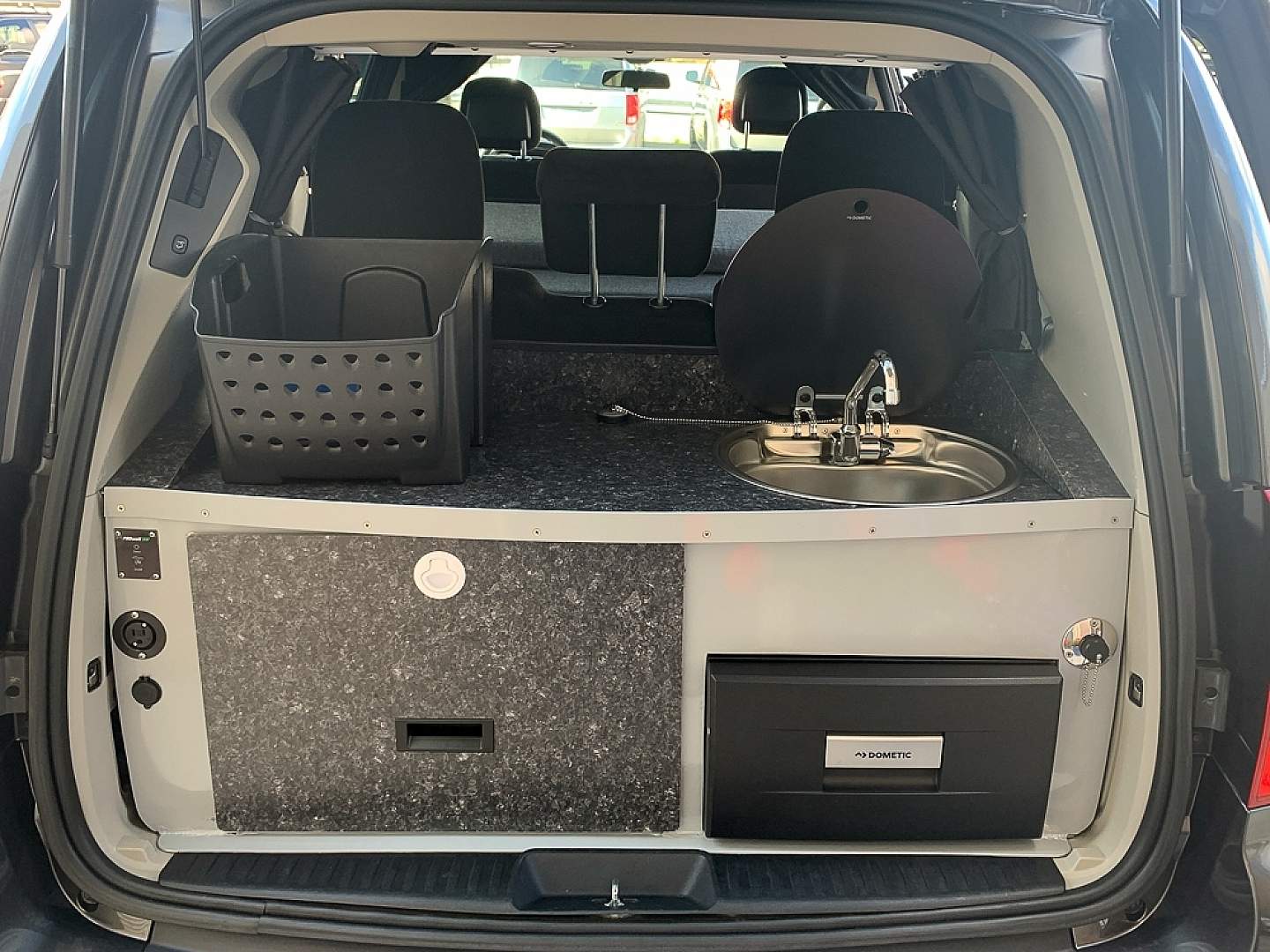 Nimble Travelers
These campervans are greats for small families, a single couple, or possibly even two couples, since each can have their own sleeping quarters. But in general, this is a great option for anyone looking to be outside and see Alaska from the road system. Rentals come with a minimum of three nights (for a minimum age of 21) and you're pretty free to explore—within reason. As with other rentals in Alaska, you have to stick to maintained roads, so no McCarthy Road or Dalton Highway. But you can take your campervan to Canada, or on the ferry system. Check out their website for a few sample itineraries, and the owners are happy to give you trip ideas too. Otherwise, they'll set you up with the handbook for all van elements and an Alaska map—and you're good to go.