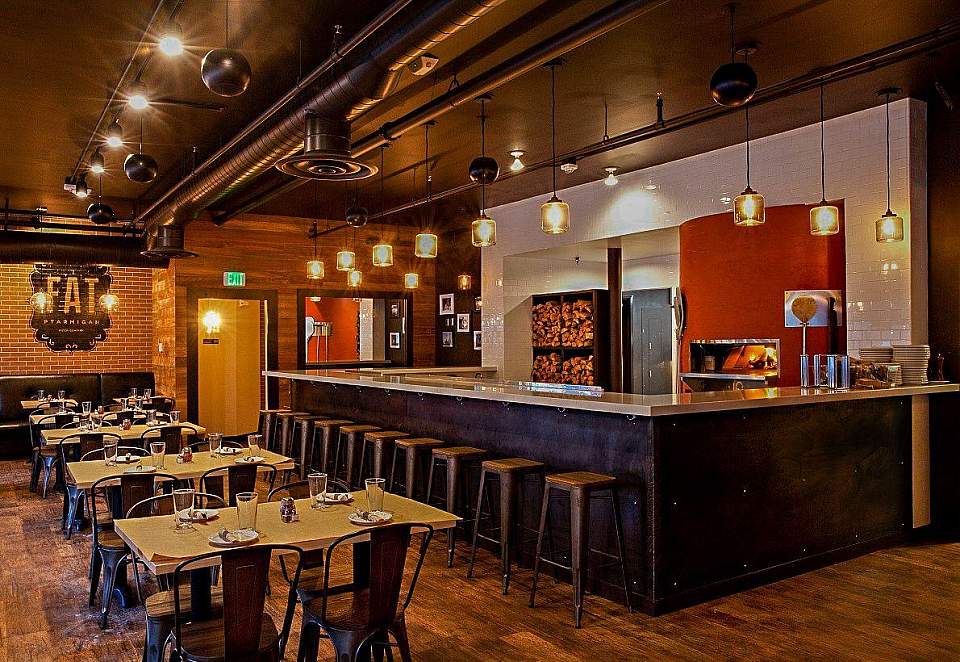 This restaurant has closed.
Pizza-lover? This downtown find will surprise you with its take on America's favorite food. Fat Ptarmigan's uber-fresh, wood-fired pizzas feature high-quality, seasonal ingredients and a thin & crispy crust.
Hot items are prepared in the wood-fired oven, which burns around 660 degrees. That kind of heat is what will get you in and out on a quick lunch-hour; cook time can be as fast as 3-7 minutes!
Get a seat at the bar for the best view of Fat Ptarmigan's expo kitchen. You can chat it up with the cooks and give the kids a preview of their pizza in the making. Got a bit more time on your hands? Relax at a table and take your time trying out some of Alaska's best brews; most of the beers on tap are crafted in state.
About the Pizzas
Fat Ptarmigan surprises in little ways. There's only one size pizza (12-13"), available in half- or whole portions. (No pizza by the slice, but you'll want more than one piece anyway.) You can order custom combos, but the artisanal creations are likely too tantalizing for you to stick with your old standby toppings.
Ptarmigan Twist
The ptarmigan, Alaska's state bird, changes color with the seasons (sometimes brown, sometimes white). Fat Ptarmigan's menu changes a little with the seasons too, offering new tastes that feature the freshest in local foods. Click here for menu. Or, click here to order online!