Traverse the majesty of Exit Glacier by ice hiking or ice climbing, or opt for a nature hike in the gorgeous terrain around Seward, Alaska. Never ice climbed? Not a problem. All trips include instruction to get you started.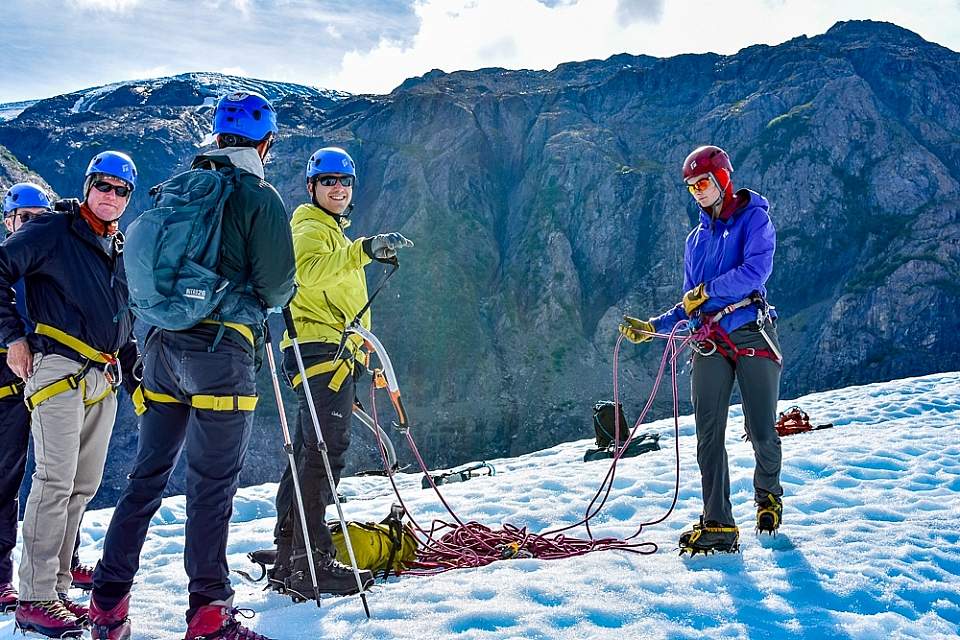 The Experience
Get out and witness a part of Alaska you would never see from a bus or a boat. Seward is a one-stop shop of nature, thanks to mountains, ocean, and three icefields (one of them is one of North America's largest). From Seward, you can experience everything Alaska is known for in one place: national parks, calving glaciers, inland climbing and hiking, wildlife, and much more. See it all with Exit Glacier Guides. You'll be in small groups with guides who are some of the best in the business. We're passionate about what we do, are focused on safety, and intent on education.
Tour Options
Ice Climbing
Get ready for an active, 8- to 9-hour trip (lunch is provided): You're going to be hiking a total of about 4 miles, with an elevation change of some 3,500 feet. First, you'll get sized for all the gear, including ice axes, crampons, and a helmet (you'll also get lunch and water for the day). Following your guide, take the 1.5-hour hike up to the glacier, where you'll get ready for the main event. Step onto the glacier for a safety briefing and a lesson in ice climbing: With a guide-to-client ratio of 1 to 3, you'll get plenty of instruction, starting with an easier climb and progressing to more difficult climbs during your 3 hours on the glacier.
Ice Hiking
This 7- to 8-hour trip (which includes lunch) allows for some unforgettable exploration on the glacier. Like our ice-climbing trip, you'll get geared up, then hike the same route up to the glacier. But instead of climbing, you'll be exploring as much of the glacier as you can over the course of 1.5 to 2 hours. There's no set route, so walk around with your guide to wherever looks interesting, checking out moulins, crevasses, icefalls, waterfalls, and caves along the way.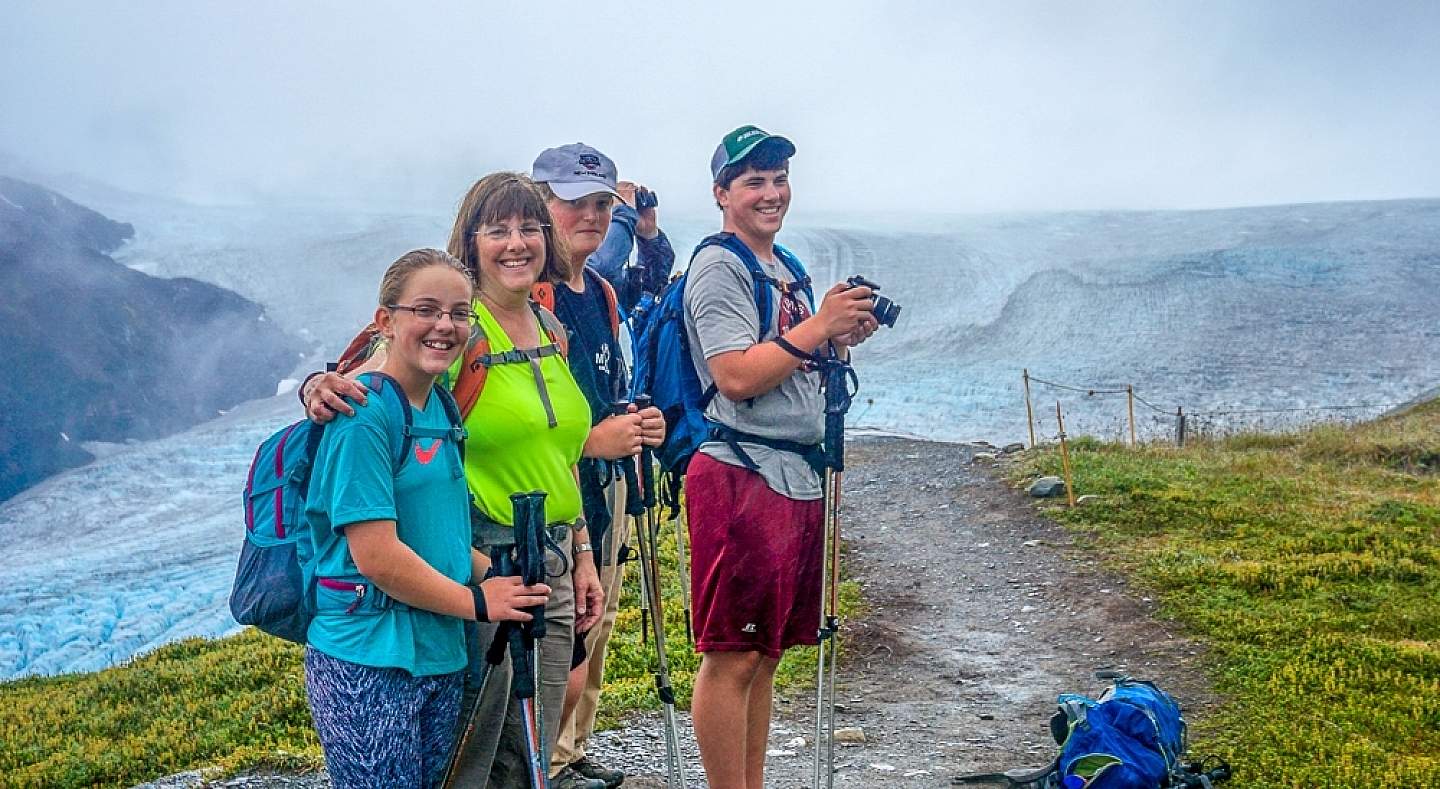 Nature Hikes
You don't have to hike on the ice to appreciate the natural beauty of the Seward area! Instead, just hike up to the face of the glacier on the Exit Glacier Naturalist Hike—an easy, 1.5-hour hike with natural and historical interpretation along the way. You can also take the Harding Icefield Trail, a difficult 5- to 8-hour hike where you'll ascend 3,000 feet to get a full view of the icefield. Or try the Lost Lake Trail, one of the best hikes on the Kenai Peninsula. It's a gradual, uphill trail that takes 6–8 hours.
Shuttle to Exit Glacier
If you only want to explore the visitor center at Exit Glacier and walk the front-country trails on your own—and you don't have a vehicle—take the shuttle! It's just $15 round-trip and runs from Seward on the half hour, returning on the hour.
About Exit Glacier Guides
Owners Brendan and Ryan both come from climbing backgrounds and have lived in the area going on 20 years. When Ryan first came to Seward, he worked for adventure companies and continued his passion for climbing. When the pair went onto Exit Glacier to work on their own personal climbing, they found an amazing resource that no one was taking advantage of.
They started the company in 2005 to share this amazing spot they loved. Theirs was the first land-based adventure company out of Seward to do glacier hiking and climbing, and they worked closely with the Park Service to make it happen. It's grown over the years, but by focusing on safety and quality with all of their guides, they've been able to maintain one of the safest training programs in the state.