Jet skiing in the shadow of an Alaskan glacier?! Absolutely! This activity is not as extreme as it sounds—you'll be toasty warm all day as you cruise along the shoreline of the Fjords. Since you'll be jet skiing through relatively calm waters, you'll have plenty of opportunity to absorb the gorgeous scenery around you. It's a truly unique excursion with adventure tour outfitter Destination Alaska, out of Homer. Run by a longtime local family, the company offers a full menu of exciting activities.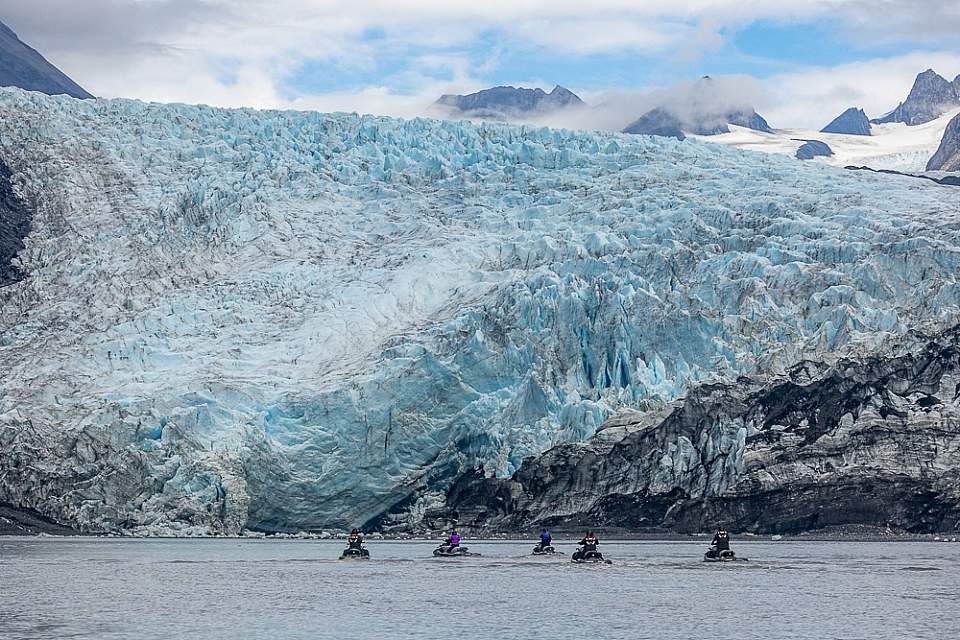 Equipped for Comfort
This expedition, set up only for private groups, begins with a 25-minute floatplane flight from Homer to McCarty Fjords in the stunning Kenai Fjords National Park. There you'll meet up with the M/V Peregrine and get suited up with top-flight GUL dry suits, and Helly Hanson Expedition gear, along with boots and helmets. Your guides will give you a safety briefing and driving lessons on how to pilot your watercraft —no experience necessary.
Then, with an expert leading the way, you'll set off for the McCarty Glacier, 18 miles away. These jet skis were built for comfort and touring in Alaska-type conditions—they're wide, long, super powerful, stable, and equipped with GPS and other electronics. But they're also low on emissions and quiet, so as to not scare away the local wildlife. You'll want to keep a sharp eye out for that wildlife—black bears on beaches, sea otters cracking crabs, and much more—as you pilot your own vessel, cruising in and out of bays and coves, marveling at the beauty of Alaska from the water.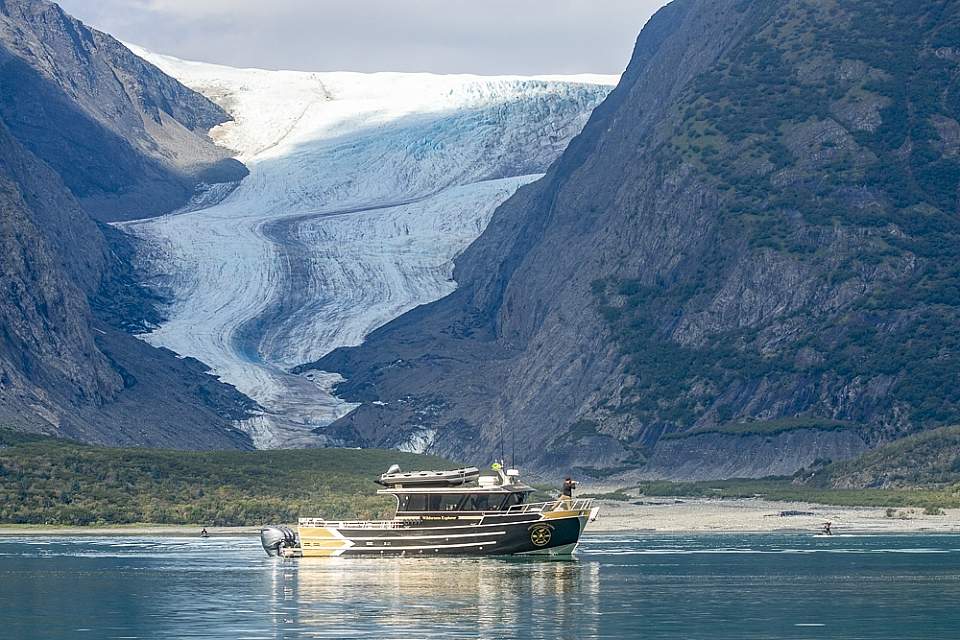 Lunch with a glacier view
Your destination is the tidewater McCarty Glacier, where icebergs float around you and where it feels like ancient blue ice is towering right above you. Even from a safe distance of about ¼-mile away, you'll see giant chunks of ice calve off and crash into the ocean. Plus, thanks to hanging glaciers that have receded back up the rock face, waterfalls spill down all around you.
While cruising the shoreline at the glacier, you'll have the support of a 44-foot vessel with a fully enclosed back deck. There you'll enjoy a delicious BBQ lunch, in full view of the glacier. Then it's back on the jet skis and to the M/V Peregrine and the flight back to Homer—a truly unique adventure built for Alaska!