When Susan and Michael Ashton purchased Beachside Villa in 2004, it was the realization of a long-held dream to own and operate the luxury hide-away. "When we finally got to move in, it was awesome," recounts Susan, who enjoys caring for people at the small, boutique hotel and helping them experience Southeast Alaska and learn about the state. "It makes my heart happy to see the smiles on their faces when they see their suite for the first time or the stunning views from their balcony. I love hearing their excitement when they've caught a big halibut or experienced fly fishing or bear viewing."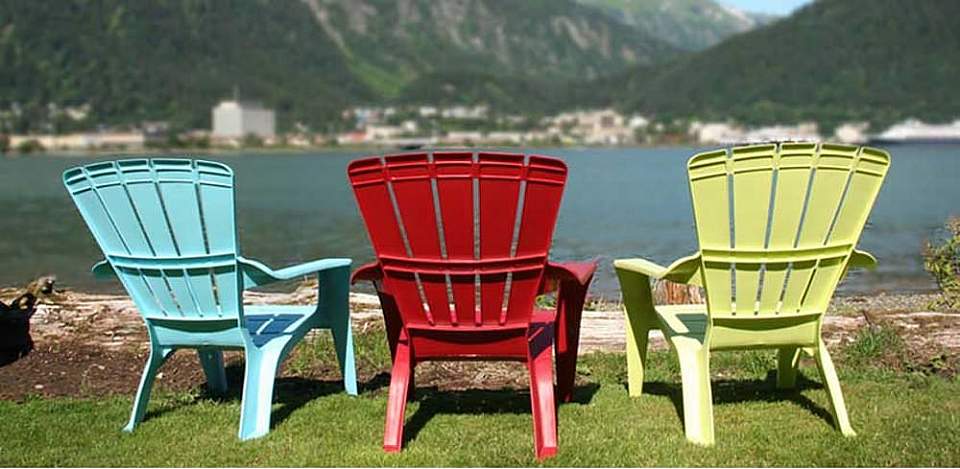 A stay at Beachside Villa provides a welcome spot for relaxing after such daily adventures, with lovely views of the mountains and Gastineau Channel, deluxe accommodations, and of course, access to the beach.
Secluded Spot, Access to Everything
Beachside Villa is nestled along the shoreline of Gastineau Channel on Douglas Island. Most rooms look out onto the channel and across to downtown Juneau and the cruise ship dock, with Mt. Juneau and Mt. Roberts creating a majestic backdrop for the comings and goings of this picturesque capital city. Just a mile from downtown (eight miles from the airport), Beachside Villa is the perfect spot to enjoy the scenery and city life from a peaceful distance. Many visitors enjoy the walk back and forth over the Juneau-Douglas Bridge, but taxi and bus service is readily available too. (Buses run twice an hour, to downtown Juneau, Douglas and also out to Mendenhall Glacier.) Another option: rent a bike for your stay. A rental shop is about half a mile from the Villa.
Your Stay
All rooms at Beachside Villa are accessed via a meandering stairway, which leads you down several landings and into…your vacation! Stop along the way to admire the view, and soak up the peaceful setting. Several water features and beautiful gardens welcome you to descend further onto the colorful grounds. Bubbling fountains, cascading waterfalls, and fragrant flowers create a soothing ambiance – your invitation to a delightful stay.
Beachside Villa is designed to feel private and secluded, from location and landscaping down to the morning continental breakfast service. Simply make your selections from the provided menu and Susan will stock your refrigerator daily. Enjoy freshly baked pastries and snacks on your own timetable, allowing you the flexibility of leaving early for an excursion or sleeping in until noon!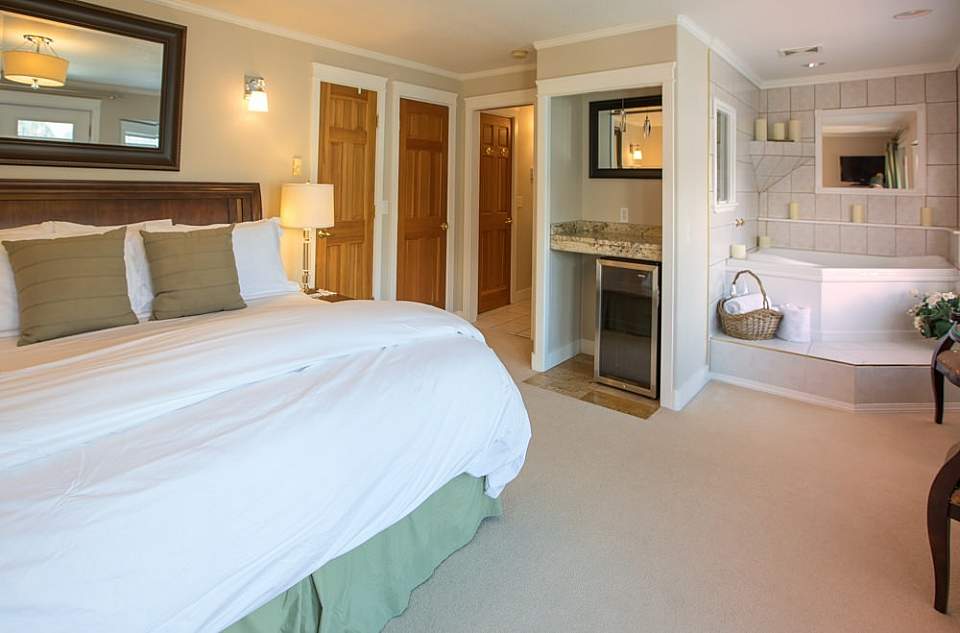 The Rooms
The pet- and smoke-free rooms are notable for their cleanliness and are generously appointed to enhance your stay. Each room has its own personality, with features that cater to different preferences. Must have a view from your room? Need a full kitchen? Want to relax in a spa tub? Need extra space for a larger family? Then there's a room for you at Beachside Villa:
Penthouse Honeymoon Suite Deluxe – This luxurious room features a beautiful indoor seating area and a 2-person spa tub that fills from a waterfall! Enjoy flameless candles, bath salts and spa-safe glasses for beverages as you enjoy the view of the Channel and mountains from your private balcony (which also has seating). The 2-headed shower also offers a window view, and bathrobes are provided for the ultimate lounge afterward on the king-size pillow-top. Open up the French doors to let in fresh mountain air – the nightcap to a perfectly relaxing evening.

Harbor View Deluxe – One of the larger rooms, Harbor View boasts a beautiful Acacia wood floor, granite countertops, 2 fireplaces (1 in the spa room), 2-person spa tub, a king-size pillow-top bed, inside seating area with comfy chairs, and French doors that open up to a huge balcony with table, chairs and grill. View includes antique 1930s Pan American hangar.

Grand Suite – French doors separate the living and bedroom areas in this one bedroom suite that features a Tempur-Pedic queen bed and a leather queen sleeper sofa. Another set of French doors opens to the outside to capture the evening breeze. Relax in the spa tub overlooking the water (the privacy glass ensures you can see out, but no one can see in!). With a full eat-in kitchen and washer/dryer, you'll feel right at home.
Villa King – This room offers a king-size pillow-top bed with a full bath, fireplace and indoor and outdoor seating. You can enjoy the view of the water from inside the room or out on the deck. The French doors lead outside, where you can feel the ocean breeze, lovely views of Mount Juneau, Mount Roberts, Gastineau Channel, colorful plantings and the freshwater stream flowing onto the property from high up in the mountains.

Villa Suite Deluxe – This charming suite with lower ceilings dates back to when the Villa was first built during the mining days on Douglas Island. The front bedroom, with a Tempur-Pedic queen bed, overlooks the water and mountains. An additional bedroom has a full-sized memory foam bed. In the living area, a leather sofa with recliners at each end provides additional room for larger families to spread out. Villa Suite features an eat-in kitchen (full-size refrigerator, microwave, toaster) and a laundry room – perfect for longer stays.
Local Expertise in Trip Planning & Concierge Service
More than half a million visitors book trips, tours and activities in Juneau each year, but finding the best ones is hard when you don't know the area. Beachside Villa offers free trip planning and concierge service online and by phone, which provides essential local knowledge to each guest. Michael and Susan can advise you on the excursions and day trips guests have enjoyed in the past – and they know the operators who provide the best value and consistent service – whether you end up fly-fishing, whale watching, or kayaking.
Or, for added convenience, ask about their available packages. Choose an Adventure Package when you want to get rugged in Alaska – seeing bears in their natural habitat or scaling a centuries-old glacier. The Romantic Package is perfect for honeymooners or a special anniversary – with special touches like in-room champagne, candles, and rose petals.