Witnessing the colorful, dramatic Northern Lights is an iconic Alaskan winter experience. Look for the lights at the Aurora Pointe Activity Center, just 15 minutes from downtown Fairbanks—it's a fun and informative way to enjoy this very unique natural phenomenon.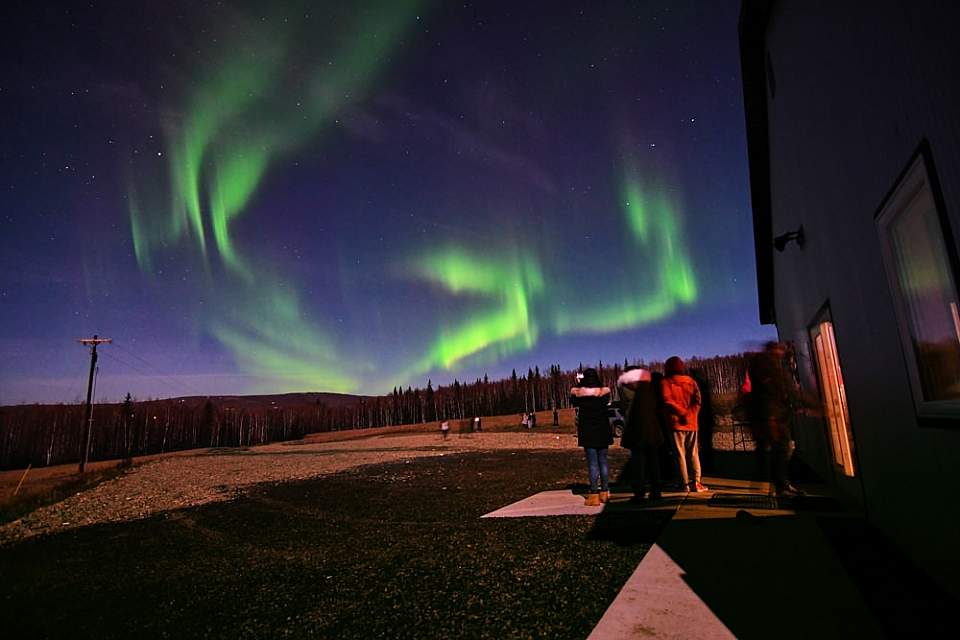 Get Cozy and Wait for the Lights
You'll arrive at the Aurora Pointe Activity Center starting around 9 p.m. to find a cozy fire, locally made snacks, and coffee/tea. You'll hear from guides about what the aurora borealis is and why it occurs; you'll also get tips on how best to photograph the lights.
Then you'll feel the anticipation as you wait for Mother Nature to start the show! Chat with the guides, explore the interactive exhibits, play games, or just relax around the fire. There's plenty to do, and lots of space to accommodate the maximum 60 people. Step outside whenever you like and stand under the vast, dark sky, gazing up at billions of stars. Although the center is a short distance from town, it is far enough away so that you won't have to worry about light pollution interrupting your view as you stand gazing under the vast, starlit sky. You can also monitor the activity from indoors, via a webcam.
When the lights do appear, you'll stand in awe as you witness the unforgettable display of beautiful, eerie colors shifting and transforming against the darkness above. Of course, on some nights Mother Nature keeps the aurora to herself. But you'll have several hours to hope for the best. And even on nights when the lights don't appear, checking out constellations under a vast Alaskan sky is still a magical experience.
About Aurora Pointe Activity Center
The center is the sister company to A Taste of Alaska Lodge, owned by lifelong Alaskan, Kory Eberhardt, and located on the same Homestead property. He and his family, including his actual sister, Julie - also a lifelong Alaskan - are the seasoned guides, though other local experts assist as guides from time to time.