Explore Alaska in a unique way: Driving your own Jeep equipped with a rooftop tent while your guides lead the way in a separate vehicle, taking care of details as you go. Independent travel with guides means you get the best of both worlds, and it's possible with Ascend Alaska, based out of Anchorage. Along the way you'll enjoy some of the most iconic spots and experiences that the 49th state has to offer.
The Experience
Your small group will depart from Anchorage in an adventure rig. But your guides will never be far away—in fact, you'll have radios to communicate and coordinate stops with them or ask questions. As you travel, your guides will be there leading adventures and preparing meals with locally sourced ingredients—including the fish you catch! Each night, they'll set up camp and you'll sleep in your rooftop tent on a comfortable queen-size mattress. In gorgeous locations like the Talkeetna Mountains or Kenai Fjords National Park, you'll spend several days experiencing the best of Alaska. Activities may include treks on the Matanuska Glacier, fishing on the Kenai River, sea kayaking, hiking, and much more. With no more than 6 people per trip, you're guaranteed an intimate, customized experience.
Justin and Miranda will be your guides—they're born-and-bred Alaskans who bring a wealth of knowledge, experience, and passion for the outdoors and for Alaska; they even donate a portion of their profits to Alaska Native organizations. They focus on the logistics and details so you can have fun and make memories. All trips are family-friendly and all activity levels are welcome.
The Tours
North Classic Tour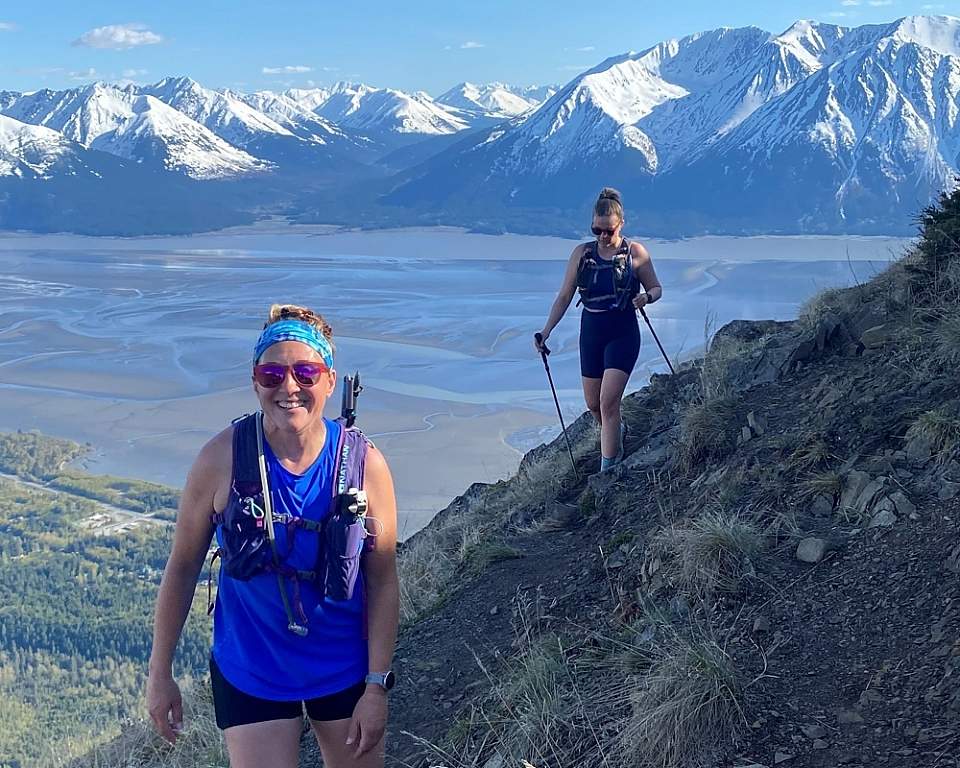 This 5-day trip heads north from Anchorage to Alaskan hot spots like the Chugach Range, Independence Mine State Historic Park, and Hatcher Pass, with lots of scenic hiking, camping, and glacier touring along the way. On your last day, you'll take an unforgettable trek on the Matanuska Glacier—a rare treat, as only certain guides are allowed to take their groups onto this gorgeous river of ancient blue ice.
Land & Sea Tour
Head south from Anchorage on this 5-day tour that's filled with hiking, kayaking, camping, and wildlife viewing. The scenic drive through the Kenai Peninsula includes the iconic destinations of Seward and Homer; along the way, you'll hike Exit Glacier and the Harding Icefield Trail, go sea kayaking, and much more. You'll even go camping on the stunning Homer Spit, then take a water taxi to Grewingk Glacier for an unforgettable day hike.
Day Hiking Tour
Only have 1 day and want to experience some great hiking? Whether it's an easy hike or one where you really work up a sweat, the Chugach Mountains provide a wealth of trails and the perfect backdrop for your adventure. And the expert guides of Ascend Alaska will find a route that's perfect for you.
Wayfaring Women's Tour
This 6-day journey for women only is perfect for multi-generational groups or a girlfriend getaway. It's a choose-your-own-adventure kind of trip that could include fly-fishing, kayaking, rafting, and backpacking, along with some gorgeous hiking and camping. Visit stunning spots like Kachemak Bay State Park, Kenai Fjords National Park, Cooper Landing, and Girdwood, and return home with unforgettable shared experiences.
Customized Tour
If the dates for these tours don't match up with your schedule, call Ascend Alaska and they'll work with you to customize your dream getaway.