The Bears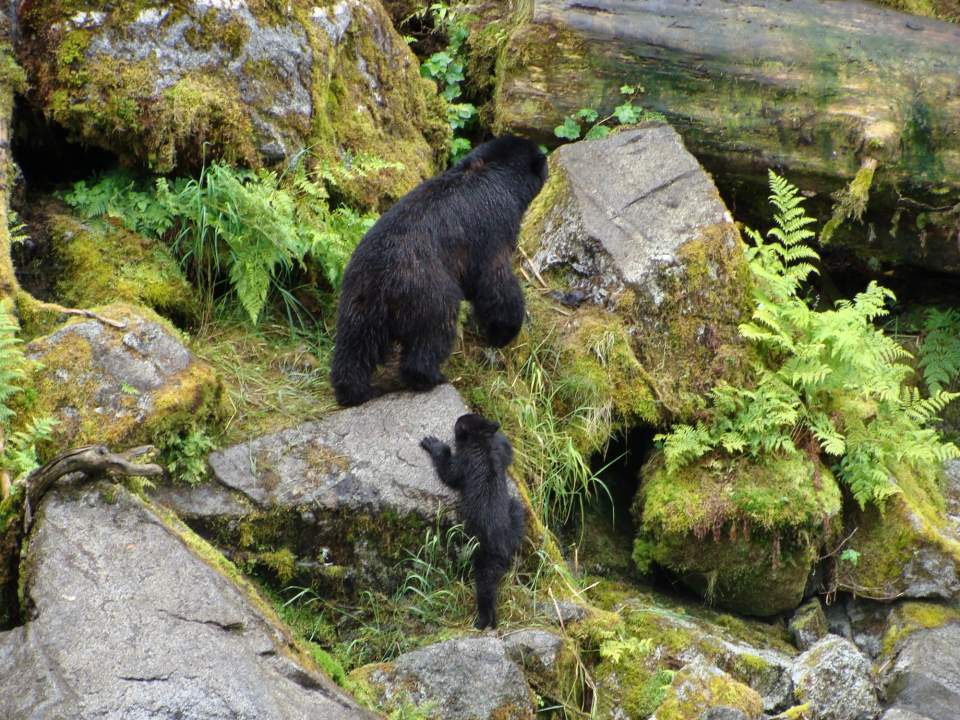 About 30 miles southeast of Wrangell on the Alaska mainland lies an Alaska wildlife anomaly, a place where brown and black bears mix for the feast of pink salmon that occurs there each summer. The two species typically stay apart, with the islands of Southeast serving as virtual reserves. For example, there are no brown bears on Prince of Wales Island and no black bears on Admiralty, Baranof or Chichagof islands. But at Anan Creek, where the fish are thick and there's no benefit to rivalry, and as many as 60 bears of both species feed side by side near an observation deck full of people. The action occurs from mid-July to late August.
Viewing Situation
You'll be dropped off at the beach, where a Ranger from the U.S. Forest Service will greet you and give you an orientation. Generally, there are three Rangers working at the Observatory, but they aren't guides. You can hire a guiding service, but that is completely separate from the rangers. You'll need good raingear and boots and drinking water. No food or drink other than water is permitted!
After your orientation, you'll follow a ½ mile trail through the forest to the observatory, which is little more than a platform, a small covered area and a photo blind. Most bears are spotted from this viewing area, but you could run into bears on your hike. There is also a photo blind, which you can sign up for at the platform. 4-6 people use it at a time for ½ hour and it affords really up close access for great photos.
The observatory is open from 8am to 6pm. There is a very simple Forest Service cabin for rent on the Bay, if you want to spend more time here.
Permits
60 permits are issued per day and are required July 5-Aug 25. They are available at the trailhead, or you can call ahead of time. 907-874-2323. Know that July permits are usually all taken by the beginning of May. So it is wise to book ahead of time, or go with a guiding company, because their permits are secured in advance.
Season
July 5-Aug 25, Shoulder season June 15-Sept 15
Access
Floatplane or Boat
Links