A panoramic view of Kachemak Bay greets you no matter where you are at this intimate, five-cabin property in Homer.
The Experience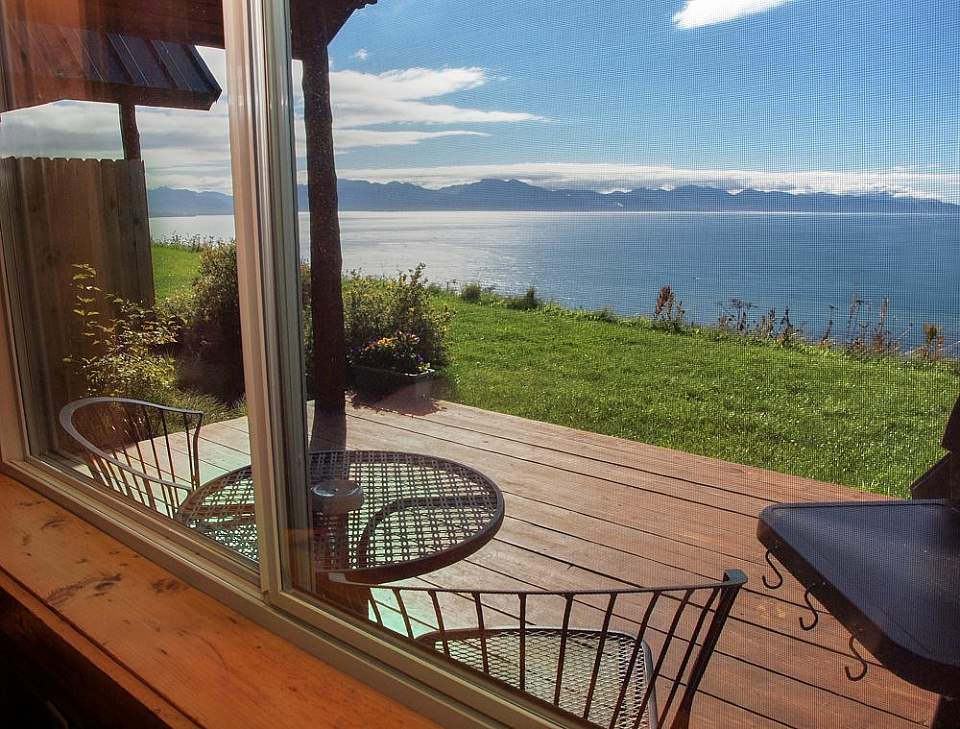 The view will likely be the first thing you notice at Alaskan Suites. Set about 20 feet from the edge of a bluff, the property features incredible views of Kachemak Bay, Cook Inlet, and the mountains beyond. It's a view you can take in from the five romantically rustic cabins, the common-area hot tub, or the campfire pit. Do as most guests do: maximize your time here by staying at least two nights. In summer, there's even a free continental breakfast.
Alaskan Suites also sits right at the edge of town, so it's an easy drive to downtown Homer to enjoy its restaurants, shops, and art galleries. Or head to the Homer Spit to explore its boardwalk or to take the fishing charters, kayak tours, and water taxis to Seldovia and Halibut Cove across the bay.
The Cabins
The five rooms at Alaskan Suites are all cabins with porches—perfect for sitting and taking in that magical view—along with peak ceilings, kitchenettes, and gas grills. Though each is decorated uniquely, they all create the feel of a rugged, adventure-type cabin—albeit one with a big-screen TV, surround sound, and comfy furniture.
Each cabin features one big room with a kitchenette and a bathroom carved out; it opens up to the area where the beds are, allowing for four people to stay (there's also a twin sleeper sofa for a child). Perhaps best of all, you don't even have to leave your cabin to take in the stunning view—it'll be right outside your window.