Photo Credit: Salmon Berry Tours
Witness nature's most mesmerizing light show by taking one of the best northern lights viewing tours from the Anchorage area. Discover the top viewing spots, learn about the science behind this natural wonder, and get expert tips to enhance your aurora adventure.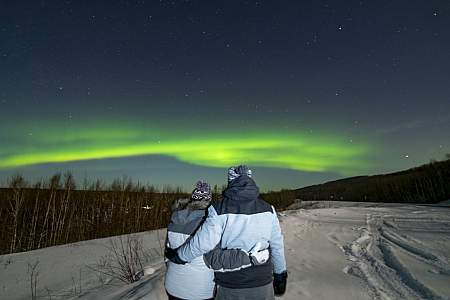 Season: October - April $1325 | 1 - 6 people 6+ hrs
Chase the lights on a pri­vate tour with Wild Alas­ka Jour­neys and you'll be in the capa­ble hands of local guides who know where to look and under­stand the sci­ence behind them. All trips are pri­vate, so bring your fam­i­ly or group and spend a night on the look­out for the auro­ra or make it part of a mul­ti-day jour­ney. Either way, you'll leave with unfor­get­table memories.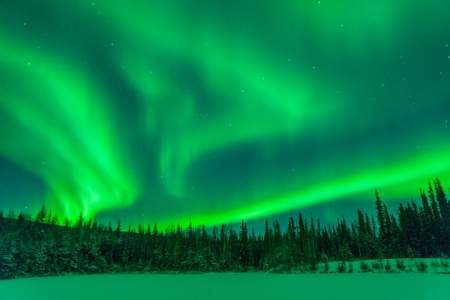 Season: Nov 01 to Mar 28 $129+ Day Trip, $2495+ Multi-Day 4 hrs - multi-day packages
Won­der­ing how folks up here deal with Alaska's long win­ter days? It's easy when the inky night sky comes alive with an amaz­ing light show like the auro­ra bore­alis. Brav­ing the cold is noth­ing if you get a chance to see the lights danc­ing and wav­ing over­head. Com­bine your auro­ra view­ing trip with a few oth­er high­lights planned out by Salmon Berry Tours, and you'll expe­ri­ence the best of win­ter in Alaska.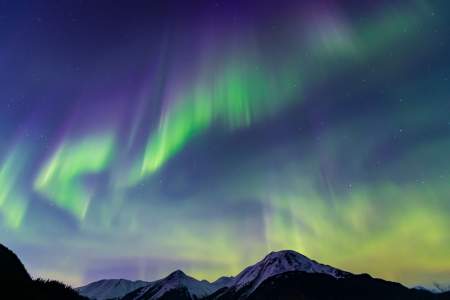 Season: Aug 17 - April 24 $269+ 6 hours
Pho­to­graph alpen­glow on snow capped moun­tains, frosty scenes glow­ing in rich win­ter light, wildlife wan­der­ing snowy paths, city lights reflect­ing on the water at twi­light, and pos­si­bly even the north­ern lights!