Jessica Clark: Mountainside Pancakes
After spending the night in the spectacular tundra of the Talkeetna Mountains eight miles up the Gold Mint Trail near Hatcher Pass, Clark emerged from her tent one chilly summer morning in 2014 with a strong desire for hot coffee and a warm meal. Fortunately, her friend Kristen Allton had breakfast dialed in with pre-mixed pancake batter.
To complete the down-home repast, they added wild Alaska blueberries collected on the hike in.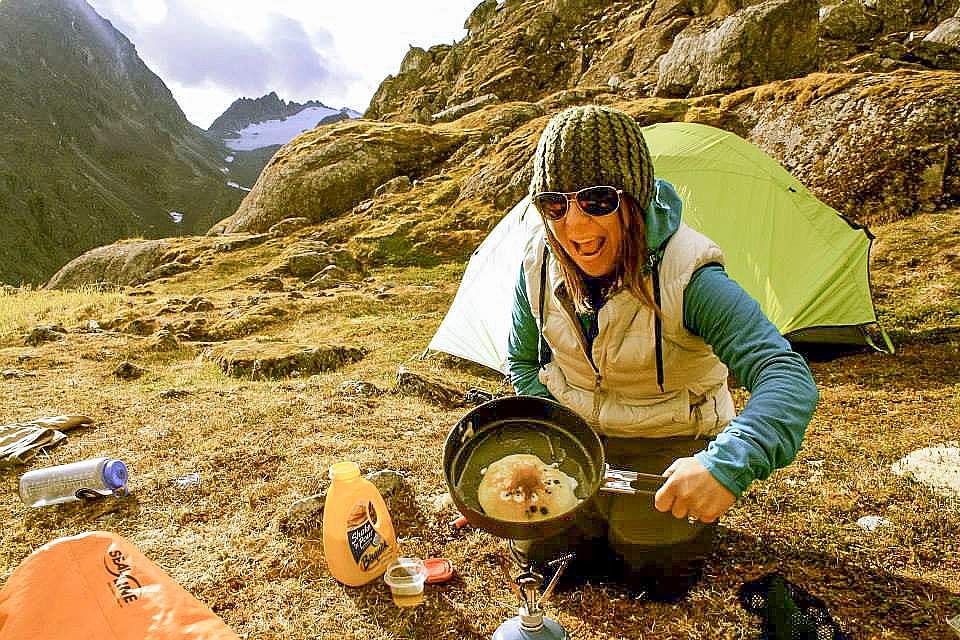 "The sun was bursting with brightness, and I snapped the picture out of pure joy, just thinking about the adventure we were on," Jessica says now. "Apparently, you just need a friend who knows how to pull these things off. Whoever said you can't have pancakes in the middle of the mountains, lied."
An occupational therapist with the Matanuska-Susitna School District, Clark and her husband (a school teacher) moved to Alaska from Michigan a few years earlier and now live in Palmer with a couple of young kids. As new Alaskans, they were "complete amateurs" as backcountry adventurers, she says. But they began to learn and explore.
"We had no idea what Alaska actually had to offer, except, well, snow, of course, and the Northern Lights," she says. "We were by no means avid hikers."
For her 30th birthday, her husband gave her a new Osprey backpack, with the goal of tackling the Crow Pass Crossing, a popular-but-challenging 23-mile wilderness traverse through Chugach State Park east of Anchorage. But an unexpected summer detour to have her appendix removed nixed that ambitious trek.
"Our dreams of Crow Pass, turned into 'I think I can hike Gold Mint.' And so we did."
After Clark's husband hiked back out with their dogs, Clark and Allston continued further up valley for another night at a mountaineering hut open to the public. They explored the open country, checked out an icy blue glacial tarn, lunched on tuna wraps with cheese after climbing a ridge, and even experienced a sudden snow squall on the descent to shelter.
That night inside the old hut, Clark says she slept well, as snug as a bear in its den. (Dinner was Mac-and-Cheese with boxed red wine!)
"It was the absolute, most beautiful weekend you could ever hope for," she says. "I remember being completely mesmerized by the untouched terrain and how accomplished I felt having hiked such a distance for the first time ever."