It's hard to beat the location of the Westmark Hotel Anchorage, set in the heart of downtown, adjacent to the Egan Center and the Performing Arts Center, and surrounded by the Chugach Mountains and Cook Inlet. Each room features a private balcony, so you can sit outside and soak up the views before heading out for a cosmopolitan dinner. The hotel fits perfectly into Alaska's biggest city—both offer urban sophistication with the wilderness just a step away.
Room with a View (Plus a Balcony)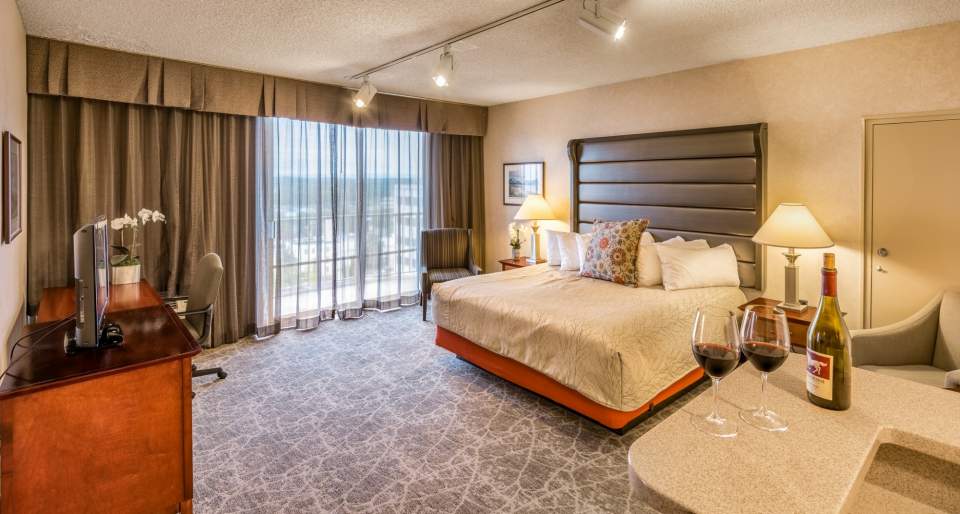 The 14-floor, 200-room hotel is one of 8 Westmark properties across Alaska and the Yukon, and offers solid accommodations with some surprising touches, like the welcoming and warm lobby fireplace. All rooms are oversized, giving you room to spread out and settle in, even if it's just for a night before you catch a train to Denali. The entire hotel is decorated with Alaskan art and photographs. And don't forget about that balcony in each room.
Easy Access for a Night Out—or a Great Night In
There's Wi-Fi throughout the hotel, and a computer with printer on the first floor. Faxing and copying is available at the front desk, which is crewed by an experienced, helpful staff—some of whom have been here for 10 years. They'll help you arrange tours, tip you off to the best bars and restaurants, and let you know what's happening in this little big city.
If you need a night in, the hotel has great American and Alaskan food at the Solstice Bar and Grill. Enjoy a dinner of fresh-caught king salmon, or start your day with a latte from the espresso bar and the hotel's famous eggs Benedict. There's room service in the off-season (October - April) and even a fitness room, if you need to work off some calories.
Springboard to the Great Outdoors
You can also get out and hike the city's trails, explore the 5th Avenue Mall, or book a trip into the back country. It's all just outside the hotel front door.