The walrus is an unmistakable creature: 4,000 pounds, huge ivory tusks, and a singular-looking face. But Alaska is the only place in North America to see the Pacific Walrus in its natural glory, and Trygg Air can take you to see them safely ("Trygg" means "safe" in Norwegian). They can also fly you out to two other iconic places: Brooks Falls, to see grizzly bears swatting at salmon as they swim upstream; and the dramatic, ash-filled Valley of the Ten Thousand Smokes. In addition to numerous other remote locations in Southwest Alaska.
Walrus Viewing from Anchorage or King Salmon
The experience of witnessing the magnificent walrus begins in either Anchorage or King Salmon. It's recommended you come in June, as good weather that month makes the flight easier. Either way, you'll be met at the airport upon arrival, for an unforgettable 90-minute flight over rolling tundra and along the west side of the Alaskan Peninsula. Mountain and volcanoes stretch into the distance as you fly down the Bering Coast, along a big sandy beach where you may see whales and other sea life.
When you reach your destination, Cape Seniavin, you'll land on the beach with a 100-foot cliff towering above you. You'll spend the next two to three hours with the walrus—as close to them as safely possible—being amazed by their biology, and equally awed by the mountains and volcanoes that surround you. You'll also be looking for shorebirds, waterfowl, and possibly even bears. But here, the walrus is the star.
Bear Viewing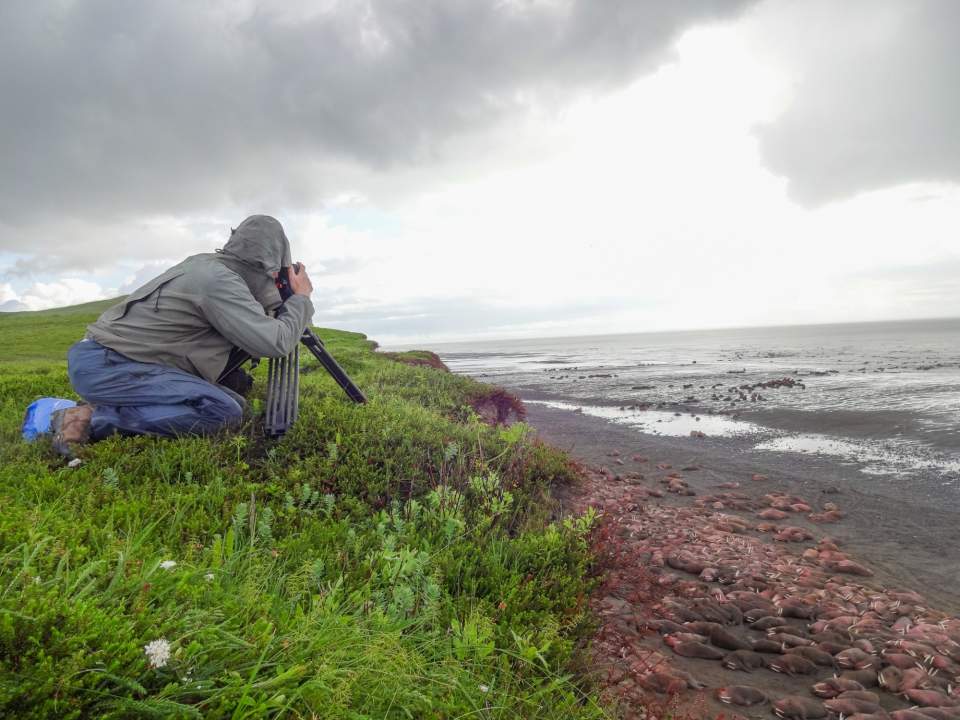 World-famous Brooks Falls is a quick 30-minute flight from King Salmon. Fly to Brooks Camp and walk along a wooden boardwalk to the river, where you'll have the perfect vantage point to watch the bears. If you'd like to see walrus and bears, July is the perfect time to come.
Valley of Ten Thousand Smokes
Most visitors access this natural wonder by flying to Brooks Camp and then taking a bus. But Trygg Air can fly you straight in from King Salmon, about a 45-minute flight. Soar around the peaks of enormous volcanoes and get an aerial view of Novarupta—the volcano that erupted in 1912, creating the ashy valley below. You'll then have time to walk around and feel what this moon-like landscape is like. Doing this as a single-day trip from Anchorage is possible, but it's better to fly from King Salmon
Custom Multi-Day
Combine bear viewing, flightseeing, and fly-in fishing (guided or unguided) in Katmai National Park or one of the surrounding areas. Trygg Air can arrange activities and accommodations in King Salmon so that you can make the most of your visit.
About Trygg Air
Owner Chris Klosterman is a pilot and guide for many adventures, but you may also be guided by another local pilot. Either way, the experience is truly personalized. Chris was born into a flying life. His family ran an air-taxi service on Lake Hood in Anchorage, and he started flying at 17. He's worked at various air-taxi companies but wanted to offer something a little different with his own company—and he's done just that. Oh, and the Norwegian connection? His grandmother came from Norway on a boat when she was 15.