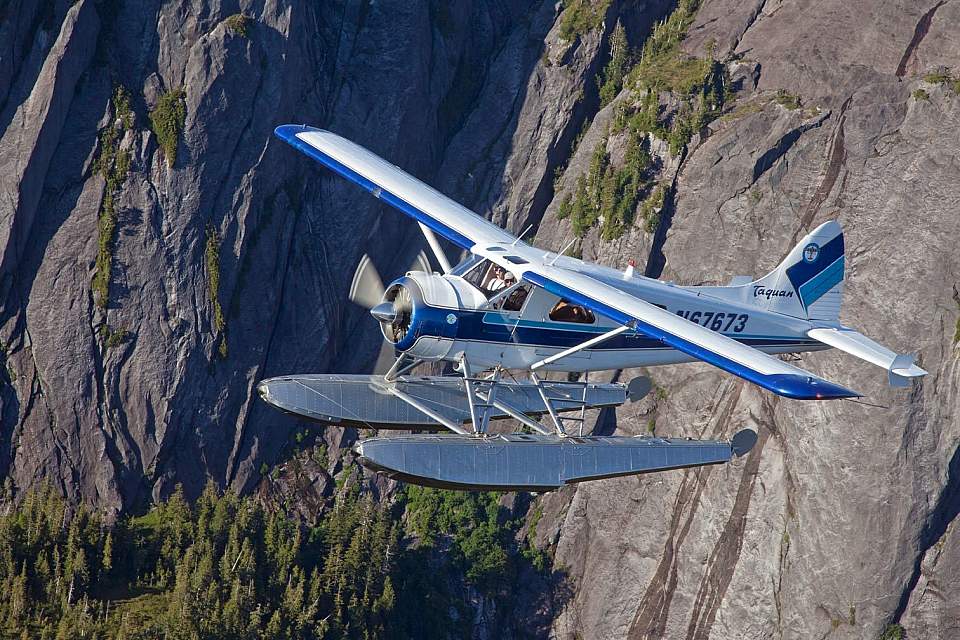 Flying through dramatically beautiful landscapes in a DeHavilland floatplane is an iconic Alaskan experience. In this 2.25-hour adventure, you'll visit Misty Fjords National Monument, where glaciers carved out the land 17,000 years ago. They left behind gorgeous fjords, narrow inlets and steep-sided cliffs thousands of feet tall, set against a backdrop of greenery: spans of western hemlock, Sitka spruce and red and yellow cedar.
More than 2.1 million acres of this pristine landscape became a protected monument in 1980. Everyone should see this compelling national treasure, but there's no access by car. Flightseeing is a perfect way to enjoy its wonders, and Taquan Air's Misty Fjords Tour gives you a birds-eye view.
From a gathering point at Ketchikan's docks, you'll head over to Taquan Air's terminal, meet your pilot and settle in to a DeHavilland Beaver (seating up to 6) or Otter (seating up to 10). Everyone gets a window seat, so you can easily take as many photos as you like with unobstructed views. After a thrilling take-off from the water, picturesque Ketchikan recedes from view, and the Alexander Archipelago stretches out for miles. Individual headsets ensure that you know what you're seeing. Recorded narration gives insight into the area and its geography, or your pilot may opt to provide a personal narration, including any wildlife sightings. (Bears, mountain goats, and wolves populate the area, but it takes a keen eye to spot them from the air.)
Depending on the weather, you'll head south to New Eddystone Rock and Big Goat Lake or north to Neets Bay and Bell Island Hot Springs. Regardless of the flight path, you'll enjoy views of majestic peaks, river valleys, skyscrapers of granite, and sparkling lakes.
Each tour includes a water landing, where you can step out onto the pontoon with your pilot to enjoy the fresh mountain air, eagle calls, and breathtaking scenery – and peacefulness – of remote Alaska. It's a surprising and rare opportunity to be completely away from civilization. Out here, the sounds of nature prevail: water lapping at the floats, the cry of eagles, and, at times, silence.
Back in the aircraft, you'll once again take off from the water, camera still clicking away for the return to Ketchikan.
Know before you go
Photos: Check camera settings ahead of time; you'll want the highest resolution. In the airplane, make sure flash is off so you don't get glare. If you want to avoid any reflections, shoot with a lens hood and make sure you don't have a polarizing filter attached to the lens.
Weather: Occasionally conditions warrant cancellation of a flight. Should this happen, Taquan Air will suggest some alternatives for making the most of your day in Ketchikan.
Shoes: Flat-soled, non-skid shoes are helpful when you step in and out onto the pontoons.
Bags: Large bags and backpacks need to stay behind. Limited storage is available at the terminal.
About Taquan Air
With more than 40 years in business, Taquan Air is a dependable, well-respected community asset. Not just another tour operator, Taquan Air is part of the local fabric in Southeast Alaska, and is a Kawanti Adventures Affiliate. Regular year-round flight service and mail and freight delivery keeps small but remote communities connected to each other – and to the rest of the country. For company CEO Brien Salazar, it's important to be a good corporate citizen, to offer immersive adventures for Alaska travelers, and to provide excellent customer service. Above all, Taquan Air is committed to safety, and has earned the coveted Medallion 5-Star Shield, recognition of its achievements in maintaining the highest quality standards for aviation safety. Kawanti Adventures also offer exciting adventure kart rides, zipline tours, and rainforest walks in Ketchikan and Juneau.