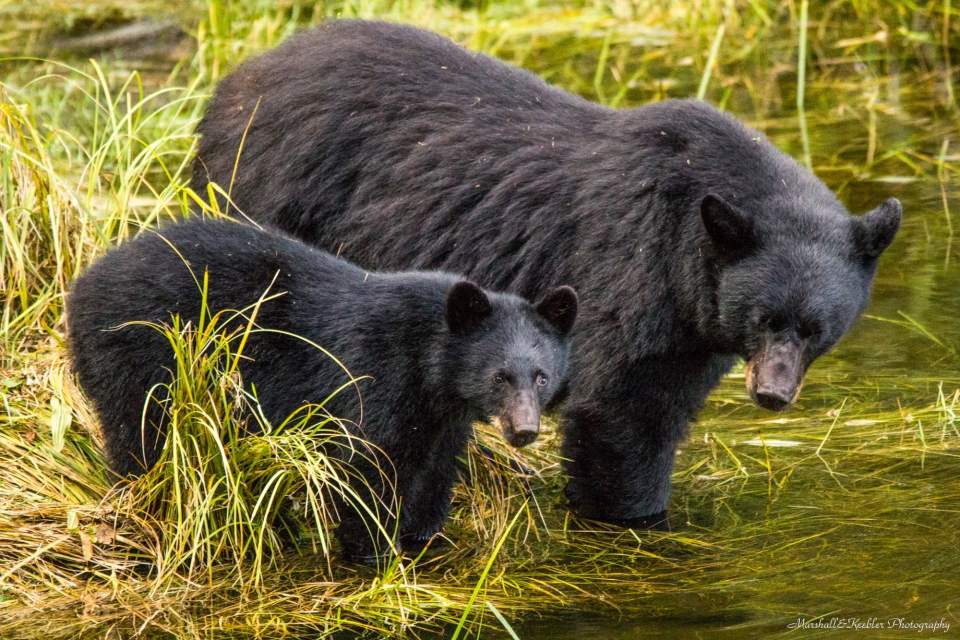 Just outside Ketchikan, a walking tour through the Alaska Rainforest Sanctuary reveals prime salmon habitat, a certain attraction for hungry black bears. Spotters and guides help you search for this apex species to find it in action – gathering at the feasting grounds, pouncing on fish, and on lucky days teaching cubs to fish. This is their favorite summertime activity, and a critical one, as they fatten up for the winter.
The Bear Country and Wildlife Exploration prioritizes black bear viewing with over 1.5 hours in the forest and estuary, but it gives you much more: knowledge of the eco-system that draws the bears here, and close-up view of salmon habitat. While the amount of wildlife activity is dependent on mother nature and luck, your team of guides and wildlife spotters will put you in the best position for viewing opportunities across the entire preserve. There can be times when you'll need to wait patiently and quietly for the bears to make their appearance. This is the only drive-up location in Southeast Alaska where you have an excellent chance of seeing black bears in their natural habitat. Bear sighting, while extremely common, cannot be guaranteed.
You'll also visit a master totem carver at work, an historic lumber mill, and a birds of prey exhibit. The mix of ecology, wildlife, history, Native culture – and bears – is an epic way to learn about the wonders of Southeast Alaska – all in just over 3 hours!
A drive along the coast
After meeting at the Ketchikan Visitors Bureau, you'll board a van or coach for an 8-mile scenic drive along the coastline bordering the Tongass Narrows and George Inlet. Rustic Herring Cove is your destination, where a nearby fish hatchery attracts not just spawning salmon, but all kinds of wildlife – from seals, otters, and eagles to the star of the show: black bear!
Watch bears from an established boardwalk system
Your guide will greet you at the Alaska Rainforest Sanctuary, provide a safety orientation, and then your group enters a forest of hemlock, Sitka spruce and red and yellow cedar. Lichens and mosses hang from their branches and form soft carpets on the forest floor. Between the forest trails and two boardwalk systems, you'll have exceptional viewing opportunities.
The boardwalk near Eagle Creek is 25 feet above the forest floor. Pink salmon swim up the creek to make nests in the gravel for spawning. It's common for bears to walk directly underneath the boardwalk as they approach the smorgasbord at the creek. You may even see cubs climbing trees nearby. The vantage point is close, while you remain safe.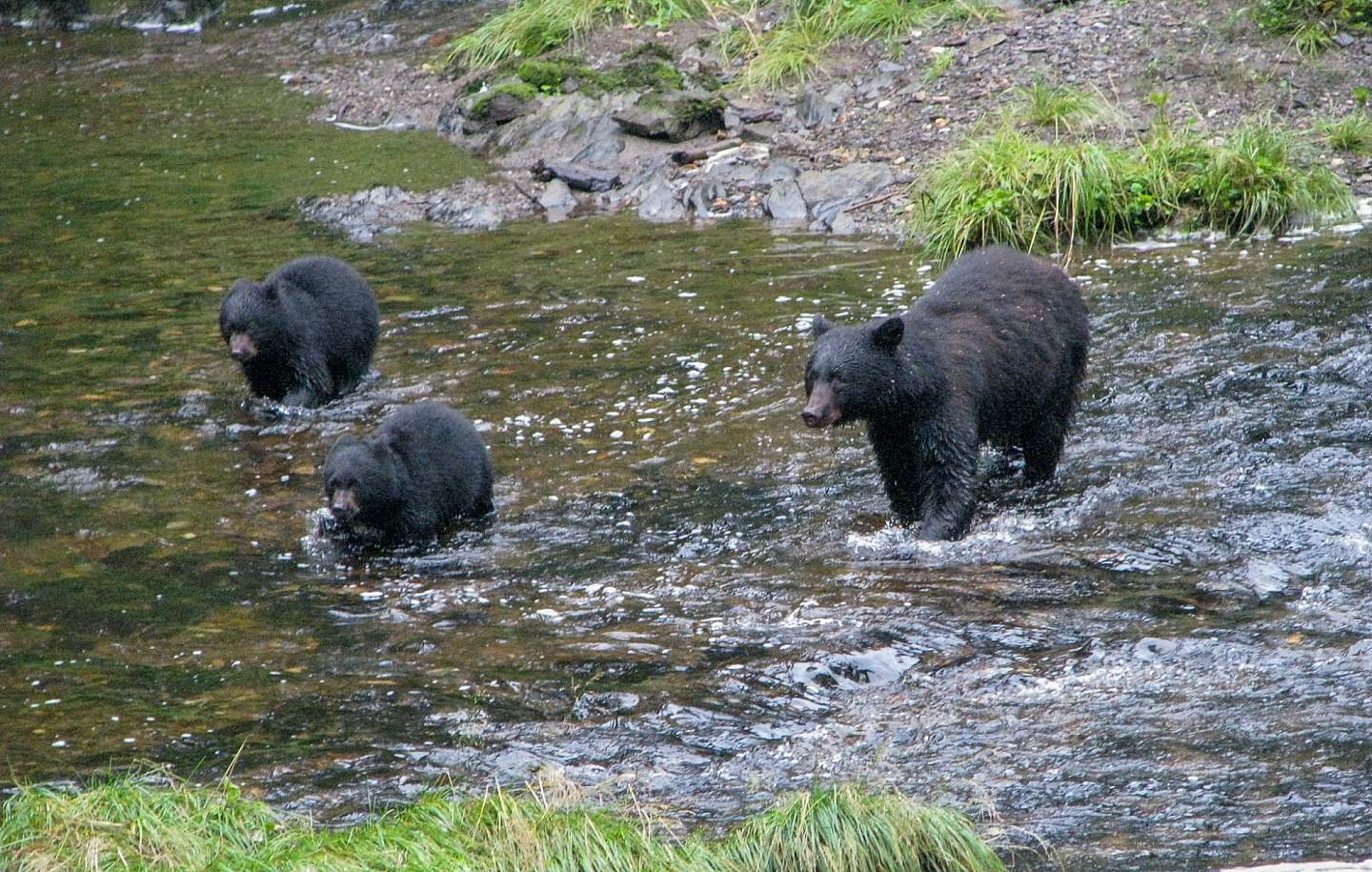 An elevated boardwalk over the estuary – where the fresh water of Eagle Creek flows into Herring Bay – is one spot where you may see bears, typically at low tide when fishing is better. See their footprints in the grassy flats and mud, and watch shorebirds in search of crustaceans.
How will the bears be when you visit? Will they be napping after a huge meal of salmon, fishing in the creek, foraging for berries, climbing trees? Each expedition is unique, and you never know what kind of a show the bears will put on. Conditions, such as the weather, can affect where the bears show up and how long they stay. Wildlife Spotters are placed throughout the preserve to give your guide real-time information about where to go to have the best viewing experience for any given tour.
And there's more…
On your way back to civilization, walk through the historic Herring Bay Lumber Company sawmill, and learn more about the industry that fueled Ketchikan's economy between the 50s and 90s. Admire 13 Tsimshian totem poles, the most ever displayed by a single artist in one place. And get close up to bird species like bald eagles, hawks and owls at the Alaska Raptor Center exhibit, home to rehabilitated birds of prey.
Know before you go
Families: For safety reasons this tour is limited to ages 12 and up. Families with younger children can see many of the same attractions on the Wildlife Sanctuary and Eagle Center tour – potentially even black bear!
Food & Drink: For safety reasons, it's not allowed on the trail. Your excursion will end at the General Store, where you'll enjoy a complimentary snack of smoked salmon and coffee, tea or hot chocolate.
About Kawanti Adventures
The Alaska Rainforest Sanctuary (ARS) is operated by Kawanti Adventures, and was developed in 2003 to provide educational and informative tours for visitors to Southeast Alaska's temperate rainforest. Kawanti Adventures owner Brien Salazar also owns Taquan Air, offering flightseeing tours to Misty Fjords and bear viewing in remote parts of the Tongass National Forest.
ARS complements these offerings by showcasing the amazing ecology and wildlife right in Ketchikan's own backyard. Set on Eagle Creek at rustic Herring Cove, ARS provides visitors with an easy-access walking trail through the forest, elevated boardwalks over the estuary, and additional boardwalks for viewing salmon, bear, and eagles. This design has made it possible for thousands of visitors to learn more about Alaska's temperate rainforests and the wildlife it supports, all while keeping the ecosystem intact. In addition to walking tours and flightseeing, Kawanti Adventures offers zipline excursions in Ketchikan and Juneau.