Alaska Saltwater's small-group whale watching, wildlife, and glacier tours offer daily excursions into the pristine Kenai Fjord National Park. Your captains and crew—experienced and well-versed in the area's natural habitat—specialize in taking out film crews, professional photographers, serious birders, and guests that want an unforgettable experience.

Whales & Glaciers
While exploring the Kenai Fjords, you can expect to see whales, Steller sea lions, otters, seals, Dall porpoise, and mountain goats. Depending on the season, whale sightings can include humpbacks, orcas, fin, gray, minke, and sei whales. Guests often see humpback whales spending the summer months feasting on forage fish.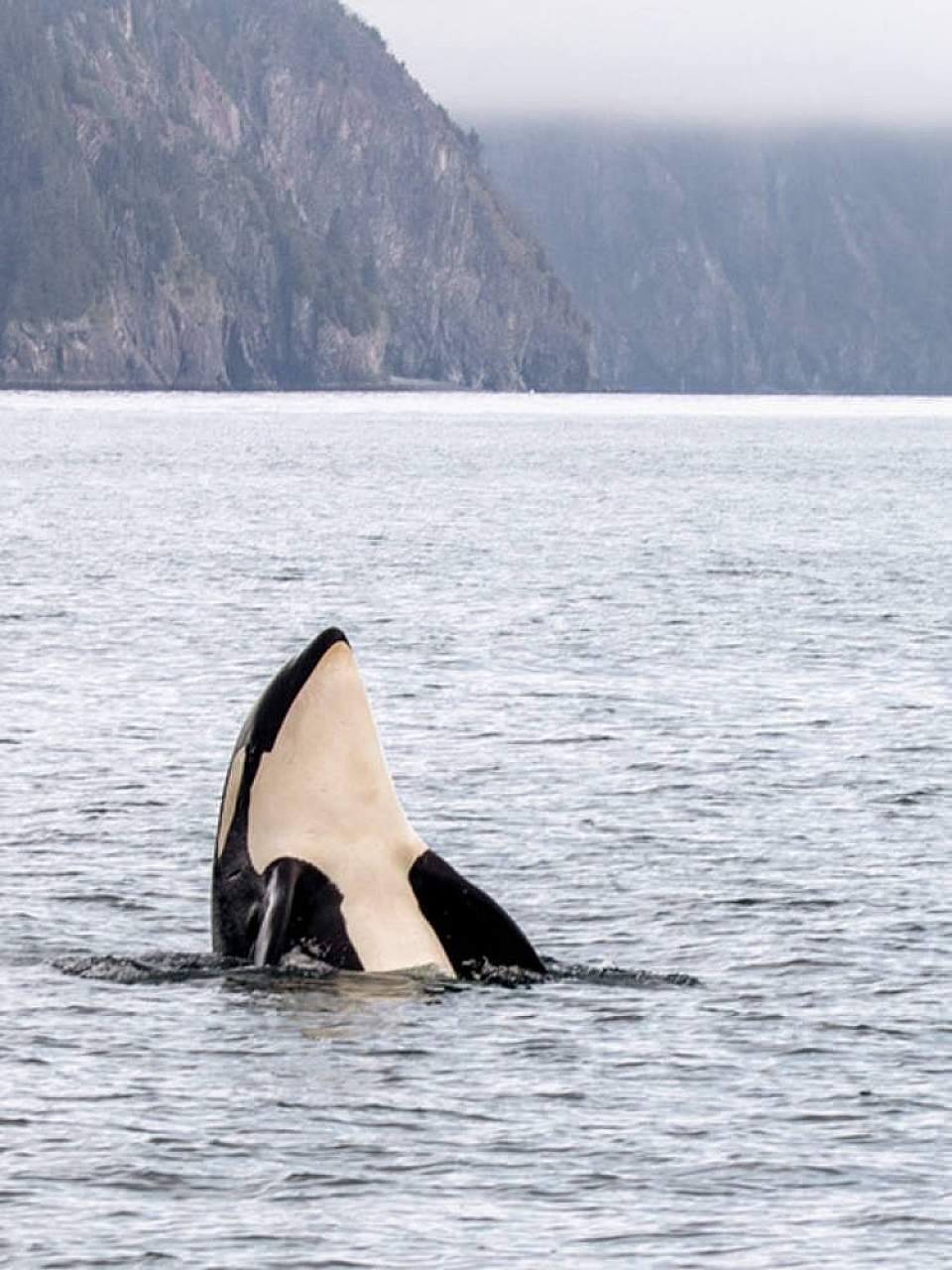 About 20 species of seabirds perch and nest along the rocky coastline and towering cliffs. You're guaranteed to see horned and tufted puffins, common murres, bald eagles, oystercatchers, pigeon guillimonts, and double crested cormorants.
Also, during your small-group tour (15 people or less), you'll visit at least one of the Kenai Fjords National Park's tidewater "calving glaciers." Lunch is served on board while viewing the immense Harding Ice Field. Your senses will be fully engaged as you experience the thunder, crack, and pop; telltale sounds of a calving glacier.
When you experience Alaska Saltwater's small-group whale watching, wildlife, and glacier tours, you'll not only be seeing the best of Alaska's rich marine ecosystem; you'll also have the opportunity to experience the amazing scenery. View majestic mountains, sea spires, rugged capes, wilderness coves, and occasionally the optical phenomenon known as Fata Morgana. Ephemeral waterfalls in Alaska's pristine waters and the temperate rainforests add to the unique landscape.

Meet the Crew
Alaska Saltwater Lodging owners, Jim and Kathleen, originally homesteaded on Resurrection Bay's Fox Island and bring more than 30 years of experience to the business.
Captain Stan and his wife Kathy, have been piloting guests for more than 10 years, showing their visitors the best of the Kenai Fjord National Park, along with offering custom saltwater fishing experiences.
You may also meet Captain Marques, who along with his wife, Teal, circumnavigated the globe in a sailing yacht. Spending time in the Kenai Fjords allows Marques to return to his love of the sea and wildlife.
And they aren't the only ones contributing to ensure an exceptional experience aboard the Steller Sunrise or Steller Explorer—the 43-foot boats with heated cabins, bathrooms, and walkaround decks. You'll also meet two amazing naturalists; Tammy, who teaches Marine Biology in the off-season and who has led tours to places like the Galapagos; and Brooke, an experienced marine guide in the Antarctic and southeast Alaska.
Exclusive Custom Trips
Birding, photography, or combination fishing/whale watching, wildlife, and glacier trips on request.