In Seward, you'll find a mix of dramatic mountains, impressive glaciers and abundant wildlife in a place that seems untouched by time. You really have to get out on the water to see it all. A half-day guided tour of Resurrection Bay and Kenai Fjords National Park provides a quick overview, but can feel too short. With Alaska Fjord Charters, explore at your leisure on a day trip or multi-day trip perfect for families, couples or close friends.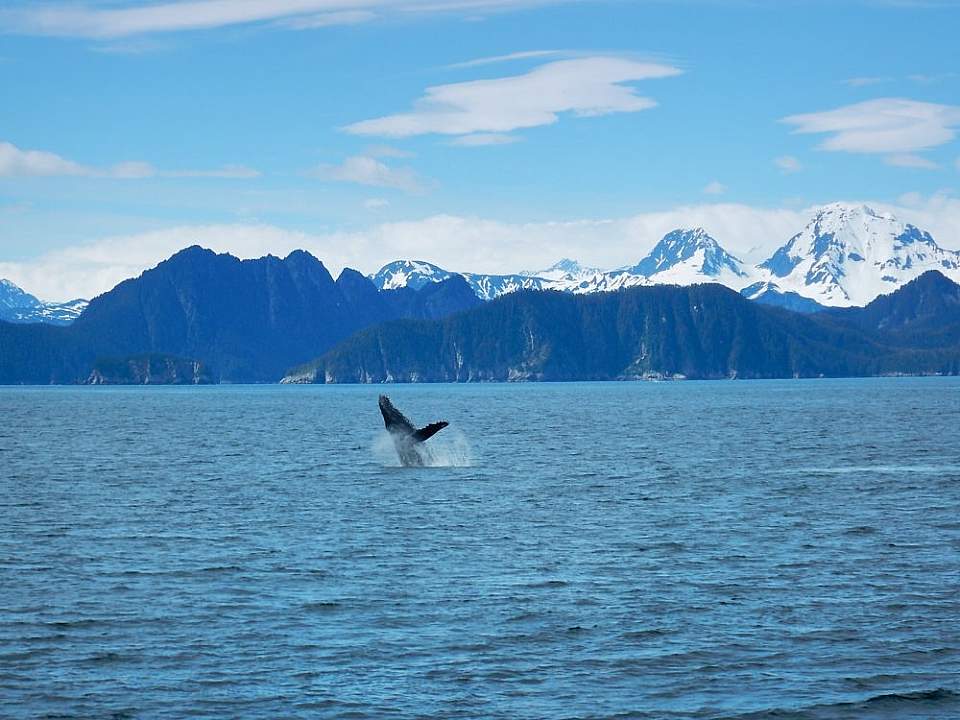 Kayak in small coves, set anchor overnight in front of a crackling glacier, and spend hours watching for whales, orca and porpoise cavorting in the fish-laden waters of the bay and beyond. Stretch your legs on a hike toward a glacier, watching for black bear along the shoreline and eagles soaring above.
Your extended tour takes place aboard the Darby, a former commercial fishing vessel designed for northwestern waters and retrofitted for passengers. It accommodates up to six friends or family. (You'll never be booked with strangers due to the close quarters of the ship.) It's not a luxury boat, but is comfortable "glamping," where the order of the day is cruising, kayaking, cooking – even chilling and grilling on the aft deck.
After a full day of fresh air and excitement, you'll fall asleep quickly in your warm, dry berth. The open layout of the boat means there are no state rooms; guests sleep on fold-up berths dormitory style. This set-up creates a "camping out" feel within a sheltered area, but doesn't offer a lot of privacy, so guests should be comfortable with each other. Its most practical with 4 adults but can hold up to 6, or 2 adults and 2 children is very comfortable. (There is a custom barrier between crew quarters/galley and guest quarters, with separate shower and bathroom facilities for each.)
One of the perks of a custom tour is the flexibility to spend more time in one place or move on to another without having to follow a strict schedule. The other benefit is time you get hanging out with Alaskans who share their knowledge and tales of life on the water and in the Last Frontier.
The boat's owners, Walter and Anne Love, are also teachers. Your captains will be Walter and his son, Will—a commercial fisherman with experience in the Bering Sea, Bristol Bay, as well as the waters beyond Seward. Both have a lifetime of history on the water and love witnessing the joy and awe that Alaska inspires in visitors. Anne is in charge of stocking the boat with delicious food and making certain that everything is perfect for your expedition. You'll enjoy great, homemade meals, with an emphasis on locally sourced foods. Alcohol is not included, but you can bring aboard your preferred drinks. And, if you happen to make it to the other seaside town on the Kenai Peninsula, Homer, you can drop by their other business, the Icy Otter—the only shave ice stand in Alaska!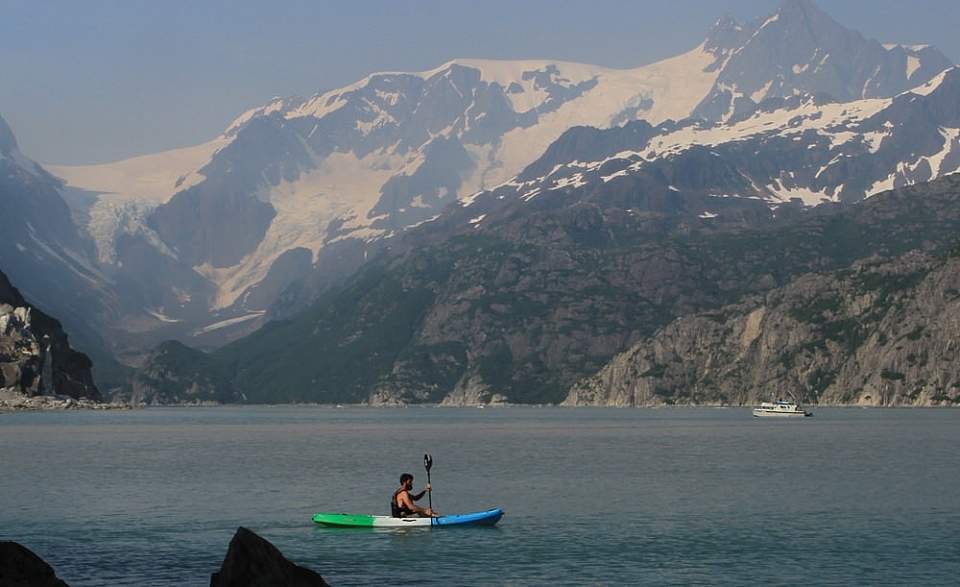 Sample Itinerary
Your tour is moderately paced, so you have ample time to see glaciers, islands, seabird rookeries and lots of marine wildlife. These are custom trips, so your group can decide on the mix of activities: kayaking, hiking, sightseeing or just relaxing on deck. If you want a little bit of everything, Colin has designed the following basic itinerary. The beauty of a custom trip means that you can alter your plans as necessary for weather or to catch an unexpected whale show.
Day 1
Depart Seward harbor around 9 am and head for nearby Humpy Cove, a protected area great for an introduction to kayaking. Have lunch and then go for a paddle. Begin the 4-6 hour journey toward Aialik Bay, where you'll navigate through ice chunks, spot harbor seals, and Aialik Glacier, an impressive tidewater glacier at the head of the bay. Along the way, you'll do some wildlife sightseeing and/or fishing. Darby will anchor in a cove for dinner, and then you can paddle or go ashore for a short hike.
Day 2
Leisurely morning or early bird action? It's your call. It's another day of glacier viewing and hiking or kayaking as the group checks out Northwestern Fjord and a possible hike to southwestern Glacier. By this time, you might be expert at spotting harbor seals, puffins, and other frequent wildlife.
Day 3
Darby slowly makes its way back toward Seward before buses and trains leave on the 3rd day. Keep your binoculars and camera handy for whale activity, porpoises, and many bird species, and throw a last line in the water.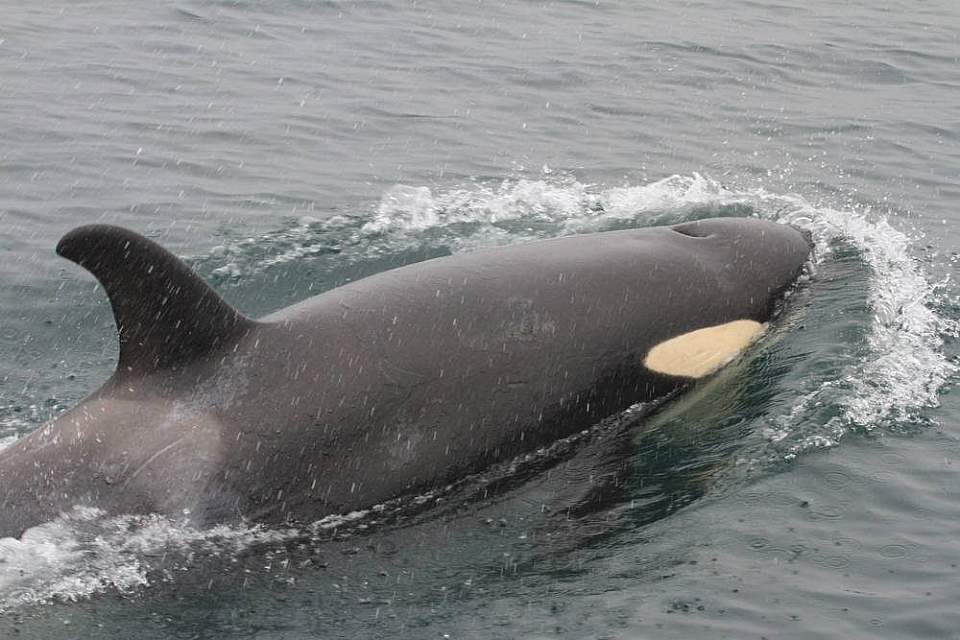 Is this trip for you?
If you're ready to get out in Alaska's wild on a small group adventure for a few days, Kenai Fjords National Park and Resurrection Bay offers a highly satisfying list of activities. The custom nature of this trip means that you can do more kayaking if that's your thing, or more sitting back watching for glaciers to calve. (You don't have to be too active, but you will have to be dexterous enough to get on and off the boat and into small boats and kayaks.) Alaska Fjord Charters is a refreshing get-away from tourist crowds and TV/Internet– as long as you like the other folks you bring along! This tour is a great bonding time for families, so kids are welcome, but should be old enough to help paddle a kayak. This trip is for you if you prefer a focus on nature and outdoor activity over luxury accommodations.