Explore Alaska's hot springs and glaciers aboard a unique ship that puts you behind the helm and lets you man the sails. This South­east Alas­ka-based tour oper­a­tor will leave you with a new def­i­n­i­tion of what it means to have a once-in-a-life­time Alas­kan adventure. You'll explore away from the crowds, get­ting an up-close view of wildlife, scenery, hot springs, and glaciers.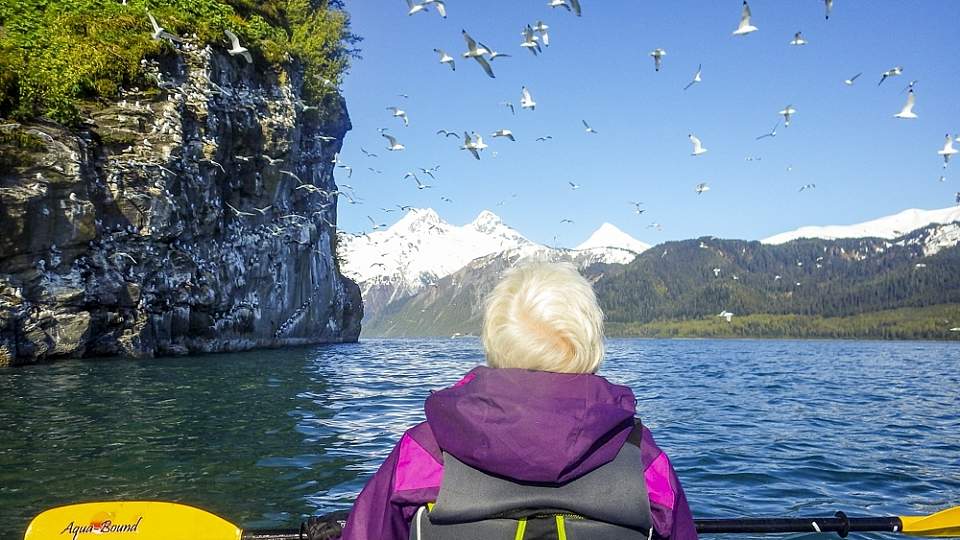 Multi-Day Expeditions and Custom Adventures
Trips with Alaska Sailing Adventure typically range from 5 to 10 days and travel between Juneau, Sitka, and Petersburg. You'll work with the captain to create a custom itinerary that fits your particular interests—anything from backcountry adventures and photo safaris to family vacations and intimate wedding ceremonies. Adjust your activities to accommodate more time sailing, fishing, hiking, or doing whatever you're most passionate about.
Along the way, you'll have the opportunity to steer the ship, helping the captain (set) sail as you journey into remote wilderness and fish for salmon or float right up to stunning tidewater glaciers. Of course, you can expect plenty of wildlife viewing. You might see humpback whales bubble-net feeding, seals relaxing on packed ice, eagles swooping down to snatch fish, or bears foraging along the tidal zone. And you'll have plenty of time to stop and kayak, go stand-up paddleboarding, or angle for a catch of your own.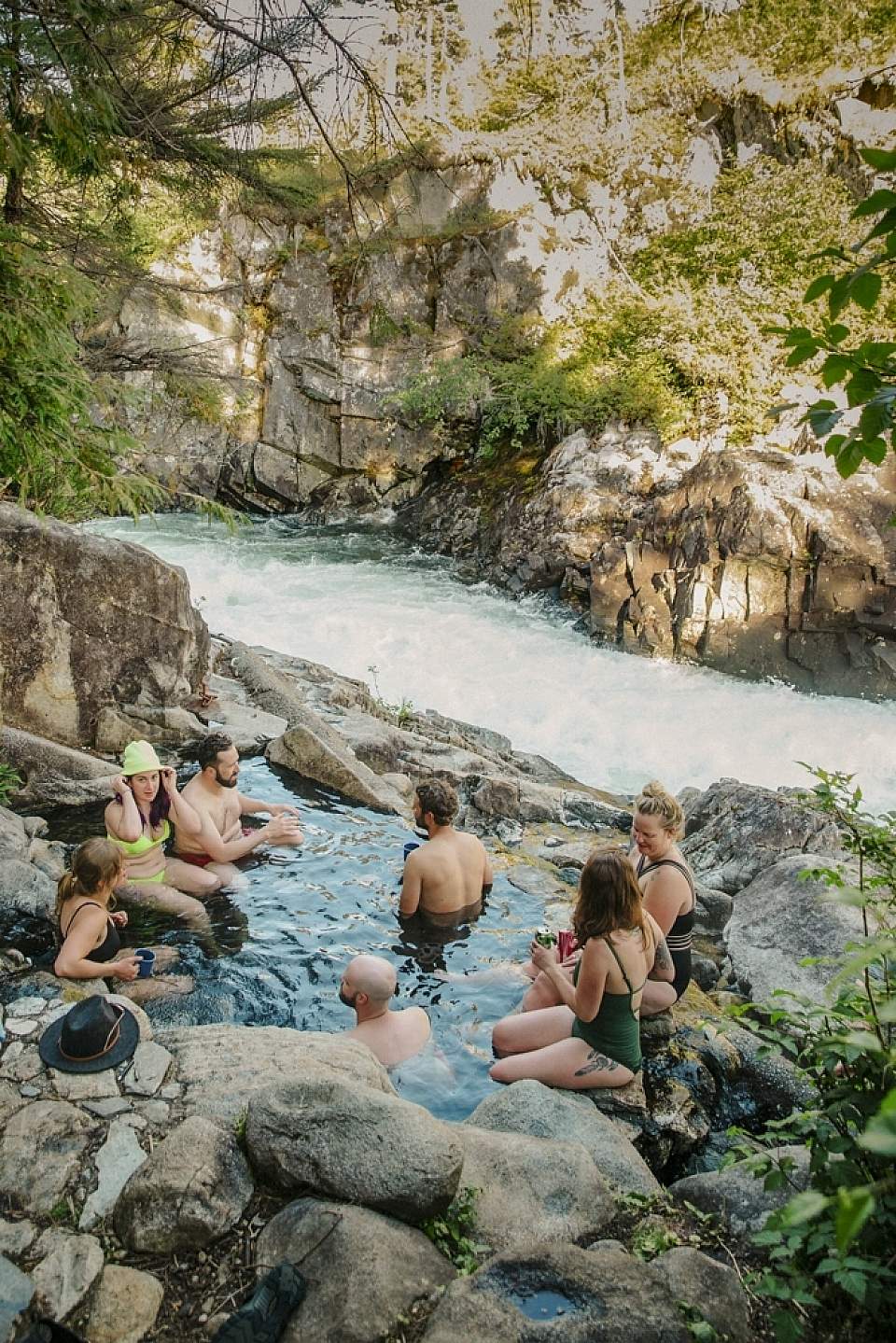 Sample Itinerary: Hot Springs and Glaciers
On a typical 6-day trip from Juneau, you'll start off surrounded by spectacular mountains and a view of three different glaciers, with humpback whales, sea lions, and eagles nearby. The first night is usually spent visiting Admiralty Monument, where you can explore an old cannery ghost town or try your hand at fishing or crabbing.
From there, you'll sail across North America's largest fjord and have the unique opportunity to kayak into a sea cave with an underground salmon run. It's also a fantastic place to see bears!
Next up is the stunningly gorgeous Warm Springs Bay and Baranof Hot Springs. At the headwater of the bay is a free, public-use hot springs bathhouse. Enjoy your own private soak as you gaze out at a spectacular waterfall and tidal estuary. Then try some stand-up paddleboarding or take a kayak into the estuary.
You can also hike to natural hot springs next to a raging river that blasts through a slot canyon—truly one of earth's most incredible natural hot springs. Above the springs is Baranof Lake, with picture-perfect reflections of the gorgeous mountains overhead.
From there, you'll sail off to see the sunset from Alaska's oldest lighthouse. Enjoy a history and nature tour of the lighthouse and island, which is host to a large diversity of birds and plants. It also features one of the most spectacular views in Southeast Alaska and is a breathtaking place to watch whales bubble-net feeding as sunset unfolds.
Next, you'll head to Thomas Bay, where you may take a scenic hike up the Cascade Creek Trail, which skirts along a never-ending series of waterfalls. You can also opt to jet boat upriver to a glacier and zoom around a labyrinth of icebergs.
Your voyage ends in the quaint town of Petersburg. But first, you'll break through pack ice on your way to the terminus of the LeConte Glacier, one of the most active calving glaciers in Southeast Alaska. Spend time right in front of the glacier's face, among hundreds of seals lying out on icebergs, as ice chunks the size of buildings break off and crash into the ocean.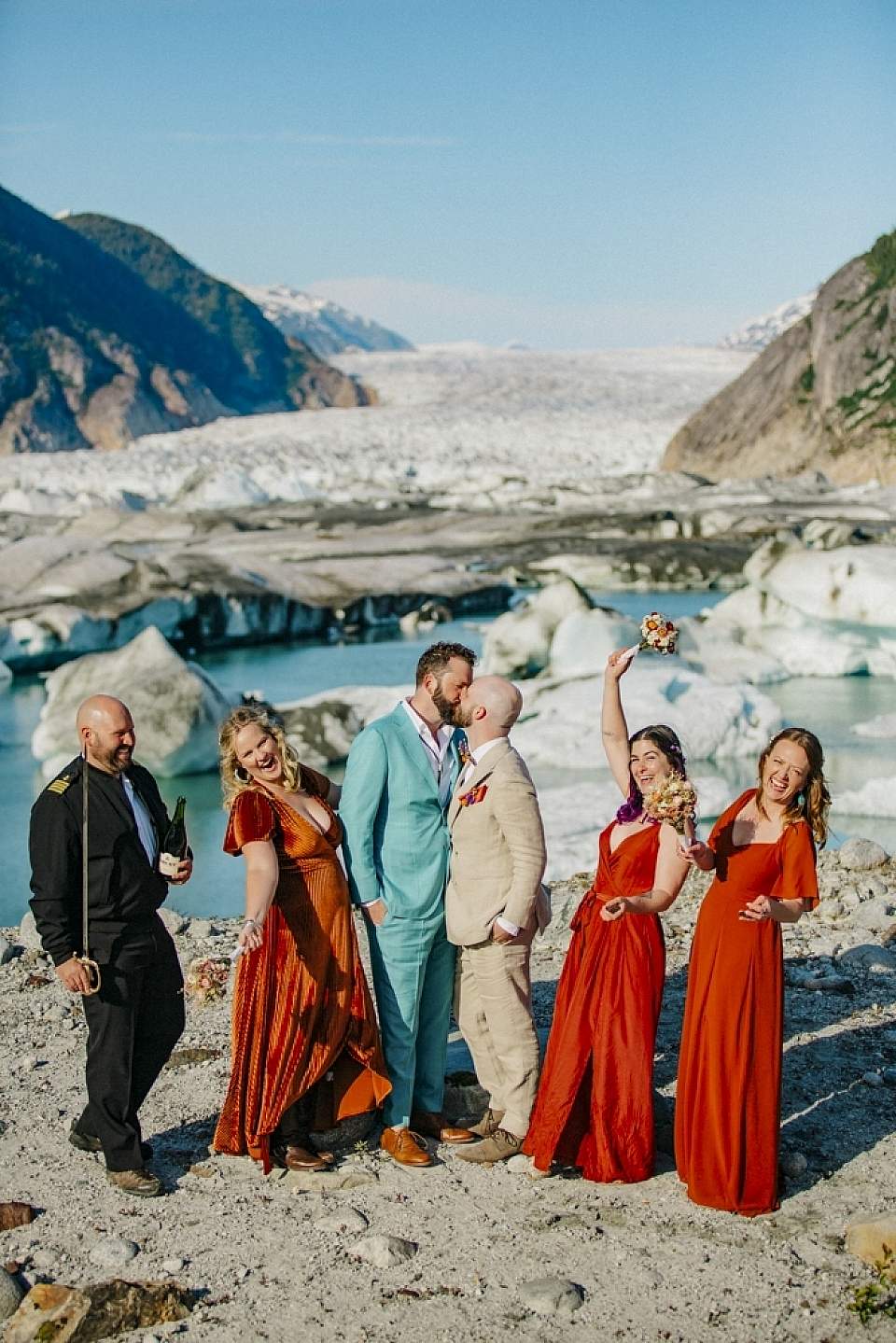 Intimate Weddings and Elopements
If you're looking to have a small wedding or elopement in the 49th state, Alaska Adventure Sailing can arrange it—they could even hold the wedding ceremony on the perfect private glacier. They work with one of the top wedding photographers and can even provide photography services for an additional fee. After your special day, you can sail off to the hot springs or explore the rural scenery with a hike.
The Ship Experience
S/V Arcturus is built to be exceptionally tough—it's a true expedition sailing vessel, not a luxury yacht. This 60-foot steel-hull expedition sailing ship, built to conduct research, comfortably meets all the challenges of exploring Alaska, including the ability to break through pack ice and push right up to the face of glaciers.
The ship sleeps up to 6 passengers, plus the captain. There are four staterooms; three are double-occupancy rooms with either a full bed or bunks. The vessel also has a sizable great room off the galley for dining, relaxing, playing games, and even enjoying costume parties. (Yes, Captain Hoock will encourage you to pack a costume!)
Expect fresh, delicious food aboard S/V Arcturus—Captain Hoock has a reputation as a bit of a gourmet chef! Unlike other charters, group participation with cooking is encouraged, though not required. If you choose, you could help the captain make dinner, which might be some salmon caught during the day's travels.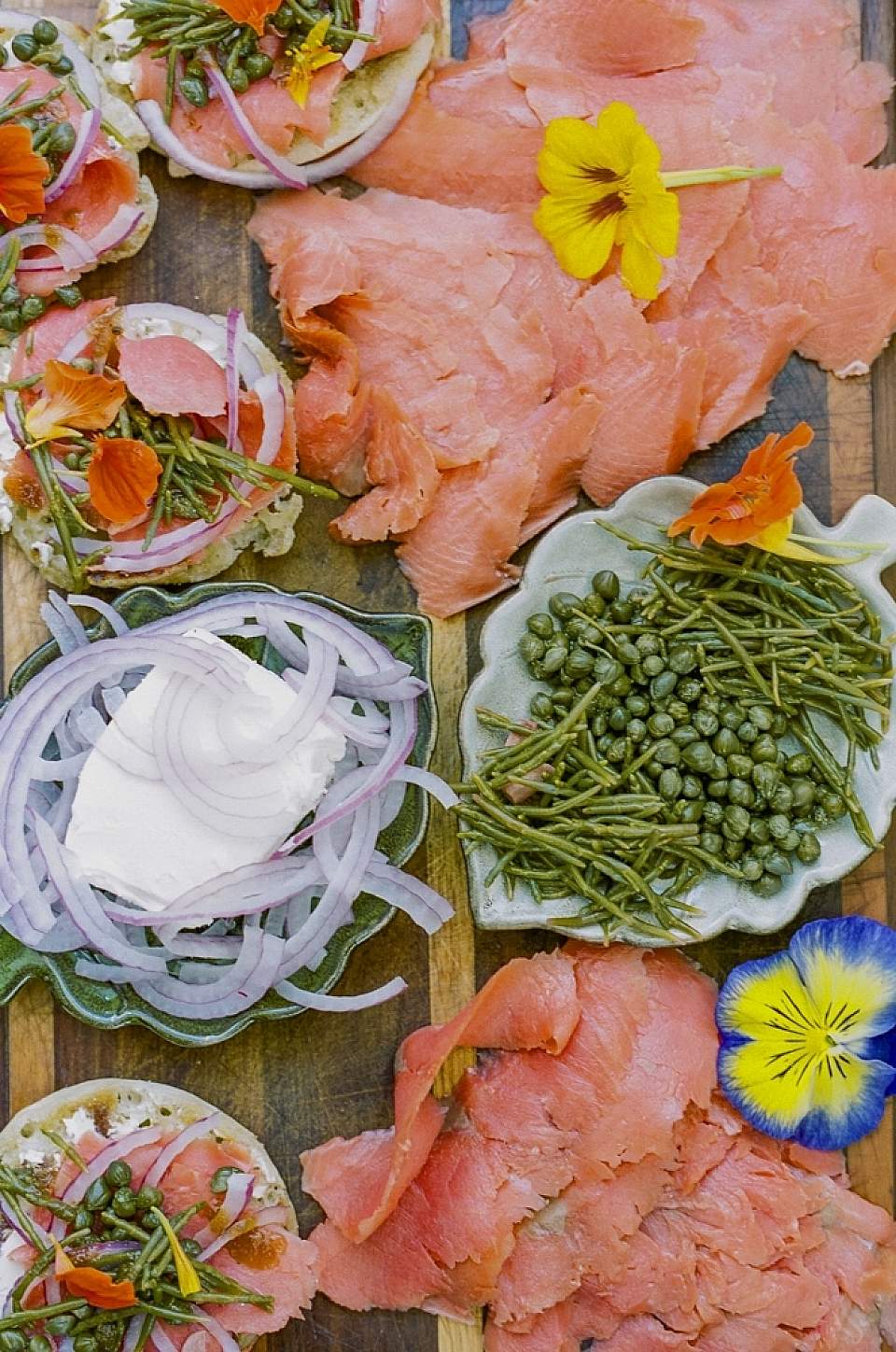 About Alaska Adventure Sailing
Captain Louis Hoock started Alaska Adventure Sailing out of a passion for adventure, taking people to places they wouldn't ordinarily have the resources to go. He has taught sailing and has shared his passion for environmental stewardship, but his strength lies in his enthusiasm and ability to share adventure with others. The New Mexico native got the sailing bug when he moved to Alaska for college and bought a sailboat as his home (though he will claim to have been born on the crest of a wave!).
After graduating, he started a successful nonprofit organization called Coastal Footprint, focused on environmental stewardship, and sailed more than a quarter of the way around the world doing beach cleanups. Captain Hoock then joined the NOAA Corps (National Oceanic and Atmospheric Administration) as a commissioned officer and served a sea tour on a 224-foot research vessel. Over the years he has also captained whale-watching tours. The one thing he has held onto throughout all his own explorations is his love for sharing his adventures with others. All you need to bring is an open heart and an open mind, and Captain Hoock will offer you the trip of a lifetime.